West Lothian Herald & Post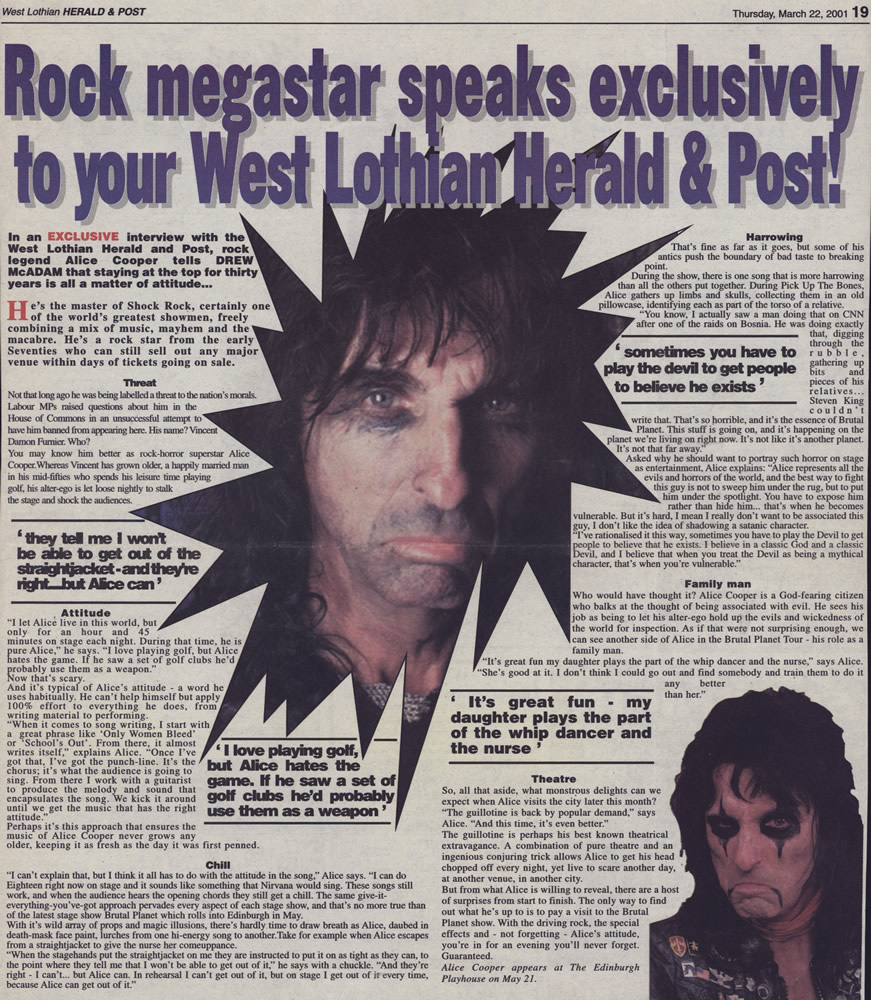 West Lothian Herald & Post
(March 22, 2001)
Originally Published: March 22, 2001
Rock megastar speaks exclusively to your West Lothian Herald & Post!
In an EXCLUSIVE interview with the West Lothian Herald and Post, rock legend Alice Cooper tells DREW McADAM that staying at the top for thirty years is all a matter of attitude...
Author: Drew McAdam
He's the master of Shock Rock, certainly one of the world's greatest showmen, freely combining a mix of music, mayhem and the macabre. He's a rock star from the early Seventies who can still sell out any major venue within days of tickets going on sale.
Threat
Not that long ago he was being labeled a threat to the nation's morals. Labour MPs raised questions about him in the House of Commons in an unsuccessful attempt to have him banned from appearing here. His name? Vincent Damon Furnier. Who?
You may know him better as rock-horror superstar Alice Cooper. Whereas Vincent has grown older, a happily married man in his mid-fifties who spends his leisure time playing golf, his alter-ego is let loose nightly to stalk the stage and shock the audiences.
Attitude
"I let Alice live in this world, but only for an hour and 45 minutes on stage each night. During that time, he is pure Alice," he says. "I love playing golf, but Alice hates the game. If he saw a set of golf clubs he'd probably use them as a weapon."
Now that's scary.
And it's typical of Alice's attitude - a word he uses habitually. He can't help himself but apply 100% effort to everything he does, from writing material to performing.
"When it comes to song writing, I start with a great phrase like 'Only Women Bleed' or 'School's Out'. From there, it almost writes itself," explains Alice. "Once I've got that, I've got the punch-line. It's the chorus; it's what the audience is going to sing. From there I work with a guitarist to produce the melody and sound that encapsulates the song. We kick it around until we get the music that has the right attitude."
Perhaps it's this approach that ensures that music of Alice Cooper never grows any older, keeping it as fresh as the day it was first penned.
Chill
"I can't explain that, but I think it all has to do with the attitude in the song," Alice says. "I can do Eighteen right now on stage and it sounds like something Nirvana would sing. these songs still work, and when the audience hears the opening chords they still get a chill. The same give-it-everything-you've-got approach pervades every aspect of each stage show, and that's no more true than of the latest stage show Brutal Planet which rolls into Edinburgh in May.
With it's wild array of props and magic illusions, there's hardly time to draw breath as Alice, daubed in death-mask face paint, lurches form on hi-energy song to another. Take for example when Alice escapes from a straightjacket to give the nurse her comeuppance.
"When the stagehands put the straightjacket on me they are instructed to put it on as tight as they can, to the point where they tell me that I won't be able to get out of it" he says with a chuckle. "And they're right - I can't... but Alice can. In rehearsal I can't get out of it, but on stage I get out of it every time, because Alice can get out of it."
Harrowing
That's fine as far as it goes, but some of his antics push the boundary of bad taste to breaking point.
During the show, there is one song that is more harrowing than all the others put together. During Pick Up The Bones, Alice gathers up limbs and skulls, collecting them in an old pillowcase, identifying each as part of a torso of a relative.
"You know, I actually saw a man doing that on CNN after one of the raids in Bosnia. He was doing exactly that, digging through the rubble, gather up bits and pieces of his relatives... Stephen King couldn't write that. That's so horrible, and it's the essence of Brutal Planet. This stuff is going on the planet we're living on right now. It's not like it's another planet. It's not that far away."
Asked why he should want to portray such horror on stage as entertainment, Alice explains: "Alice represents all the evils and horrors of the world, and the best way to fight this guy is not to sweep him under the rug, but to put him under the spotlight. You have to expose him rather than hide him... that's when he becomes vulnerable. But it's hard, I mean I really don't want to be associated with this guy, I don't like the idea of shadowing a satanic character.
"I've rationalized it this way, sometimes you have to play the Devil to get people to believe he exists. I believe in a classic God and a classic Devil, and I believe that when you treat the Devil as being a mythical character, that's when you're vulnerable."
Family man
Who would have thought it? Alice Cooper is a God-fearing citizen who balks at the thought of being associated with evil. He sees his job as being to let his alter-ego hold up the evils and wickedness of the world for inspection. As if that were not surprising enough, we can see another side of Alice in the Brutal Planet Tour - his role as a family man.
"It's great fun my daughter plays the part of the whip dancer and the nurse," says Alice. "She's good at it. I don't think I could go out and find somebody and train them to do it any better than her."
Theatre
So, all that aside, what monstrous delights can we expect when Alice visits the city later this month?
"The guillotine is back by popular demand," says Alice. "And this time, it's even better."
The guillotine is perhaps his best known theatrical extravagance. A combination of pure theatre and an ingenious conjuring trick allows Alice to get his head chopped off every night, yet live to scare another venue, in another city.
But from what Alie is willing to reveal, there are a host of surprises from start to finish. The only way to find out what he's up to is to pay a visit to the Brutal Planet show. With the driving rock, the special effects and - not forgetting - Alice's attitude, you're in for an evening you'll never forget. Guaranteed.
Alice Cooper appears at The Edinburgh Playhouse on May 21.