Alice Cooper eChive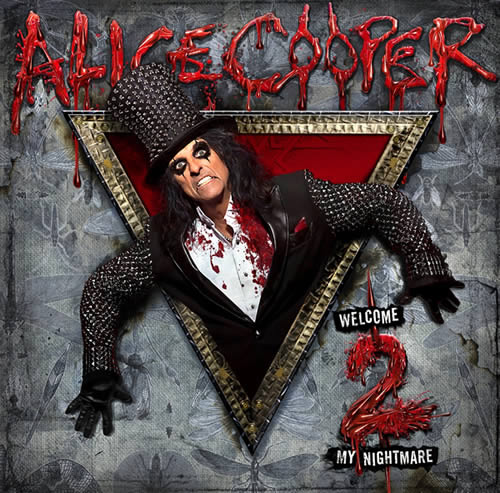 Alice has finally done what he has threatened to do for decades - take Steven back to the nightmare world that terrified a generation.
Teaming up with legendary producer and long time collaborator, Bob Ezrin, the two have crafted a modern day masterpiece of theatrical madness that could only come from the mind and musical genius of Alice Cooper. Get your ticket to the Nightmare Express and take a trip of a life time with Alice and the Original Band, Steve Hunter, Rob Zombie, Kei$ha, Vince Gill and more.
The Nightmare begins in a store near you! Be afraid, be very afraid!
Support this site by purchasing releases from any of the links below!
Deluxe CD

Exclusive Nightmare Express 'Ticket to Hell' Card Print
Exclusive Expanded Artwork Booklet
Double-sided Art Poster
Exclusive Bonus Tracks:
We Gotta Get Out Of This Place
No More Mr. Nice Guy (Live at Download Festival)
The Black Widow (Live at Download Festival)

Double Vinyl

BLOOD RED Coloured Vinyl
180 gram Heavyweight vinyl
Double-sided Art Poster
Back to Black - voucher to download an MP3 version
Exclusive Bonus Track: Flatline

Contents might vary by region

Deluxe Digital Album

Exclusive Track-by-Track Commentary by Alice himself
Exclusive Album Version Video for I'll Bite Your Face Off
Exclusive Bonus Tracks:
A Bad Situation
We Gotta Get Out Of This Place

Best Buy Exclusive

Exclusive Bonus Tracks:
Under The Bed (new studio track)
Poison (live at the Download Festival)
No More Mr. Nice Guy (live at the Download Festival)
Black Widow (live at the Download Festival)

Fan Pack

Exclusive 132-page magazine dedicated to the original shock rock legend
Exclusive Alice Cooper poster
Exclusive official metal pin badge
Exclusive Alice Cooper mask
Exclusive Bonus Tracks:
Under The Bed
Poison (Live From Download)

Standard CD

Digital Download

International CD

Exclusive Bonus Track:
We Gotta Get Outta Here

International Digital Download

Exclusive Bonus Track:
We Gotta Get Outta Here