Unique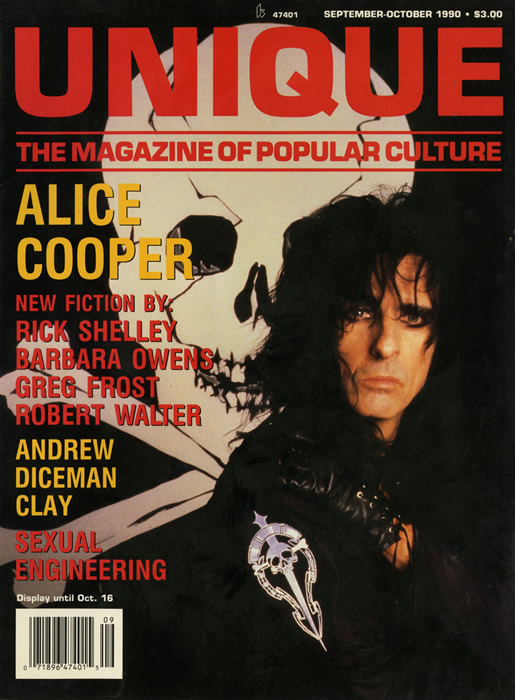 Originally Published: September 1990
Alice Cooper
Rock Record
Author: Hugh M. Cook and Cindy Pearlman
In October 1970, a song entitled I'm Eighteen was released and slowly snaked its way up the top forty. Combining a raw edged sound with lyrics that reflected the confusion and angst felt by teenagers everywhere, it soon transcended from rock'n'roll song to rock'n'roll anthem. It became the breakthrough song that the Alice Cooper band so badly needed, and it created Alice Cooper's role as a hero to millions of teenagers worldwide.
Vincent Fumier (Alice Cooper's real name) was born on February 4, 1948 in Detroit. In 1958, his family relocated to Phoenix, Arizona. He attended Cortez High School and befriended Glen Buxton and Dennis Dunaway - the future nucleus of the Alice Cooper group.
Too skinny to play football, Furnier, Buxton and Dunaway joined the school's track team and newspaper. During their sophomore years, they earned varsity letters and elected to perform in the annual sports banquet's variety show.
For their skit, they performed a parody of the Beatles that brought them a tremendous response from parents and students alike. The boys were hooked; they now wanted to be bona fide rock'n'roll stars.
In 1964, at the ages of sixteen, Furnier, Buxton and Dunaway recruited two fellow track team members, John Speare and John Tatum, and formed their first rock band, The Earwigs. The following year, the band changed its name to The Spiders and Michael Bruce replaced Tatum. Soon afterwords, The Spiders released their first record, Don't Blow Your Mind, which reached number one in Phoenix.
After high school graduation, the various band members attended community college. They went to school in the day, practiced at night and played gigs on the weekends. They soon began to branch out from Phoenix, playing dates in Tucson and Albuquerque.
In 1966, the group changed its name to The Nazz. Speare left and was replaced by Neal Smith. The band's lineup was now complete: Vincent Furnier (vocals), Glen Buxton (lead guitar), Michael Bruce (guitar and keyboards), Dennis Dunaway (bass guitar) and Neal Smith (drums).
As The Nazz, the group began to explore new territory. They played a number of dates in Los Angeles and other southern California cities. In 1967, they moved their base from Phoenix to L.A. And, like other rock bands that have made that pilgrimage, they found themselves just hanging on waiting for that big break.
It was at a Ouija board meeting that Vincent Furnier learned that he was the reincarnation of a 17th century witch named Alice Cooper. And the 17th century Alice Cooper was, fittingly enough, burned at the stake.
Just as Furnier's band members were trying to digest this latest development, another problem emerged. A new band, led by Todd Rundgren and calling itself The Nazz, was making big waves on the east coast. To further complicate matters, they were planning to tour the west coast shortly. The west coast Nazz quickly needed a new name.
After much internal debate, and realizing they weren't getting any kind of substantial recognition, they changed their name to Alice Cooper. Given the group's already weird music, long hair, wild costumes and outrageous stage antics, the name Alice Cooper fitted perfectly. And since the Ouija board told Furnier that he was Alice Cooper, Furnier assumed the stage name of the group as his own.
In 1968, the Alice Cooper band was down on their luck. They were quickly getting the reputation as being the worst band in Los Angeles. Their first album, Pretties For You, was collecting dust in the record bins. The boys in the band were getting frustrated and tired of eating spaghetti seven times a week.
The following year, they recorded their second album, Easy Action. Easy Action, while being a better album than Pretties, also failed to sell in significant numbers. With nowhere left to play in L.A., Alice Cooper hit the road and headed for Detroit.
In Detroit, the band's strange looks, aggressive music and wild stage antics were loved, not hated by the clubs' crowds. The Alice Cooper band had finally found a safe harbor for their style of playing.
With their confidence renewed, Shep Gordon, the group's enterprising manager, hired Bob Erzin to produce their third LP, Love It To Death.
Working with Erzin, the band created their own hard rock sound. In addition, they used the music and lyrics to develop a new stage role for Alice—all-American bad-boy punk.
Their first single from the album, I'm Eighteen, typified their new sound and Alice's new posture. I'm Eighteen helped propel Love It To Death to gold album status. And that was just the beginning.
Killer, released in November 1971, became the group's most critically acclaimed album, as well as their first platinum LP. Their next release, School's Out (6/72), spent several weeks sitting in the number two spot on the charts. In February 1973, the group released Billion Dollar Babies and had their first number one hit album. Later that same year, Muscle of Love was released and earned a respectable top ten position on the charts.
On the single scene, the group was no less impressive and earned five top forty hits in two years. School's Out, which featured a sneering lead guitar riff, savage lyrics and ferocious vocals, was the most successful Alice Cooper single, hitting the top seven mark in the U.S. and number one in the U.K. The song left little doubt to what the Alice Cooper band thought about school.
However, only part of Alice Cooper's success was its record sales. Probably the band's most important source of notoriety and controversy was its bizarre and elaborate stage shows.
With each new album, the band toured. And with each tour, the stage act got more decadent and violent as time went on. The boys in the band called it "ultra-violence."
By the Billion Dollar Babies tour, the stage act had reached its lowest level in good taste. For the song Dead Babies, Alice would take an axe and chop up a baby doll filled with fake blood. During the Unfinished Sweet, he would fight off a giant-sized molar with a seven-foot toothbrush. And for I Love the Dead, a song about necrophilia, Alice was taken to the guillotine to have his head chopped off.
This display of assorted events made the Billion Dollar Babies tour the largest grossing tour in the history of rock'n'roll. Covering 56 cities in 60 days, the band grossed $4.6 million—beating the $3.2 million tour record set by the Rolling Stones in 1972.
At the end of 1973, the boys had come a long way from Cortez High School. They were now the subjects of journalist Bob Greene's book, Billion Dollar Babies. The book provided an intimate look at one of rock's most controversial bands.
However, success sometimes breeds dissatisfaction. And soon after the Muscle of Love tour, the band found itself at odds on what direction the group should take. Eventually, they drifted apart and Alice decided to go solo.
In 1975, Alice Cooper was now a solo act. Working with Erzin and a new band, he recorded Welcome to My Nightmare, a highly successful album (number five on the charts) that continued the hard rock style that was deployed on the group's LPs. The tour supporting Nightmare was Cooper's most elaborate ever—focusing more on Vegas-style entertainment and less on "ultra-violence."
Probably the biggest surprise of the album was the single Only Women Bleed, a top 12 single that featured, for Cooper at least, a rather mellow sound. Only Women Bleed would be the first of four hit ballads to be recorded by Alice.
In 1976, Alice followed up Nightmare with Alice Cooper Goes To Hell. The album reached the 27th spot on the charts and made it to the gold album mark.
From 1977 to 1983, each succeeding Cooper album (Lace and Whiskey, From The Inside, Flush the Fashion, Special Forces, Zipper Catches Skin and DaDa) sold fewer and fewer copies. The albums after Hell contained so many different styles of music that they didn't even sound like they should have carried the Alice Cooper imprint. For kids looking for hard rock, their dollars were better spent on AC/DC, Aerosmith, Kiss and other new groups. Alice Cooper was on the wrong side of the hill.
Starting in 1986, Alice began to fight back. Working with metal guitarist Kane Roberts, Cooper turned in two hard-rocking albums, Constrictor (1986) and Raise Your Fist and Yell (1987). While neither album sold well enough to go gold, they helped Alice reestablish himself with the youth of America.
After completing the Raise Your Fist and Yell tour, Alice took off a year and began to plan his next effort. He hired superproducer Desmond Child and recorded Trash. Trash, which featured the return of the Cooper trademark sound of strong rhythm guitars, became his most successful album in 15 years. It went platinum and produced a top seven single, Poison. As Alice made his way through the Midwest on his sold-out tour, UNIQUE was able to interview him during his stop in Chicago. We began the conversation by asking him to clear up the myths about Glen Buxton's guitar playing that were caused by Greene's book, Billion Dollar Babies.
UNIQUE: If You don't mine, I'd like to jump around a little bit and go back to the past.
COOPER: Sure. I hate the past. I'm not nostalgic at all. I really hate nostalgia, but it's alright.
UNIQUE: In the book Billion Dollar Babies, which the youth of America accepts as the gospel about you - I'm not kidding -
COOPER: Between that and Rolling Stone's guide to everything they're usually wrong about.
UNIQUE: One of the things that people bring up from having read the book is Glen Buxton's guitar playing. The quote they repeat verbatim is Michael Bruce's comment that the only songs that Buxton could play was I'm Eighteen. Now, you were there with him, you played with him for ten years, he was you high school buddy. Is there any truth to that or is it utter bullshit?
COOPER: Glen could always play great. There were times when he could play rings around Mike. In fact, Glen was a better guitar player than Mike. Glen just got sloppy after awhile and he got interested in other things. He got more interested in the fact that he was making a lot of money and he really didn't have to do that much.
But Glen did write the classic riff on School's Out. He could play anything. There was a time when he could sit down and play anything Mike Bloomfield or Jeff Beck could play. And the funny thing was that the more popular we got, the lazier he got. And he got to the point where he didn't really try as hard as he could. He had the potential to be a great guitar player.
UNIQUE: Well, I thought that it was unfortunate that Buxton - who laid down an excellent guitar solo on I'm Eighteen during the group's appearance on In Concert - didn't get the credit he deserved as being a great guitar player because of a couple of lines in a book.
COOPER: I'll tell you one thing why a lot of people got down on Glen was because he as good and wouldn't try. Dennis (Dunaway), Mike, Neal (Smith) and I would always get on him. We'd get on him to the point of telling him, "Why don't you pick up the guitar, go into the other room and play?" And we would get frustrated with him because we knew how good he could play. We saw him go from that level (raise arm high) to that level (lowers arm). And that actually hurt us as much as it hurt him.
We were always a really solid, together band. We spent more time in the garage than we ever did in front of 40,000 people. So what people don't know was that for seven years, we were in the garage rehearsing. And that the only time we ever came out was when we were ready to play.
But the band was one of the weirdest band in the world. They could sit and jam with Pink Floyd. They could jam with all these real strange bands. But if you put a blues thing in front of them, they couldn't play blues because that wasn't their roots at all. They decidedly hated blues. So if it was somehting that had to do with sound and experimentation then the band could play with anybody. But if they had to play with Savoy Brown, they were at a total loss.
But there's one thing you have to remember about the book. As soon as we found out that Greene was gullible, we took advantage of it. Evertime I threw an ashtray at Neal, it was total show - because we knew that Greene was going to write it down. And when we started reading in the book about how much we hated each other, I'd go, "Do you really hate me that much?" And Bruce would go, "I didn't think I hated you that much." I remember laughing about some of the funny things because they really were out of context.
UNIQUE: In the beginning of your solo career, you had a couple of decent sellers: Welcome To My Nightmare and Alice Cooper Goes To Hell. Then you went into a slump. With Trash, you're back on top with a platinum LP and a top ten single. So how does it feel to be back on the top of the heap?
COOPER: Well, I can't make it totally my fault or my doing. A lot of that had to do with what happened in music, too. After Nightmare and Hell, there was a big change in music. Music took on a new face. Rock and roll was not to be heard on the radio anymore. Suddenly, we were into the disco plague and there were no more guitars on the radio, so we went pretty much underground.
UNIQUE: You're talking about getting airplay on the top forty stations versus airplay on just the album-orientated FM stations?
COOPER: Well, you have to remember that in the beginning, Alice was used to being in the top ten on AM and FM radio. We were used to being one of those competing bands. Then all of a sudden, radio was all dance records. And we would not do dance records. So, all they played was our ballads. We had four hit ballads in a row. What people didn't know was the rest of the content on those albums was all hard rock. Ninety percent of the album was hard rock and ten percent was ballads. So I got a reputation of becoming a crooner.
But at the same time, I needed this thing because I was getting into serious alcoholism at this point. Not because of the decline of what we were doing, but because the alcohol was physically taking it's toll on me. And I finally had to hit rock bottom physically and mentally before I could start clawing back up again. So, it's been seven years since I had a drink and now its starting to show up in the records.
UNIQUE: Do you think Trash is a complete split from what you did on Constrictor and Raise Your Fist and Yell or is it just a refinement?
COOPER: Constrictor, and Raise Your Fist and Yell were total calling cards. After I was out of the business for awhile, I felt that if I was a kid, I would be thinking, "Well, the last thing I heard from Alice was this ballad, and then I heard these weird albums, so Alice is probably really mellow now. Alice has probably cut his hair and he's going to come back boring because he doesn't drink anymore. He doens't get high and all this." So the obvious thing for me to do was come back much harder, much skinnier, much more sculptured and much more of a villain than I ever left. So on Constrictor, Raise Your Fist and Yell, I put together bands that were metal bands, not hard rock bands. Kane Roberts was a metal guitarist and Kip Winger, at the time, was a metal bass player. He probably wasn't a natural metal bass player, but that's what he played with me. So all the guys I had i the band were all metal guys and I wanted that to be the calling card. Alice is not just back, but he's more vicious than eve. And I was. I thought blood all day. I wanted more blood on that stage than anyone had ever seen. I wanted buckets of blood.
UNIQUE: Is that in reaction to all those bands who copied your routine?
COOPER: No, it wasn't even that. I'm an overdoer anyways. I'm totally an obsessive person. So I said, "If we're going to use blood, let's paint the town red." And that's what we did. It was fun. I really had a great time. Every night I knew that when those weather balloons popped, they were gonna cover everybody. When they walked out, they would be wearing the mark of Alice. That was really a lot of fun. But I had to do those albums to get to Trash.
UNIQUE: Since you went solo, every two years or couple of albums, you change musicians. Do you think that makes it harder to be consistent in the music? For example, a band like Aerosmith has that trademark sound. Once you get that, you're set. Now since this album is very successful, do you want to keep this group or are you going to take more chances and say, "Let's do something else?"
COOPER: Right now I'm really happy with this band that I have for the Trash tour. So far, review-wise, everyone is saying it is the best hard rock band I've ever had and I'd have to agree. It is the best hard rock band that I ever had. I don't know why, but they just gel. They love to play I'm Eighteen and Spark In The Dark. They sound great every night. If they have a bad night, we're the only ones who ever know it. The spirit is there. The look is there. Their attitude is right. So I'm really lucky to have this band and I would love to keep these guys recording and as the Alice Cooper band for as long as I can.
Now for the other guys, I knew that Kip had aspirations for doing his own album when I got him. I could see he was a pop star. And I knew Kane wanted to do his own album. So I knew that band was not going to stay together. This band hopefully will stay together.
UNIQUE: On Trash did you write the lyrics while Desmond Child supplied the music?
COOPER: Well, the idea on Trash was to get back to song writing. Not writing lyrics to riffs. I wanted to get away from that. I wanted to get back to the real art of song writing and write a '70s album.
UNIQUE: When you did albums like Killer and School's Out, did you write the lyrics first?
COOPER: We never wrote lyrics first. We always worked at just about the same time. Somebody would come up with a musical riff. Eighteen and School's Out were jams. We just took a 40 minute thing and broke it down into two or three minutes. We took the best parts out and made a song out of it.
With Desmond, we didn't work like that. We sat down and made a conscious effort that went, "Okay, here is the melody like. We want it to go this bridge and we want this bridge to head towards this chorus and then we want to double that chorus." So it was a real mathematical way of looking at it. We worked four or five months in writing it and took only six weeks in recording it. I think its more important to write it than record it. I think all the basic tracks were done in two or three takes.
UNIQUE: Do you keep a little notebook so that when you're sitting on the road, you can write down phrases that can be later used in future songs?
COOPER: Yeah. I've got a little rag of paper. You'd be surprised. There are songs that we wrote from things that were written down eight years ago. A song like You Drive Me Nervous was something somebody said at rehearsal. We were yelling at this guy and he was so wrecked, he yelled, "You're driving me nervous." And I said "Wow, what a great idea for a song."
UNIQUE: Does it ever amaze you that in the early '70s, you used to turn out an album every six months and go on tour? These days, there's a two or three year gap between albums.
COOPER: I was used to doing one and a half to two albums a year. I thought that was the way to do it. Now one album takes you so much further. Trash, for example, is taking us into 14 months of touring. And that means if I want to start writing for the next album, I've got to do it on the road.
UNIQUE: Do you find yourself second guessing a little bit on what you think your audience wants to hear? Because when you wrote School's Out and I'm Eighteen, you were 23 or 24. You were a lot like Metallica is right now; they basically have a strong rapport with their audience because they're a young band. They're not much older than their audience. These days, you're older, a parent...
COOPER: But Alice isn't.
UNIQUE: Alice isn't?
COOPER: No, no. I can be anything I want to be, but Alice is Alice. And I write for Alice. So when Alice is on stage tonight, Alice will be 18-years old. And Alice will be younger than 18. He will be more of a punk than any 18-year-old out there. And he will look them right in the eye and say, "You think you're more of a punk than me?" And he means it. But I turn into him. I go very seriously into this character.
UNIQUE: Do you sit around before the concert and actually physically and mentally prepare yourself to become Alice?
COOPER: I have the weirdest set up. I never leave the bus. I never go backstage - ever - until the moment I'm ready to go on stage.
And I watch nothing except these really back Chinese kung-fu movies. I have maybe 300 movies on the road, in the bus, and none with Bruce Lee. If there is anybody I recognize in the movie, I turn it off. It's got to be the really band ones. Because the energy behind those things is so high. They're cut so well - the editing. And they are so fast and vicious that it really puts me into the right state.
UNIQUE: One thing I've always noticed about your shows, and this goes back to the '70s, is that you've always had girls come out on stage wearing erotic outfits. In 1976, it was naughty for the girls to wear garter belts and lace stockings. Then on the Constrictor tour, they wore dominatrix outfits. And now you're going into latex. Where do you get your ideas on the cutting edge of sexual fashion?
COOPER: I don't know. I think it's probably whatever we look at on stage and go, "Oh, they're going to hate that in Minneapolis."
In this show, there really isn't much of that type of stuff. This show is much more musically orientated than the last shows. I think 70 percent of the show is music. And the 30 percent that is theatre is pretty intense. We pack it all into one 30 minute segment where we do Dwight Fry, Nightmare and Only Women Bleed. The audience doesn't have a change to breathe and they don't have a change to leave either. We do eight songs up front before they know it, the stage is changed, the makeup is changed. Then full attitude of the building is changed. In a theater situation, they really can't get away from it. So it's not like a big arena where is dissipates. This is really right in their face.
UNIQUE: Do you think that the character Alice Cooper you play on stage, in a bizarre sort of way, is the all-American hero type? Because he's sort of a misfit, a loner, the romanticized gun-slinger? Everybody in America thinks of themselves as a Gary Cooper type. And Alice doesn't take answers from anybody. He wants to be his own person.
COOPER: I think that has a lot to do with it. I think Alice is somewhere between a hero and a villian. He comes off as a villain for the audience because he's a catharsis for them in a lot of ways. Alice does all the things that they want to do. He spits on his own picture. He tears his own head off a cardboard cutout of himself. If somebody gives Alice roses on stage, he immediately knocks the heads off and hands the thorns back to the girl. He does anything he can to be obnoxious. But that's why people like him. If Alice ever went out there and said, "Gee it was nice being here tonight and I'm really glad that you liked this," they would hate him. But Alice goes out there, grabs them by the throat and says, "Come here."
UNIQUE: How do you calm down after this?
COOPER: When I step off stage, I'm not Alice. I'm just not him. It's the audience who is the biggest cause for Alice. When they're gone, he doesn't exist anymore. He just goes away. When they're there, he exists. When I'm back in the bus getting ready to go on, I'm not Alice. I'm not Alice until the garbage can explodes and there's an audience in front of me. Then I become him.
UNIQUE: So you go home, grab a burger and that's it?
COOPER: It's very theraputic.
UNIQUE: I was looking at your first album, Pretties For You and was amazed by the fact that in '69, the Alice Cooper band had created the look that every hard rock/heavy metal band uses today. It's as if hard rock/heavy metal attire is in a time warp.
COOPER: We were so far out on a limb in 1969 that we couldn't come back. We were lucky to have five people who were so extreme in what they were doing that they really didn't want to come back. We were in competition with 60,000 bands out there. So we said, "Let's do what we do naturally." Our natural thing was to be totally outrageous. To almost entertain ourselves. We were so outrageous that people couldn't fathom in.
If we played an outdoor festival, they had to give warnings, like medical warnings, for people who were on acid. Santana will be next, then Alice Cooper.
UNIQUE: Is that when you would do things like kick a football in the crowd?
COOPER: Yeah. You have to imagine 50,000 people in the early '70s and they're all on drugs and all of a sudden here come Clockwork Orange up on stage. Alice Cooper was not into peace and love at all. We were more into "ultra-violence" as long as it was choreographed and it went with the music. So people used to run towards the Red Cross stations, where they had special tents set up. I was so proud of that.
UNIQUE: When you were a kid in high school when did you realize that you wanted more than a 9 to 5 job?
COOPER: I was going to be an artist. That was going to be my major in college. That was the only expression I had. I didn't really think about being in a band. When the Beatles and the Rolling Stones came along, I saw that there was a new way to express myself. I saw that five guys could get together, play their instruments and sing. That for me was a whole new art medium.
I love the British Invasion - groups like the Yardbirds and Zombies. I was 15 years old and said, "This is great." But still nobody had done anything with the stage yet. I was hoping nobody would use it until we came along. Finally, we were lucky enough that far and we took it. I said "Now we own that." We pretty much spent all of our money on the stage. In the very beginning, when we did the School's Out tour, we weren't millionaires because the money all went back into the show. It was amazing. The more money we go, the more ideas we could do on stage. And we totally took it to extremes.
UNIQUE: Do you still think you're excessive?
COOPER: Oh, yeah. On everything. It's really hard. I have to have people around me to pull me back when I'm putting a show together, because I would wire the seats. I would definitely give everybody a little shock of energy at certain points in the show. I mean not enough to hurt anybody, but at one point I'd like them all to go, "What was that?" Sort of Pavlov type of thing.
(Originally published in the September-October 1990 issue of Unique magazine)