Spec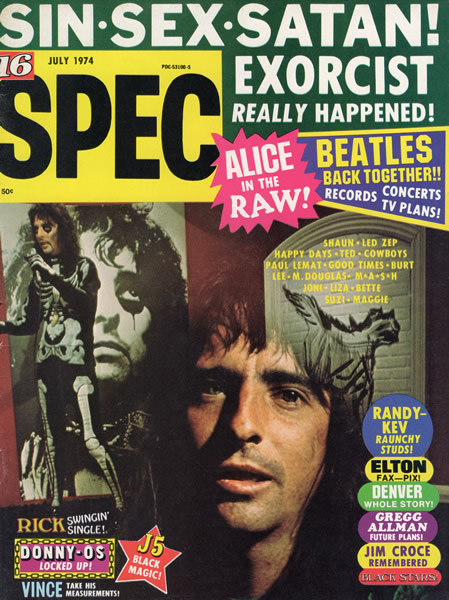 Originally Published: July 1974
News Reports
Alice's next - a documentary of his group's last concert tour with mad, made, mad Marx-Bros.-type films (featuring Alice and the group) interspersed!
---
Alice "sneaked" off to Brazil for several concerts in March - just to feel out the Latins' reaction to his particular brand of horror-rock.
---
The 16th Annual Grammy Awards
Rock star Alice Cooper stepped out of his limousine - wearing a beat-up leather jacket and no shirt underneath? Typically, Alice "wanted to look different" that night - and he certainly succeeded! Alice was there to present the award (along with Helen Reddy) for "Best Male Pop Vocal Performance" - Stevie Wonder was the recipient of that one!
Published in Spec magazine in July 1974 and also features a double center spread of "Alice in the RAW!", a series of pictures of Alice posing nude with Eva Marie Snake.