South Wales Argus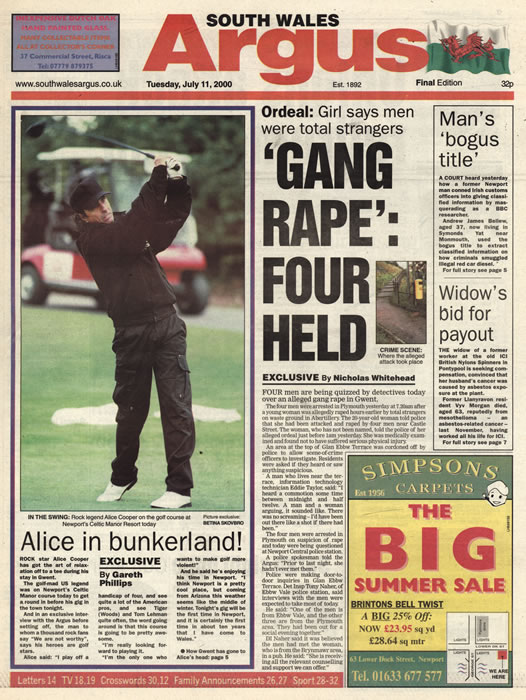 South Wales Argus
(July 11, 2000)
Originally Published: July 11, 2000
Alice in bunkerland!
Author: Gareth Phillips
Rock star Alice Cooper has got the art of relaxation off to a tee during his stay in Gwent.
The golf-mad US legend was on Newport's Celtic Manor course today to get a round in before his gig in the town tonight.
And in an exclusive interview with the Argus before setting off, the man to whom a thousand rock fans say "We are not worthy", says his heroes are golf stars.
Alice said: "I play off a handicap of four, and see quite a lot of the American pros, and see Tiger (Woods) and Tom Lehman quite often, the word going around is that this course is going to be pretty awesome.
"I'm really looking forward to it.
"I'm the only one who wants to make golf more violent!"
And he said he's enjoying his time in Newport. "I think Newport is a pretty cool place, but coming from Arizona this weather seems like the middle of winter. Tonight's gig will be the first time in Newport and it is certainly the first time in about ten years that I have come to Wales. "
Alice is hair-raising
Rock legend Aloice Cooper's satay in Newport has gone to his head – literally.
Bad boy Alice, famous for his hits like 'School's Out', has picked up a few bargains at a Newport store.
He was spotted yesterday, buying wigs in a Newport joke shop.
And in an exclusive interview, he told the Argus today: "I went into the shop and I saw the wigs, and they were cut just right to go with my hair."
He added that he plans to wear them tonight for his gig at Newport centre.
Shopkeeper Kevin Masters didn't bat an eyelid when the denim-clad man came in to Newport's House of Fun and asked to look at some wigs.
"I asked him what he wanted them for, because they're quite expensive," said Mr Masters, 32. He said the customer explained he was after some wigs for a new Alice Cooper pop video.
'Then Simon Miles from the shop next door said to him 'You are Alice Cooper, aren't you?' an dmy customer said 'Yes'." He was quite chatty. A nice fella," said Mr Masters.
Alice Cooper, real name Vincent Furnier, brought a 19-in 'Emmannuelle'-style wig for £18.50 and a 25-in 'Cher' wig for £25, both in black.
At the Celtic Manor Resort today, Alice added: "Tonight is going to [be] really cool."
* See tomorrow' Argus for our review of the gig.