Song Hits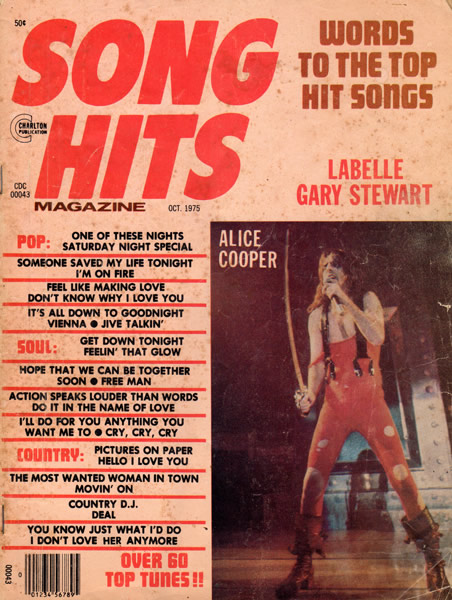 Originally Published: October 1975
Pop Star of the Month
Alice Cooper
Some people wake up screaming. Alice Cooper spends his days that way. If nightmares were nice, they would be dreamed by Alice. And they would look and sound like "Welcome To My Nightmare," a television special and the lastest LP by the King of Shock Rock.
"Welcome To My Nightmare" is Alice's most carefully planned project, first conceived over 2 years ago when Alice became fascinated with the demonic visions that appeared in his dreams. Realizing that his own nocturnal emissions were only a handful of the billions being dreamed around the world, Alice decided to present a set for everyone to share. After choosing some of his most horrifying visitations for the concept, Alice began pre-production work for the soundtrack in association with guitarist Dick Wagner and composer Alan Gordon at Alice's Los Angeles home inthe spring of 1974.
The composition of the lyrics and melodies on "Nightmare" spanned three continents and were written in some of the most exotic cities in the world, including Paris, Rio De Janeiro and New York. By autumn of 1974 Alice and a host of rock and roll's finest musicians moved to Nimbus 9 Studios in Toronto where master producer Bob Ezrin began work on the project. Extensive recording, over-dubbing and sweetening continued at the Record Plant West and A&R Studios in New York. The massive project was finally completed 5 months later in January of 1975 at a cost of over $200,000.
"Nightmare" presents yet another musical facet of Alice Cooper; a more diverse, melodious and haunting side to the master of macabre and mayhem. "Only Women Bleed," for example, is Alice's first pure-bred love balled. Tracks like "Some Folks" and "Cold Ethyl" are blistering hard rockers in the tradition of "Eighteen" and "School's Out." There is also "Department of Youth," Alice's anthem for the children of the world who makde him the symbol of their generation.
But don't forget the nightmares! "Steven" is a spellbinding glimpse into the mind of Alice's newest psychotic boy-man, and "Black Widow" is an enchantingly hideous production enriched by the voice of film star Vincent Price. As in all nightmares there is "The Awakening," and for Alice, at least, "Escape".
But Alice's "Nightmare" can be anyone's dream, and to prove it he will bring it to people all over the world on an 8 month tour beginning in mid-spring of 1975. The "Nightmare" tour enlists the talents of some of the most brilliant showmen in the entertainment business, including famed television and motion picture producer-director and winner of the Peabody and Christopher Awards and six Emmy niminations, David Winters, who is responsible for the elaborate staging choreography, and set designer Joe Gannon who has designed productions like the Neil Diamond show and Alice's "Billion Dollar Baby" tour.
The most elaborate, extensive and dramatic tour ever conceived, "Nightmare" is expected to gross over $6 million, and Alice (as they say) has come a long, long way to all this. Born under mysterious circumstances in Detroit in 1948 his family moved to Phoenix when he was 11 where Alice proceeded to grow into an arch-typical teenager; track star, school clown and journalist. In his senior year at Cortez High School, (which Alice immortalized in "Alma Mater") he appeared in a Beatle wig with guitar in hand for a skit by the Letterman's club in the school cafeteria. The skit was a joke, but it laid the foundation for a philosophy that was to eventually make Alice the most popular and unconventional entertainer of the 1970's.
At the age of 18 Alice and his band began periodic trips to Los Angeles while he attended college in Phoenix. Eventually the lure of tinsel town on the Pacific took him away from school and made the Cooper group full time Los Angeles citizens. Alice lived there for 2 years, sleeping in a coffin, living in motels and mansions, inexplicably dressing in women's clothing and wearing make-up while other glitter rockers were still in grade school.
It wasn't until 5 years later, after Alice had moved to Detroit, that he met Bob Ezrin who was responsible for the production work on the first smash single from the Cooper group, "Eighteen." There's been a log of mascara under the eyelids since then, including 6 gold albums, 3 platinum, sales of over 12 million records and a tune called "School's Out" which became the largest selling single in the history of Warner Brothers Records. There was also the legendary "Billion Dollar Baby" tour, a 56-city - 62 day blitz of the U.S.A. that grossed over $5 million and made Alice Cooper a household name.
After Alice's "Billion Dollar Baby" tour the Coop relaxed for a year before returning to the studio with Ezrin to begin work on "Nightmare." Listen to the album and see the show.
You'll know that Alice is here again, and you just might make up screaming.