Screamer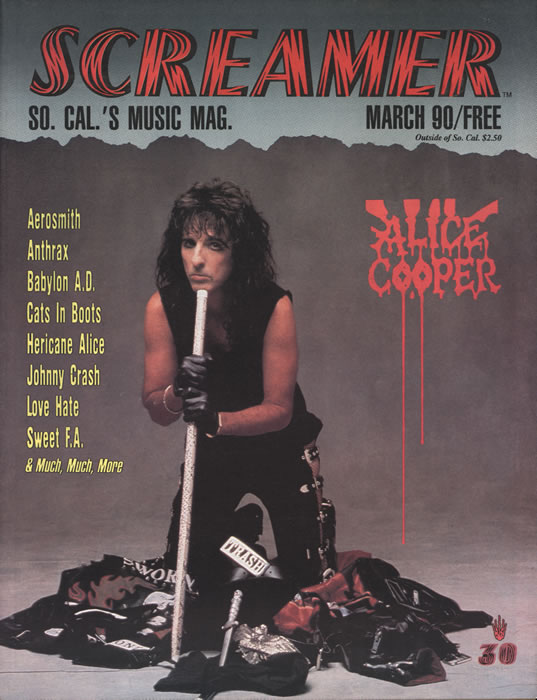 Originally Published: March 1990
Alice Cooper
Author: Sonya Shelton
From violence to sex - meet the all-new and improved Alice Cooper. It's a change in direction that reflects a fresh approach to the '90s.
Cooper's past albums have built on violent horror themes, but, with Trash, a new album, a new decade, a new record label and an entirely new band, he's decided to take a new approach to his music and lyrics, as well.
"I wanted to start the 1990s out a new, fresh concept," says Cooper. "We had already done a lot of splatter, a lot of the blood thing on the last two albums, and a lot of horror and rock. I really wanted this album to be a different thing.
"I wanted it to be hard rock, not metal. I wanted it to be sort of like my roots kind of hard rock. I wanted the album to be more of a '70s kind of album with 1990s production, because that's where my music is right now. I think everything keeps coming back to just a basic rock n' roll sound."
With '70s-influenced garage bands like Guns N' Roses making a tremendous impact, as well as '70s bands like Aerosmith coming back with a vengeance, Cooper feels right at home with his own version of a '70s influenced sound on Trash.
Though he does feel the Trash tracks have a completely different sound from his earlier material, he doesn't see the basic roots of rock n' roll changing much.
The basic "garage band" line-up of drums, bass, two guitars and a lead singer still holds on the most popular rock band format, and Cooper continues to follow that path.
However, he feels the continuous growth in studio technology has influenced his stylistic transformations the most.
"I think that's the only difference between music in the '90s and music in the '70s," Cooper says. "The actual construction of rock n' roll hasn't changed at all. I think the only real change is in the studio. The studio sounds so much better now than it ever has. I mean, you can go in and make a guitar five times bigger than what it normally is.
"I listen to the guitars that we put on in Billion Dollar Babies and School's Out, and then I listen to the guitar sound that we get now in Trash - there's worlds of difference.
"It's the same thing with drums. The drum sounds are so much better now than what they were back then. So, it really is all in the studio. The studio has become like the invisible member of your band."
Though Cooper has taken a different direction musically and lyrically, he remains as rebellious as ever.
"I think if you're a rock n' roller, then you're a rebel," he says. "I can't picture me ever getting up there and singing about hos wonderful everything is. I have a very positive character, though. I mean, really, I'm a very positive person. It's just that rock n' roll is based around rebellion. It's based around sex and violence. But, I don't think that condones violence. I just think that it's just something that's with us, so we comment about it."
Comment, indeed. Cooper is famous for his observations of the world expressed through his lyrics. With Trash, he kept a consistent theme throughout the album by looking at several different ways people view sex today.
"I wanted this album to be much more about sex rather than violence," Alice explains. "That's why the Trash title and everything. We tried to span sort of a spectrum of ideas and thoughts about sex in the '90s.
"It goes from totally sophisticated with a song like Poison, which is more sophisticated, all the way to something like I'm Your Gun, which is a real garage-band song. I mean, real 125-year-old lyrics. That's the kind of fun with that one. 'Pull my trigger I get bigger' - there's nothing real literary about that, but I think it's fun to sing it.
"Then, there's a song like Bed Of Nails that is a satire on S&M. Then, it goes all the way to a thing like Only My Heart Talkin', where Steven Tyler and I do like a totally romantic song."
Though he did cover several aspects of sexuality in today's society, Cooper feels he only began to scratch the surface. So many complicated aspects in relationships exist today, which makes it virtually impossible to hit each and every situation or feeling involved on only a ten song album.
Cooper's partner on Trash was well-known songwriter Desmond Child. Cooper originally hooked up with Child after realizing that he wrote or co-wrote many of Alice's favorite songs.
"When I listen to the radio, I always sort of turn up the songs that I really like," says Cooper. "I'm driving along in my Corvette, and I hear a song and I turn it up. I realized that out of the ten songs that I constantly turned up, eight of them were written by Desmond."
After this realization, Cooper contacted Child and explained to him some of his ideas for the new album. Child agreed to work with him, and they spent the next five months collaborating on the songs for the record.
Once the writing was finished, they recorded the album in a mere six weeks.
Child wasn't the only outsider to work with the Cooper band on the album, though. Cooper also decided to bring in some friends to perform on some of the tracks as well.
These friends included an array of musicians from Steven Tyler and Joe Perry of Aerosmith all the way to Jon Bon Jovi and Richie Sambora of Bon Jovi.
After the album was recorded, Cooper and Child decided they wanted to spice it up a bit, so they brought in these friends to add that extra flavor.
"It was kind of fun," says Cooper. "It was like an old fraternity thing seeing all these guys that we hadn't seen in a while. The guys in Bon Jovi were friend of ours, and we wanted Jon to sing something that he wouldn't normally sing on. I put him on a song called Trash, which is a little nastier than what his albums do."
The tracks Cooper did bring other artists in for, he felt almost specifically called their names. He heard the tunes and knew exactly what artists he wanted to put on them, because he felt these particular musicians would not only fit the songs, but add something to them.
However, Cooper maintained complete involvement throughout the recording process.
Though Desmond Child produced Trash, Cooper stayed right there through every step, making sure everything went exactly the way he wanted it to go. From the foundation recordings of the bass and drum tracks all the way to the final additions from his friends, Cooper made sure he was there observing, and in a way, directing each part of the record.
Another cause for the change in the characteristics of the Alice Cooper sound is his entirely new back-up band. Every member of Cooper's previous band has gone on to do their own projects or join other successful projects. Which, though Alice supports their new careers wholeheartedly, left him to find new musicians to mutually boost each of their careers.
After many auditions, he finally came across the players that fit his style, direction and personality just right. The current line-up includes lead guitarist Al Patrelli, guitarist Pete Freezin, drummer Eric Singer, bassist T-Bone Carradona and keyboardist Derek Sheranian.
So far, most of the reviews of the Alice Cooper shows have lauded the new band the best Cooper has ever played with, and Cooper himself remains extremely impressed with their performances.
Cooper and his band have been on the road for approximately six months out of their 14 to 15 month tour. They've already sold out most of their shows in Europe and Canada. And, they're presently taking a seven-week tour across the United States playing mostly theater venues, not because they can't pack the bigger venues, but because they want their fans to seem them in smaller places.
"We have a whole new audience out there," Alice explains, "because of MTV and because of the popularity of the Trash album, with Poison and all that stuff. I want this audience to see the Alice Cooper show close. I don't want them to see it where Alice is just a little spec on the stage from 900 aisles back. I would really like them to see Alice Cooper where they can see the emotions on his face."
Once they've finished their theater tour, they will go back and hit the bigger venues all across the United States until the end of their tour.
Playing live remains Alice Cooper's favorite part of being a musician. He enjoys seeing his audience's responses face-to-face - a feeling you can't get from being in the studio or making a video.
"It's just one of those things where you can go into the studio and you do your songs, and then you get your reaction much later," he says. "You sort of get your reaction with people saying, 'oh yeah, I like that song.'
"But, I like to see an audience's immediate reaction. If I get my head cut off or if I do this or that on stage, I want to see them go (gasps). I like to get that immediate response. The only way you can do that is to do it on stage in front of them. I think people are always expecting Alice to do something new on stage. So, I try not to disappoint them."
As for the Trash tour, Cooper once again whips out his bag of surprises that keeps his old fans coming back, and brings in new ones. The current show is an hour and 45 minutes long, during which the band performs 22 songs, both old and new.
They play eight songs off the new album, and the set is divided into three separate sections.
The first section contains just straight-ahead hard rocking tunes. Eight songs in your face with a combination of classic songs like 18, Billion Dollar Babies and No More Mr. Nice Guy, then some future classics like Trash and I'm Your Gun.
Next, comes the second section of Alice's nightmare. For half an hour, the theatrics Alice Cooper is famous for take over, transforming the show into a horrific journey through Alice's world of insanity.
This rock n' roll roller coaster ride includes the guillotine scene where his head gets cut off, the straight jacket scene complete with doctors and nurses and an all out gang war on stage.
Finally, the Trash section finishes the show with four or five more songs from the current record. Then, Alice takes the crown back with School's Out and Under My Wheels.
"Then, everybody goes home exhausted, hopefully," he says. "I want the audience to be exhausted."
Obviously, Cooper leaves exhausted after such an extensive set, but he feels his theatrics still have a place, even in a music scene where few band, if any, have a stage show, simply because no one else is doing it. And, of course, theatrics always have and always will be, a trademark of the Alice Cooper concert.
"There are some band out there that are attempting it, nobody's really doing it on the level that we're doing it," he explains. "Besides i think it's fun. I wouldn't want to go on stage if I didn't have the parts of the show that I consider to be the most fun. To me the fun part of doing the show is putting in Alice's signature, and seeing the people's reaction to it.
"We do it to the point where every time we it, we do it different. We try to do it better, more believable. When you see the guillotine, it really looks like Alice's head gets cut off."
The reason Alice Cooper became interested in the horror and theatrics he puts in each show was precisely because it was different. he looked around and saw many talented bands. Though he knew he had a band that could also make a mark, he wanted to stand out. Which he did and still does, as the father of rock theater, and remains the only one to perfect it.
"I said (at the beginning) the thing that's gong to make us different is the fact that we're not just going to sing the lyrics, we're going to show them the lyrics," Alice describes. "I want to see the lyrics. So, the only way to do that is theatrically project them. If you're going to do a song like Welcome To My Nightmare, then I think you should show them what the nightmare is. Not just sing about it, but show them. That means the whole stage has got to turn into a nightmare, and that means that Alice has got to react to things that are going to be popping up at him and coming at him. To me that's the fun of it, really, creating this on stage."
Though successful, Alice Cooper's career hasn't always been so much fun. He had to take a few years off from his rock 'n' roll career to conquer his alcohol addiction. Once he returned, he came back to a whole new audience that he had to win over again. Though he was actually resuming his career, he also felt almost as though he had to start from the beginning.
"I felt like it was resuming," says Alice, "but I felt like it was a real long period between times. I also kind of felt like it was starting over, I guess. The only thing that was missing was the fact that I wasn't drinking, and that I was in total focus. I could really focus on what I was doing and what I wanted to do.
"When I was drinking, I kind of just let things happen the way they happened and kind of sluffed my way through it. Whereas now, I'm probably a lot heavier taskmaster about what I do. I want everything perfect on stage now. I figure if I'm in focus, I want everybody in focus. Now, I think the show is a lot more precise."
Though he did make changes in his show and in his music following his comeback, Cooper never considered giving up the theatrical part of the show.
He knows that his fans come to see that part of his show and would be sorely disappointed if he took it out. He has, however, put a limit on his theatrics.
"I made sure there were the Alice theatrics, but I didn't want them to be the predominant part of the show," he explains. "I didn't want them to be 90 percent of the show. I made it more like 30 or 35 percent of the show with theatrics this time, and the other 65 or 70 percent was just really good hard rock music - the hard rock Alice Cooper in your ears."
Beyond the theatrical, hard rock legend of Alice Cooper lies an almost completely different person. Also known as Vince Furnier, he lives closer to a normal life with his family.
But, how normal can it be with the Alice Cooper career constantly involved?
"It's the kind of thing where I do live a pretty Jekyll and Hyde life," Alice explains. "When I go out on tour and I become Alice Cooper, the one you see on stage, I really become Mr. Hyde. Other than that, the Alice Cooper character is more vital now than it's ever been. When we came back this time, Alice came back at 136 pounds with all of his hair and hitting harder than he's ever hit. I'm having more fun now than I've ever had doing it."
Though Alice Cooper has been rocking hard for many years, he still manages to fit into today's music scene, maybe even better than ever.
In fact, Alice Cooper is more universally accepted today than ever before. And, he feels like reflects on the current social environment.
"I think it's just a reflection on the attitude now," he says. "I think Alice is now established as an American sort of icon. Alice Cooper is kind of like a tradition in America now, which is great. I don't mind at all. I think the audience keeping coming out to see what Alice is going to do, and we keep giving it to them.
"We haven't really gotten that much trouble this time. I'm surprised that we haven't had more protests because, normally, when I'm down south, I get lots of people picketing the show and all this stuff.
"In Europe, a lot of places in Germany, protest the show thinking that we're too violent or we're too sexual or we're too something on stage. Sometimes I look forward to those protests."
After listening to Alice Cooper talk about his music and his career, through all his changes the one thing he doesn't seem to be planning is his retirement.
He continues to flow with, reflect and comment on the society around him, and will continue to do so as long as there's an Alice Cooper, and as long as there's rock 'n' roll.