Rolling Stone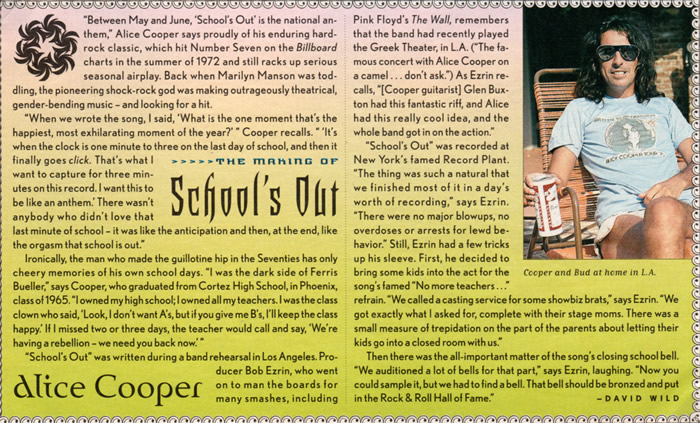 Rolling Stone
(July 09, 1998)
Originally Published: July 09, 1998
Greatest Summer Songs Of All Time
Author: David Wild
"Between May and June, 'School's out' is the national anthem," Alice Cooper says proudly of his enduring hard-rock classic, which hit Number Seven on the Billboard charts in the summer of 1972 and still racks up serious seasonal airplay. Back when Marilyn Manson was toddling, the pioneering shock-rock god was making outrageously theatrical, gender-bending music - and looking for a hit.
"When we wrote the song, I said, 'What is the one moment that's the happiest, most exhilarating moment of the year?' " Cooper recalls. " 'It's when the clock is one minute to three on the last day of school, and then it finally goes click. That's what I wanted to capture for three minutes on this record. I want this to be like an anthem.' There wasn't Anybody who didn't love that last minute of school - it was like the anticipation and then, at the end, like the orgasm that school is out."
Ironically, the man who made the guillotine hip in the Seventies has only cheery memories of his own school days. "I was the dark side of Ferris Bueller," says Cooper, who graduated from Cortez High School, in Phoenix, class of 1965. "I owned my high school; I owned all my teachers. I was the class clown who said, 'Look, I don't want A's, but if you give me B's, I'll keep the class happy.' If I missed two or three days, the teacher would call and say, 'We're having a rebellion - we need you back now.' "
"School's Out" was written during a band rehearsal in Los Angeles. Producer Bob Ezrin, who went on to man the boards for many smashed, including Pink Floyd's The Wall, remembers that the band had recently played the Greek Theater, in L.A. ("The famous concert with Alice Cooper on a camel....don't ask.") As Ezrin recalls, "[Cooper guitarist] Glen Buxton had this fantastic riff, and Alice had this really cool idea, and the whole band got in on the action."
"School's out" was recorded at New York's famed record Plant. "The thing was such a natural that we finished most of it in a day's worth of recording," says Ezrin. "There were no major blowups, no overdoses or arrests for lewd behaviour." Still, Ezrin had a few tricks up his sleeve. First, he decided to bring some kids into the act for the song's famed "No more teachers..." refrain. "We called a casting service for some showbiz brats," says Ezrin. "We got exactly what I asked for, complete with their stage moms. There was a small measure of trepidation on the part of the parents about letting their kids go into a closed room with us."
Then there was the all-important matter of the song's closing school bell. "We auditioned a lot of bells for that part," says Ezrin, laughing. "Now you could sample it, but we had to find a bell. That bell should be bronzed and put in the Rock & Roll Hall of Fame."
---
Alice Cooper
"School's Out"
1972
Youth On The Rampage: Our eyes have seen the glory of the burning of the school, and after all these years we still can't think of a rhyme for principals. Genius lyrics, moron guitars, a choir of blood-crazed moppets chanting the chorus and Alice himself, a man old enough to know better, leading a teenage riot that flares up again every June no matter how long ago you graduated. An instant folk song from a brilliant phony.