Rolling Stone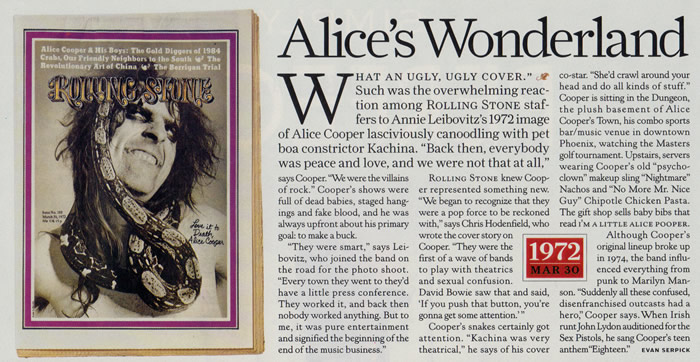 Rolling Stone
(May 18, 2006)
Originally Published: May 18, 2006
Alice's Wonderland
Author: Evan Serpick
"What an ugly cover." Such was the overwhelming reaction among Rolling Stone staff to Annie Leibovitz's 1972 image of Alice Cooper lasciviously canoodling with pet boa constrictor Kachina. "Back then, everybody was peace and love, and we were not that at all." says Cooper. "We were the villains or rock." Cooper's shows were full of dead babies, staged hangings and fake blood, and he was always upfront about his primary goal: to make a buck.
"They were smart," says Leibovitz, who joined the band on the road for the photo shoot. "Every town they went to they'd have a little press conference. They worked it, and back then nobody worked anything. But to me, it was pure entertainment and signified the beginning of the end of music business."
Rolling Stones knew Cooper represented something new. "We began to recognize they were a pop force to be reckoned with," says Chris Hodenfield, who wrote the cover story on Cooper. "They were the first of a wave of bands to play with theatrics and sexual confusion. David Bowie saw that and said, 'If you push that button, you're gonna get some attention.' "
Cooper's snakes certainly got attention. "Kachina was very theatrical," he says of his cover co-star. "She's crawl around your head and do all kinds of stuff." Cooper is sitting in the Dungeon, the plush basement of Alice Cooper'sTown, his combo sports bar/music venue in downtown Phoenix, watching the Masters golf tournament. Upstairs, servers wearing Cooper's old "psycho-clown" makeup sling "Nightmare" Nachos and "No More Mr. Nuce Guy" Chipotle Chicken Pasta. The gift shop sells baby bibs that read I'm a little Alice pooper.
Although Cooper's original lineup broke up in 1974, the band influenced everything from Marilyn Manson. "Suddenly all these confused, disenfranchised outcasts had a hero," Cooper says. When Irish runt John Lydon auditioned for the Sex Pistols, he sang Cooper's teen anthem "Eighteen."