Restaurant Hospitality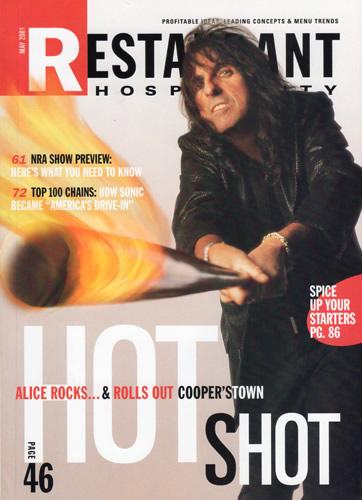 Restaurant Hospitality
(May 2001)
Originally Published: May 2001
Hot Shots
Author: Stephen Michaelides
Rock Legend Alice Cooper in the restaurant business? You Bet. Not everybody is crazy about the idea, but his accountant isn't complaining and neither are the customers who pack his Phoenix-based restaurant.
Twenty-seven years after his original band broke up, Alice Cooper is still working the rock circuit three to four months a year with his wrap-around snakes. At age 53, you'd think this son of a Methodist minister would let it go, but Vince Damon Furnier (his birth name) never lets anything go easy. He is, after all, from Detroit; a Motor City madman who's as smart as he is wild.
Cooper has made a load of money over the years perfecting his Alice character, which by today's standards is R-rated compared to the X-rated bile that grew from the petri dish of his influence. But unlike the Marilyn Mansons who followed, Cooper's game has always been to simply entertain. So it comes as no surprise that he's been able to segue into the kinder, gentler entertainment arena of the restaurant industry.
The idea was first proposed by his agent, Shep Gordon, who believed Cooper's legend could fuel the up-front theatrics of the restaurant business. But Cooper spent too many years on stage simulating his own hanging, to do so in the country's most cut-throat industry. It wasn't until 1997, when he met restaurant real estate specialist Brian Weymouth, that the idea of a Cooper-inspired restaurant began to take shape.
"You know," Weymouth says to Cooper at a Little League game in Phoenix where their sons are playing, "with this new ballpark for the Diamondbacks opening soon, and with your popularity, you-we-ought to open a restaurant downtown."
Cooper's intrigued because the thought of his name on a restaurant has now popped up twice. "My agent says the same thing," he tells Weymouth. "What will we call it?"
Weymouth doesn't know Cooper that well, but he knows the rock star is a baseball fanatic. "Cooper'stown," he says. "Alice Cooper'stown." Just like that.
"Alice Cooper running a restaurant chain? That's not so scary as it may seem," says Cleveland Plain Dealer pop music critic, John Soeder who, in a previous life, was associate editor of this publication. "Sure, we're talking about a rock star whose claim to fame in the '70s was concerts that involved electric chairs, guillotines and boa constrictors. But give him this much: He knows how to put on a show. Many restaurant-goers have come to expect a certain level of theatricality when they eat out. Cooper is just the guy to give it to them. Besides, he's not so creepy as he used to be."
AC was not going to be just any old restaurant, but one with a theme fusing baseball and rock, or as the wags over at AC eventually dubbed it, "Jock & Rock."
A year and a half later, following a $2.5 million build-out of a warehouse in downtown Phoenix, hard by the arena where the NBA Suns and NHL Coyotes play and just down the street from the ballpark where the Diamondbacks play, Alice Cooper'stown opened one week before Christmas, 1998, smack dab in the midst of an NBA lockout (timing is everything, not?).
By the end of its first quarter-NBA lockout or not-AC had nailed $1.2 million in sales. By the end of the year sales grew to $4.5 million; numbers eclipsing every projection and delighting partners and sponsors alike. Weymouth, today a managing partner of Celebrity Restaurants, LLC-the syndicate that created, produced, and financed AC-hadn't expected revenues to clear a million dollars until three or four months later, well into the baseball season.
There are, as we well know, professional pedants dotting the restaurant landscape who allege that dilettantes (celebrity foodies) should shun all business links to foodservice. Case in point: when I told a good friend, herself a certified foodservice whiz kid, about Cooper'stown (she had never heard of it), she was flabbergasted that a rock star should deign to insinuate his persona into a business that, even without his insinuation, is slowly, but surely, deteriorating, says whiz kid, "into a vast foodservice wasteland. He and others like him are ruining foodservice for the rest of us."
To her and others of her ilk who wish Cooper had never dipped his whisk into the business; and are unimpressed with Cooper and his foray into what they know to be one of the toughest professions ever and who, therefore, question his legitimacy and don't cotton to his audacity, here's food for thought. There was a concert, staged years ago in Toronto, when Cooper tossed a live chicken into the audience (Phase One of a musical mis en place) and the audience returned it to the stage (Phase Two) in pieces and parts. Cooper, recalling that incident, cites it as proof that he has, indeed, experience serving food to the public.
Local restaurant critics like Cooper'stown. They like its decor, its attitude, and its food: the barbecue (the only items on the menu without cute names, they are a concoction of the chef who, at one time in his career, won something called "Best of the West Barbecue"), Megadeath Meatloaf (see what we mean? cute), The Big Unit Hot Dog (ditto cute and two feet long), Ty Cobb Salad, Fields of Green salads, and Mom's Tuna Casserole (Cooper's favorite). What distinguishes AC from what critics describe as "the one-dimensional focus of its movie-and-music-theme competitors" are the theme and the menu. Phoenix's New Times restaurant critic: "Not only is the food edible, some of it is actually pretty good."
That suits Celebrity Restaurants partners just fine. It's what they intended, it's what they promoted, it's what they unveiled, Dec. 19, 1998 to the delight of Phoenicians and Alice who, you should know, was not a sideline onlooker merely observing the comings and goings, but active participant sharing ideas for design, menu, growth, marketing and, lest we forget, service.
Cooper: "Everybody who comes in this restaurant needs to be treated either as a rock star or nothing less than someone coming to a concert who has a backstage pass. Every customer needs to be treated with respect; treated as if they are VIPs."
Others who shared? In addition to Cooper and Weymouth, CR brought aboard this like-minded and muscular mix of investors, each contributing dollars and inspirations to insure that AC would be a hit from the beginning: the aforementioned Gordon; Danny Zilesko, a Phoenix concert promoter; Dale Jensen, a wealthy Phoenix businessman; and Randy Johnson, the Cy Young-Award winning pitcher for the Arizona Diamondbacks.
Gordon was a natural, a shoe-in: not only was it his idea to create a restaurant, he was, after all, Cooper's manager going on 35 years. There was also this: he was a culinarian running a chefs association that had launched several members into the stratosphere of celebrity. Gordon knew food: he was investor, restaurant visionary and gastronome. In short, as foodie and partner, he was going to make darn sure the food at AC was the attraction. So, although there was no guarantee that local restaurant critics would like the food at AC, if Gordon liked it, why shouldn't they?
A computer software guru with connections to Warren Buffet, Jensen had already invested heavily into the sports world of the Diamondbacks and Suns. As subsidiary to that investment, Cooper'stown seemed to work for him. Why not take the plunge?
Take a concert promoter who books about 350 concerts in Phoenix and other parts of the southwest and, suddenly, an investment in a restaurant that features a global icon like Alice Cooper sounds like a no-brainer. Enter Danny Zelisko who books a lot of talent into Cooper'stown.
Randy Johnson? Baseball, rock and roll, and food? The Diamondbacks, Alice Cooper, and barbecue? He wanted to invest, but didn't until the Diamondbacks signed him late 1998.
And Weymouth? The left brain of the group. If Cooper, Gordon, et. al. were the bucks, dreams, and wishes behind AC, Weymouth was all that plus the real estate and production brains behind the project. He knew the Phoenix restaurant market better than most, having put together deals for entrepreneurial types who wanted to grow a restaurant concept or start or sell a restaurant in Phoenix. If you were a stranger to the Phoenix market and wanted to know how to tap it, your first call was to Weymouth. When Paul Fleming (P.F. Chang's) needed some additional capital, Weymouth helped him obtain it.
As regards AC, once everyone had agreed on its intent and framework (the component parts of sport and rock decor, entertainment, service, and food), it was up to Weymouth to determine how they'd play off each other; how they'd mingle to form a compatible ambience unique to Phoenix that would wow the socks off customers, employees, critics, and investors.
He knew, going in, that each component functioning as a separate entity would attract and please certain factions: rock aficionados and groupies, sports fans, just plain Phoenicians who had never seen anything like it before, and foodies craving great barbecue and Cooper's mom's tuna casserole. He'd be nuts to narrow-band it. AC was not fine dining. That was obvious. It was not eatertainment or anything resembling that model. Bland dinnerhouse it was not.
This is what it was; this is what it had to be-a restaurant that was all things to all people: a chameleon of a place that changed the color of its skin to blend in with what was happening.
"Simple," says Weymouth. "We adapted AC's mood to the demographics provided by the event occurring in the neighborhood."
The decor remained the same regardless. Weymouth calls it a museum of rock and roll and sports: some Hard Rock Cafe, some ESPN Zone, some House of Blues. Lots of pictures of pop and rock stars and some of their stuff; lots of pictures of sports legends and some of their stuff. Cooper's stuff? His gold and platinum records and anything else having to do with his career line the walls in the back of the place, not in-your-face up front. That's the way Cooper wanted it. AC was not designed to be a Cooper ego trip. It was to survive on its own merits, not as a joy ride for him.
Where no memorabilia line the walls, there's a cubed video presentation, 33 feet long, nine feet high.
There are also subtle sponsor insinuations in the restaurant and on the menu, itself a whimsical device combining food selections with a breezy newsletter, The Cooper'stown Gazette.
The sponsors idea was a natural. Certainly not one any restaurant might use, but for one next door to an arena or ballpark or both, it made a lot of sense. Here's the argument: if you are a stadium or an arena, these days you not only sell tickets, food, beverage, and souvenirs, you sell sponsorships. Big business. If you are a restaurant next door to a stadium or an arena-especially a restaurant with a sports theme-why not exploit the same opportunities? Made sense to CR.
"The same people going to a ballpark or an arena are walking into our place," says Weymouth. "Why not allow certain sponsors-ones that we approve of-to get involved with our concept by A) advertising here, especially those sponsors who don't want to spend a fortune to advertise in the ballpark or arena; and B) allowing them to entertain and do promotions in Cooper''stown? No different from an arena or ballpark sponsorship."
But the big deal had to be Cooper. Main attraction; the reason people visit. Right? Sort of. He comes in with his wife and kids 10 to 15 times a month when he's not touring. Any more than that and it would be, "Hey it's Alice again. Just, you know: Alice one more time dropping by for a look-see."
"If he were here every day," says Gordon, "It would just be Alice."
Like one of the employees?
"There's value in not having him here a lot."
As AC expands-deliberately, methodically, at a snail's pace-appearances by Cooper at the flagship will dwindle. That's a given.
Denver opens this month. The Detroit Tigers (Cooper is a big fan) want an Alice Cooper'stown to take over a huge space in their brand new ballpark: outside entry, Silverdome next door and plenty of surface-type parking in front of the place. A healthy wealthy landlord in Toronto has a spot he wants AC to occupy.
How about Cleveland?
"Our initial connects there fell through," says Weymouth, "but we're still hopeful. Other than a great spot right by Jacobs Field, we plan to look at a couple of others about as close. Cleveland on paper with the Indians and the Rock and Roll Hall of Fame could be the best city we could ever go to."
So, I tell Weymouth, this article will be read by a lot of people with a lot of bucks who just might want to climb aboard as investors. What's it take?
"Not any one thing.
"From a landlord standpoint, you can contribute tenant improvement dollars. Another restaurant operator? We'd listen to a joint venture.
"Licensing agreement? We're all ears if the conditions are right.
"We financed Denver internally with Celebrity Restaurants dollars. We'll look at various financing tools to see how we can finance the next one. We're looking at several options: I'm not going to pigeonhole us into one, when we can obviously do any one of a number of them."
So Puff Daddy, Mick Fleetwood, Ringo Starr and Elton John and all you other celebrities out there who thought that all it took to open and run a successful restaurant was your name on the door? Listen up: you gotta be involved. You gotta represent something customers can get their arms around. You gotta show up once in a while; not just when the joint opens. You gotta have something edible on the menu.
"All I know," says Weymouth, "is that people love sports and people love rock and roll and if we fuse these thing effortlessly and sensibly and put out some good food, I've got a feeling people are going to show up."