Record Mirror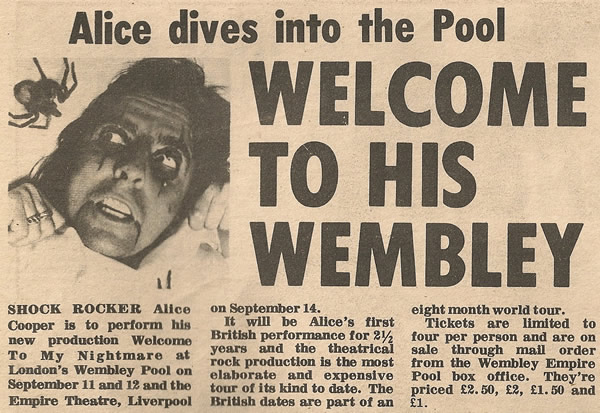 Record Mirror
(August 02, 1975)
Originally Published: August 02, 1975
Alice Dives Into The Pool
Welcome To His Wembley
SHOCK ROCKER Alice Cooper is to perform his new production Welcome To My Nightmare at London's Wembley Pool on September 11 and 12 and the Empire Theatre, Liverpool on September 14.
It will be Alice's first British performance for 2 1/2 years and the theatrical rock production is the most elaborate and expensive tour of its kind to date. The British dates are part of an eight month world tour.
Tickets are limited to four per person and are on sale through mail order from the Wembley Empire Pool box office. They're priced 2.50, 2, 1.50 and 1.