Raw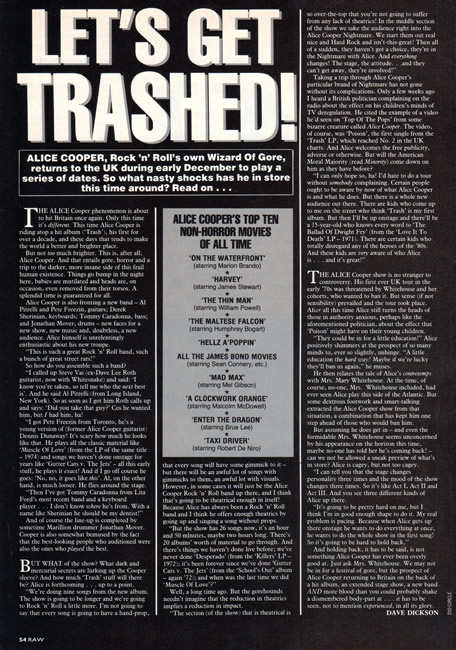 Originally Published: 1989
Let's Get Trashed
Alice Cooper, Rock 'n' Roll's own Wizard Of Gore returns to the UK during early December to play a series of dates. So what nasty shocks has he in store this time around? Read on...
Author: Dave Dickson
The Alice Cooper phenomenon is about to hit Britain once again. Only this time it's different. This time Alice Cooper is riding atop a hit album ('Trash'), his first for over a decade, and these days that tends to make the world a better and brighter place.
But not too much brighter. This is, after all, Alice Cooper. And that entails gore, horror and a trip to the darker, more insane side of this frail human existence. Things go bump in the night here, babies are mutilated and heads are, on occasion, even removed from their torsos. A splendid time is guaranteed for all.
Alice Cooper is also fronting a new band - Al Pitrelli and Pete Freezin, guitars; Derek Sherinian, keyboards; Tommy Caradonna, bass; and Jonathan Mover, drums - new faces for a new show, new music and, doubtless, a new audience. Alice himself is unrelentingly enthusiastic about his new troupe.
"This is such a great Rock 'n' Roll band, such a bunch of great street rats!" So how do you assemble such a band?
"I called up Steve Vai (ex-Dave Lee Roth guitarist, now with Whitesnake) and said: 'I know you're taken, so tell me who the next best is'. And he said Al Pitrelli (from Long Island, New York). So as soon as I got him Roth calls up and says: 'Did you take that guy?' Cos he wanted him, but I had him, ha!
"I got Pete Freezin from Toronto, he's a young version of (former Alice Cooper guitarist) Dennis Dunaway! It's scary how much he looks like that. He plays all the classic material like 'Muscle Of Love' (from the LP of the same title - 1974) and songs we haven't done onstage for years like 'Gutter Cats v. The Jets' - all this early stuff, he plays it exact! And if I go off course he goes: 'No, no, it goes like this'. Al, on the other hand, is much looser. He flies around the stage.
"Then I've got Tommy Caradonna from Lita Ford's most recent band and a keyboard player ... I don't know where he's from. With a name like Sherinian he should be my dentist!"
And of course the line-up is completed by sometime Marillion drummer Jonathan Mover. Cooper is also somewhat bemused by the fact that the best-looking people who auditioned were also the ones who played the best.
BUT WHAT of the show? What dark and mercurial secrets are lurking up the Cooper sleeve? And how much 'Trash' stuff will there be? Alice is forthcoming ... up to a point.
"We're doing nine songs from the new album. The show is going to be longer and we're going to Rock 'n' Roll a little more. I'm not going to say that every song is going to have a hand-prop, that every song will have some gimmick to it - but there will be an awful lot of songs with gimmicks to them, an awful lot with visuals. However, in some cases it will just be the Alice Cooper Rock 'n' Roll band up there, and I think that's going to be theatrical enough in itself! Because Alice has always been a Rock 'n' Roll band and I think he offers enough theatrics by going up and singing a song without props.
"But the show has 26 songs now, it's an hour and 50 minutes, maybe two hours long. There's 20 albums' worth of material to go through. And there's things we haven't done live before; we've never done 'Desperado' (from the 'Killers' LP - 1972); it's been forever since we've done 'Gutter Cats v. The Jets' (from the 'School's Out' album - again '72); and when was the last time we did 'Muscle Of Love'?"
Well, a long time ago. But the gorehounds needn't imagine that the reduction in theatrics implies a reduction in impact.
"The section (of the show) that is theatrical is so over-the-top that you're not going to suffer from any lack of theatrics! In the middle section of the show we take the audience right into the Alice Cooper Nightmare. We start them out real nice and Hard Rock and isn't-this-great! Then all of a sudden, they haven't got a choice, they're in the Nightmare with Alice. And everything changes! The stage, the attitude... and they can't get away, they're involved!"
Taking a trip through Alice Cooper's particular brand of Nightmare has not gone without its complications. Only a few weeks ago I heard a British politician complaining on the radio about the effect on his children's minds of TV deregulation. He cited the example of a video he'd seen on 'Top Of The Pops' from some bizarre creature called Alice Cooper. The video, of course, was 'Poison', the first single from the 'Trash' LP, which reached No. 2 in the UK charts. And Alice welcomes the free publicity, adverse or otherwise. But will the American Moral Majority (read Minority) come down on him as they have before?
"I can only hope so, ha! I'd hate to do a tour without somebody complaining. Certain people ought to be aware by now of what Alice Cooper is and what he does. But there is a whole new audience out there. There are kids who come up to me on the street who think 'Trash' is my first album. But then I'll be up onstage and there'll be a 15-year-old who knows every word to 'The Ballad Of Dwight Fry' (from the 'Love It To Death' LP - 1971). There are certain kids who totally disregard any of the heroes of the '80s. And these kids are very aware of who Alice is... and it's great!"
THE ALICE Cooper show is no stranger to controversy. His first ever UK tour in the early '70s was threatened by Whitehouse and her cohorts, who wanted to ban it. But sense (if not sensibility) prevailed and the tour took place. After all this time Alice still turns the heads of those in authority anxious, perhaps like the aforementioned politician, about the effect that 'Poison' might have on their young children.
"They could be in for a little education!" Alice positively shimmers at the prospect of so many minds to, ever so slightly, unhinge. "A little education the hard way! Maybe if we're lucky they'll ban us again," he muses.
He then relates the tale of Alice's contretemps with Mrs. Mary Whitehouse. At the time, of course, no-one, Mrs. Whitehouse included, had ever seen Alice play this side of the Atlantic. But some dextrous footwork and smart-talking extracted the Alice Cooper show from that situation, a combination that has kept him one step ahead of those who would ban him.
But assuming he does get in - and even the formidable Mrs. Whitehouse seems unconcerned by his appearance on the horizon this time, maybe no-one has told her he's coming back! - can we not be allowed a sneak preview of what's in store? Alice is cagey, but not too cagey.
"I can tell you that the stage changes personality three times and the mood of the show changes three times. So it's like Act I, Act II and Act III. And you see three different kinds of Alice up there.
"It's going to be pretty hard on me, but I think I'm in good enough shape to do it. My real problem is pacing. Because when Alice gets up there onstage he wants to do everything at once, he wants to do the whole show in the first song! So it's going to be hard to hold back."
And holding back, it has to be said, is not something Alice Cooper has ever been overly good at. Just ask Mrs. Whitehouse. We may not be in for a festival of gore, but the prospect of Alice Cooper returning to Britain on the back of a hit album, an extended stage show, a new band AND more blood than you could probably shake a dismembered body-part at... it has to be seen, not to mention experienced, in all its glory.