Plug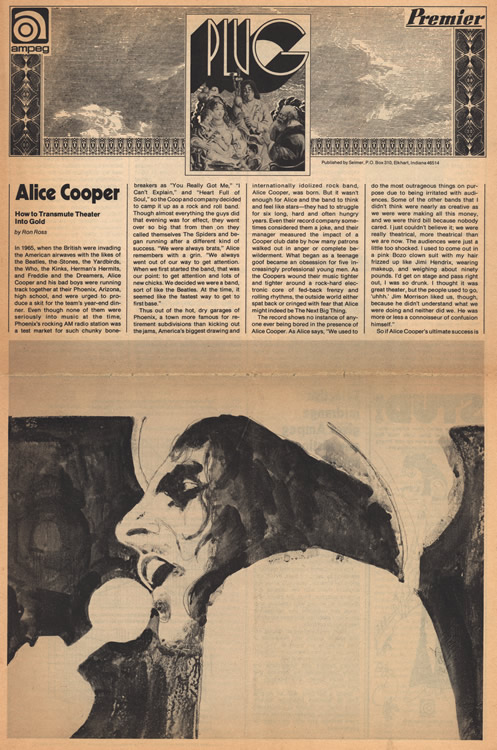 Originally Published: 1973
How to Transmute Theater Into Gold
Author: Ron Ross
In 1965, when the British were invading the American air waves with the likes of the Beatles, the Stones, the Yardbirds, the Who, the Kinks, Herman's Hermits, and Freddie and the Dreamers, Alice Cooper and his bad boys were running track together at their Phoenix, Arizona, high school, and were urged to produce a skit for the team's year-end dinner. Even though none of them were seriously into music at the time, Phoenix's rocking AM radio station was a test market for such chunky bonebreakers as "You Really Got Me," "I Can't Explain," and "Heart Full of Soul," so the Cooper and company decided to camp it up as a rock and roll band. Though almost everything the guys did that evening was for effect, they went over so big that form then on they called themselves The Spiders and began running after a different kind of success. "We were always brats," Alice remembers with a grin. "We always went out of our way to get attention. When we first started the band, that was our point: to get attention and lots of new chicks. We decided we were a band, sort of like the Beatles. At the time, it seemed like the fastest way to get to first base."
Thus out of the hot, dry garages of Phoenix, a town more famous for retirement subdivisions than kicking out the jams, America's biggest draw and internationally idolized rock band, Alice Cooper, was born. But it wasn't enough for Alice and the band to think and feel like rock stars -- they had to struggle for six long, hard and often hungry years. Even their record company sometimes considered them a joke, and their manager measured the impact of a Cooper club date by how many patrons walked out in anger or complete bewilderment. What began as a teenage goof became an obsession for five increasingly professional young men. As the Coopers wound their music tighter and tighter around a rock-hard electronic core of fed-back frenzy and rolling rhythms, the outside world either spat back or cringed with feat that Alice might indeed be The Next Big Thing.
The record shows no instance of anyone ever being bored in the presence of Alice Cooper. As Alice says, "We used to do the most outrageous things on purpose due to being irritated with audiences. Some of the other bands that I didn't think were nearly as creative as we were were making all this money, and we were third bill because nobody cared. I just couldn't believe it; we were really theatrical, more theatrical than we are now. The audiences were just a little too shocked. I used to come out in a pink Bozo clown suit with my hair frizzed up like Jimi Hendrix, wearing makeup, and weighing about ninety pounds. I'd get on stage and pass right out, I was so drunk. I thought it was great theater, but the people used to go, 'uhhh.' Jim Morrison liked us, though, because he didn't understand what we were doing and neither did we. he was more or less a connoisseur of confusion himself."
So if Alice Cooper's ultimate success is living proof that everybody is a star, his triumph is due even more to the two invariable elements that combine to create rock and roll magic that draws more kids to want to become stars themselves -- that is, professionalism and promotion, coupled with the kind of strict discipline you'd associate more with Mark Spitz than with fantasy-monger Alice. Alice almost winces as he recalls, "From the day we began to work with out manager, Shep told us, 'it's gonna be like the army,' and right up until this year, even though we got bigger and bigger as we gained more control over the concept, we worked wherever there was a gig, four and five days a week. Then we practiced for eight hours a day whenever we were off. We'd have to load and set up our own equipment because we couldn't afford a roadie." Look into the life of a Billion Dollar Baby, and what you'll find is a solid gold foundation of blood, sweat, and tears.
Alice has originally been signed to Frank Zappa's Straight Records, where he and the band were the house freaks among a roster of some of the most unlikely, off-the-wall artists ever to approach the mike -- the Girls Together Outrageously, a group of bisexual groupies, and Wild Man Fisher, a hairy half-wit who used to sing his songs acapella on the street corners in L.A. Alice Cooper's first album was self-produced by trial and error, and the second was recorded by David Briggs, erstwhile producer for Neil Young.
Alice Cooper was as dada as Dali himself, introducing nail polish and bleached hair to a then reasonably conservative blue-denim rock world, chopping up watermelons on stage before throwing them into the audience, and inducing massive wails of distortion with the group ofttimes beating their guitars bongo-like. That something was happening could not be denied, but despite their originality, the Coopers were working against themselves in two important ways. First, their music was chaos itself, without apparent direction or purpose -- partly sheer electronics, partly hard rock, and largely hit or miss. Secondly, the people who program records, write reviews, and give big money advances for albums yet to be recorded had taken to thinking that Alice was evil incarnate, the personification of the kind of sex and violence they'd rather not have their kids paying to see.
The first step Alice's management took was to hire Bob Ezrin, previously producer for the Guess Who and Mitch Ryder's Detroit, to start making the Cooper's music more truly representative of their ideas and yet more acceptable to a mass audience. After sorting out several years' accumulation of material written by every member of the band, Ezrin came up with an answer in the form of three little words: ROCK AND ROLL. Warner Brothers, now actively taking an interest in Alice's future, released "I'm Eighteen" as a single, and though dozens of disc jockey choked on the name "Alice Cooper" and barely had breath with which to announce the new Bobby Sherman single, "Eighteen" became the "My Generation" of a whole new generation. In addition, Ezrin was able to arrange the music as well as record it, achieving a working combination that would act as professional balance to the Cooper's more bizarre inclinations.
"I'm Eighteen" did little to convince media powers that Alice wasn't out to devour their sons and daughters, however, so a slight image change was also in order. Alice threw a party in Los Angeles, having assured a prestigious hotel in that city that a certain debutante, Cooper by name, would adore the opportunity to "come out" in such opulent surroundings. Richard Chamberlain and Rob Mckuen mingled with TV Mama, a three-hundred-pound stripper, and a cigar-smoking chimp on roller skates, while the transvestite Cockettes sold cigarettes to the retiring Randy Newman. "We had to show everyone in the boldest way we could what it was all about," Shep Gordon explains. "I wanted people to take it easy and see that it was fun."
As an encore, Alice developed the "Killer" show and came up with his most spectacular effort at rock theater yet. Since he had already straight-jacketed himself as he played Dwight Fry, it was a short step for Alice to the gallows and his famous affair with Kachina, whom he borrowed from Premier drummer Neal Smith. Smith was too busy keeping track of his nineteen-piece kit to devote as much time to his pet snake as she deserved. It is not known exactly how Neal responded with Alice lost Kachina in the toilet of a Holiday Inn, but it has been duly noted that the Coopers were asked to leave without the ceremony that managers usually employ with international superstars. Nevertheless, "Killer" combined an outstanding package wit ha detachable sadistic calendar with some of the hardest driving rock since the Stones, and folks liked it, to the extent that the album sold in excess of $1,000,000 worth of copies in short order. The Brothers Warner patted each other on the back and congratulated themselves on having realized that Alice had it in him/her all the time.
Guitarist Glen Buxton and bassist Dennis Dunaway congratulated each other on being well on the way to becoming billion dollar babies, while Alice and Michael Bruce toasted each other with another Bud, and Neal wondered where his third tom had wandered off to.
Stars -- rock, Hollywood, and otherwise -- always get a lot of free publicity, and it was at this point that the news media became so good to Alice that it really looked like he was getting ready to run for President. When the Coopers first decided to give their fans paper panties in the "School's Out" lp, the Federal Trade Commission, known for getting their own way, said, "No, you don't, those panties are flammable." But the day Alice appeared in court, the story made page one of the very legitimate Washington Post. An enterprising gent offered to give the Coopers a good price on his own definitely nonflammable paper panties, and the next day hundreds of papers and magazines showed Alice and the manufacturer delightedly trying to set fire to an Israeli-made pair of panties, with no luck whatsoever.
Well, the rest really is history. The Cooper are working their way through the largest scale tour of America ever taken. In 56 cities, the guys will play to some 800,000 frenzied fans, grossing some $4,500,000 along the way. Billion Dollar Babies is their most musical lp ever, in both the Broadway and rock and roll sense, and it shipped gold -- meaning that a million bucks worth had been ordered before anybody even heard it. In two years, Alice Cooper have sold 4,500,000 albums around the world, had three top-twenty singles, and socialized in the studio with such established biggies as Keith Moon, Donovan, Marc Bolan, and Nilsson. When their recent "In Concert" TV appearance was banned by one station, public response was so indignant that the show was eventually aired on another date.
Alice Cooper are very loud, very tight, very daring, and now, very popular. They are the Kings of what my British colleagues delight in calling "Glam Rock," and they have taken the idea of rock as theater to an audience Pete Townsend never dreamed could be reached when he smashed his first guitar. Many of our younger sisters and brothers are growing up on Alice as we did with Mick Jagger, and they love it. And if one of them brings a guitar in some day and says, "I'm gonna be a star," just tell him to ask Alice about the rock and roll army. Might be he'll be brushing his teeth in a motel one day before going to a gig and flusssshh -- there'll be Kachina.
Ron Ross is a freelance writer who contributes frequently to Phonograph Record Magazine and other rock publications. He was contributing editor on the "Alice Cooper-America '73" tour program, now available as a paperback from Dell Publishers.
---
Neal Smith on Drums
The interview took place in a Chicago Holiday Inn -- Neal Smith had a day off (one of few) and agreed to meet with me and talk about playing drums. It's 10:30 a.m., his show clothes are by the door, a tall black hat is on the dresser, a guitar is on one of the beds, the curtains are closed, he's dressed casually. After presenting him with his gold Premier courtesy card, I turn o the small tape recorder and he begins to talk:
"Well, I started playing about 13 years ago in the Midwest, in the booming industrial town of Akron, Ohio. I started with the rudimental books and really got into that for about a year and a half. Then I went into a band in the seventh grade, played in a junior high orchestra, a marching band and that's how it started. My love for rock and roll started in the late 50s -- I dug the music and always wanted to be in a group. In 1963 I moved to Phoenix, and that's where the group ultimately got together.
"For two years, while I lived in Ohio, I had a teacher who was a percussionist - percussion was his whole bag. He was teaching at the Akron University of Music and he could play like anything. He taught me the basic rudiments -- that's what I worked on most of the time. That was my whole beginning -- rudiments. That's why Alex Duthart (Duthart is a famous Scottish pipe band drummer) is one of my favorite drummers.
"When I was 12 or 13, I got my first set and began to play with all the records. I played and listened for 13 years. In fact, I still listen to drummers like Alex Duthart, and also to jazz drummers because I do appreciate the different things they do."
Neal is playing on 21 Premier drums and four cymbals. Here are his comments about the set and how he uses it:
"The first set that I had when the group started was eight drums -- I used two snare drums, two mounts, two floors and about 13 cymbals. The cymbals were mainly for show because I've always really been into show music. The first big drum set I had, about three or four years ago, had 18 drums in it.
"There's no secret to my set; it's just that I have about a seven-foot arm stretch and I can get all the drums all way around the back. but, even if you're playing the 12 string guitar -- or maybe a harp is a better example because of all the strings -- you don't use every string all the time. All those drums are there for texture and taste and different moods. A lot of people, when they're watching me, ask if I use all those drums and, of course, I use them all. But I work them in at different times on different songs.
"I have built my set to what I can do or what I know I can eventually do. Somebody else that sits down at it can't even reach the things I can reach, and I think that's a point to remember for anybody trying to put something original together -- build the kind of set that they can use themselves. I think that's really important -- don't try to build something that you can't handle physically. The music that comes out is the main thing."
Tuning a set is a personal thing, and as Neal talked it was obvious that today's top rock drummers are very much aware of how their equipment should sound:
"I work with the pitch just like I do when I tune for a recording. I have tuned the set like guitars and actually get the notes as they go down the scale. That works pretty nice, as a matter of fact, and that's what I think it comes close to now. As the drums get bigger the tone variation goes down, and when it gets to the floor toms they are just deep -- I mean, I like them real deep and rich, but one's naturally a little higher than the other.
"For the first time in about five years I have the font head on the bass drums and they get incredible sound -- used to use the back or batter heads, but now with the front head back on they sound like real drums again. I mean, everybody's been getting that real rock sound and making a sound like a cannon or a board up against another board. It's really a loud crash, but two heads give the drums a nice deep tone which is what I am getting back into more, the tone of the drums.
"You have to adapt miking to your own set. I don't mic my cymbals or floor toms because there's enough mic pickup on stage. I have to watch tuning on the front bass drums heads so they are not too loose, because they will pop right out and smack those mics. That's happened before, so I keep the head pretty rigid in the front.
"The three things that I will emphasize on miking are the hi-hats and the snare drum because they should be equal -- I think they are equal counterparts on all sounds -- and then the bass drums."
After talking about tuning and miking the set, a discussion of drum solos and musicianship followed:
"For one thing, I am not that crazy about drum solos. Five years ago I also started playing guitar and it really helped. It made me sit back into a pocket a lot better and take some restrictions upon myself. If I hear one more drum solo I'm gonna die. In jazz and things like that I think it's great -- I am talking about rock concerts right now. How many times can a kid go into a a rock show and see the same thing happen over and over again? The main person that I can see getting into a long drum solo is the drummer -- I mean people do get into it but I am just saying for our show, for myself personally, I don't get into solos. Whenever I start to do anything myself on stage and there is a little space -- a couple of seconds that I do fill up -- it's like a solo transition. And I like playing the jazz thing -- more like a tumbling thing that just keeps going and going with variations. And I like sporadic shots. Nobody asks me if I am jazz inspired but in fact I am, because that's my favorite kind of solo. I don't think drummers should try to be guitars or bass guitars. The drum is shots -- that's what I like about it, if it's on it's on. That's just my personal explanation.
"I mentioned before that when I first started playing the guitar it was in relation to drumming. Before, I always was thinking of drumming from a percussionist's point of view, but after plain guitar a little bit I realized how drumming relate to a guy playing guitar. I also use the guitar in writing my own songs, and writing music has helped my playing because being a song writer has brought more simplicity. I had a big problem before in never stopping, just playing on and on -- writing helped discipline me. Like I said before, I lay down in a pocket and just keep the beat going; and then during those places for fills and things, then you bring them out. There are places for everybody's moments but then you have to lay back -- even on stage we come back a little bit when Alice is singing -- the music will drop back a little and lay in its pocket and keep the backbone going while the vocal is taking over. When there are a lot of people yo have got to give an take."
Premier drums are Neal Smith's drums and when asked about them he said:
"Well, if they were female I would be married right now. I love them. They are great and I think they are dynamic. The tone quality, which again I'm really into, and and the hardware were the things that really captured me the first time I started considering Premier. I go through a lot of hardware, and it has to be strong enough to stand up. With Premier, the mounts for all the toms are solid and set's there -- it isn't going anywhere. Every time I go up there, like, I'm in heaven on the top pedestal -- it really is incredible. I am just totally knocked out with the whole Premier trip.
Neal Smith is a very dedicated drummer and wrapped up his interview saying:
"Alice Cooper Group speaks for itself because we tried a long time and we're finally doing it. When we first got together, we decided we would stick with it no matter how ling it too. There is discipline connected with everything you do, and I recommend that you get together with people you love and can work with. So, if we can inspire a couple of people out there. I think that's one of the neatest things we can do -- we stuck with it and made it happen. I am really into music. And you know how music has changed the last ten years, and so in ten more years it's going to be much different. If I can inspire that kid out there, that's going to make our music change. That's good enough for me."
Mr. Coffin is the Premier Educational Service Manager.