New Musical Express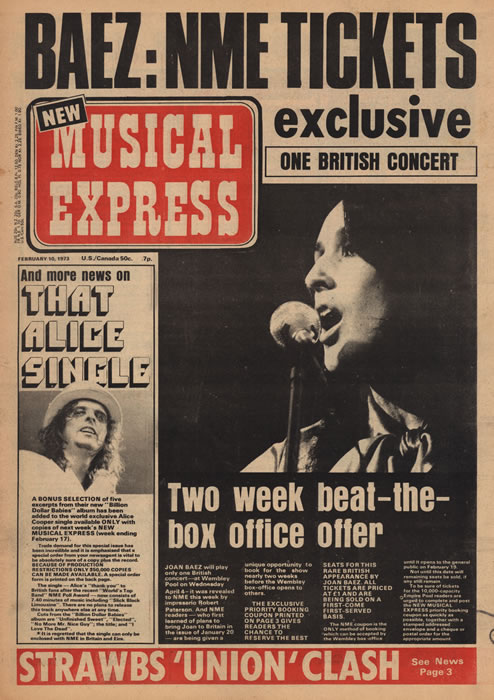 New Musical Express
(February 10, 1973)
Originally Published: February 10, 1973
And more news on THAT ALICE SINGLE
A BONUS SELECTION of five excepts from their new "Billion Dollar Babies" album has been added to the world exclusive Alice Cooper single available ONLY with copies of next week's NEW MUSICAL EXPRESS (week ending February 17).
Trade demand for this special issue has been incredible and it is emphasised that a special order from your newsagent is vital to be absolutely sure of a copy plus the record. BECAUSE OF PRODUCTION RESTRICTIONS ONLY 350,000 COPIES CAN BE MADE AVAILABLE. A special order form is printed on the back page.
The single - Alice's "thank you" to British fans after the recent "World's Top Band" NME Poll - now consists of 7.40 minutes of music including "Slick Black Limousine". There are no plans to release this track anywhere else at any time.
Cuts from the "Billion Dollar Babies" album are "Unfinished Sweet", "Elected", "No More Mr. Nice Guy"; the title; and "I Love The Dead".
*It is regretted that the single can only be released enclosed with NME in Britain and Eire.
---
Alice does his Elvis
ALICE COOPER: "Slick Black Limousine" (Warner Brothers/NME).
The amazing Alice single that will be available (to anyone, anywhere) free with next week's NME. It's a cosmic rocker - Alice's confessed take-off of Elvis and Sandy Nelson - with some fancy piano and a tasty guitar break from Glan Buxton. Considering it's a flexi single, too, the sound quality is superb. Flips side consists of five tasters from the group's new album "Billion Dollar Babies", which sounds as if it should be the best they've done. A world exclusive, never to be issued anywhere else. It's an offer you can't refuse.