Mojo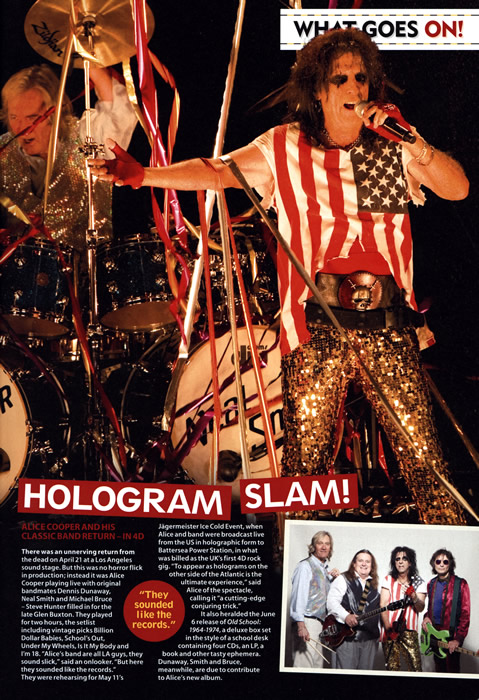 Originally Published: July 2011
Hologram Slam!
Alice Cooper and His Classic Band Return - in 4D
There was an unnerving return from the dead on April 21 at a Los Angeles sound stage. But this was no horror flick in production; instead it was Alice Cooper playing live with original bandmates Dennis Dunaway, Neal Smith and Michael Bruce - Steve Hunter filled in for the late Glen Buxton. They played for two hours, the setlist including vintage picks Billion Dollar Babies, School's Out, Under My Wheels, Is It My Body and I'm 18. "Alice's band are all LA guys, they sound slick," said an onlooker. "But here they sounded like the records." They were rehearsing for May 11's Jagermeister Ice Cold Event, when Alice and band were broadcast live from the US in holographic form to Battersea Power Station, in what was billed as the UK's first 4d rock gig. "To appear as holograms on the other side of the Atlantic is the ultimate experience," said Alice of the spectacle, calling it "a cutting-edge conjuring trick."
It also heralded the June 6 release of Old School: 1969-1974, a deluxe box set in the style of a school desk containing four CDs, an LP, a book and otehr tasty ephemera. Dunaway, Smith and Bruce, meanwhile, are due to contribute to Alice's new album.