Melody Maker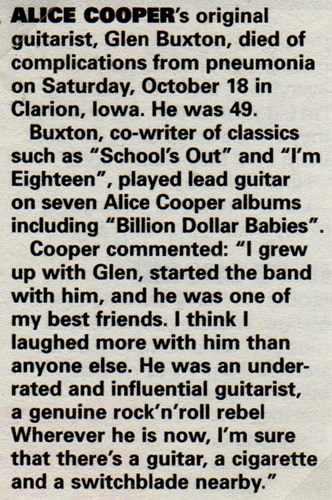 Melody Maker
(November 01, 1997)
Originally Published: November 01, 1997
News Report
Alice Cooper's original guitarist, Glen Buxton, dies of complications from pneumonia on Saturday, October 18 in Clarion, Iowa. He was 49.
Buxton, co-writer of classics such as "School's Out" and "I'm Eighteen", played lead guitar on seven Alice Cooper albums including "Billion Dollar Babies".
Cooper commented: "I grew up with Glen, started the band with him, and he was one of my best friends. I think I laughed more with him than anyone else. He was an under-rated and influentual guitarist, a genuine rock'n'roll rebel. Wherever he is now, I'm sure that there's a guitar, a cigarette and a switchblade nearby."