Metal Hammer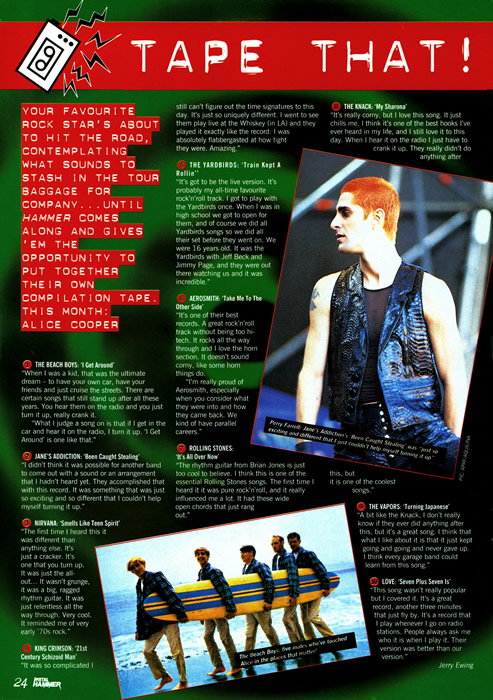 Metal Hammer
(August 1994)
Originally Published: August 1994
Tape That!
Your favourite rock star's about to hit the road, comptemplating what sounds to stash in the tour baggage for company... until Hammer comes along and gives 'em opportunity to put together their own complication tape.
Author: Jerry Ewing
1. THE BEACH BOYS: 'I Get Around'
"When I was a kid, that was the ultimate dream - to have your own car, have your friends and just cruise the streets. There are certain songs that still stand up after all these years. You hear them on the radio and you just turn it up, really crank it. What I judge a song on is that if I get in the car and hear it on the radio, I turn it up. 'I Get Around' is one like that."
2. JANE'S ADDICTION: 'Been Caught Stealing'
"I didn't think it was possible for another band to come out with a sound or an arrangment that I hadn't heard yet. They accomplished that with this record. It was something that was just so exciting and so different that I couldn't help myself turning it up."
3. NIRVANA: 'Smells Like Teen Spirit'
"The first time I heard this it was different than anything else. It's just a cracker. It's one that you turn up. It was just all out...It wasn't grunge, it was a big, ragged rhythm guitar. It was just relentless all the way through. Very cool. It reminded me of very early '70's rock."
4. KING CRIMSON: '21st Century Schizoid Man'
"It was so complicated I still can't figure out the time signatures to this day. It's just so uniquely different. I went to see them play at the Whiskey (in LA) and they played it exactly like the record. I was absolutely flabbergasted at how tight they were. Amazing."
5. THE YARDBIRDS: 'Train Kept A Rollin'
"It's got to be the live version. It's probably my all-time favourite rock'n'roll track. I got to play with the Yardbirds once. When I was in high school we got to open for them, and of course we did all Yardbirds songs so we did their set before they went on. We were 16 years old. It was the Yardbirds with Jeff Beck and Jimmy Page, and they were out there watching us and it was incredible."
6. AEROSMITH: 'Take Me To The Other Side'
"It's one of their best records. A great rock'n'roll track without being too hi-tech. It rocks all the way through and I love the horn section. It doesn't sound corny, like some horn things do.
"I'm really proud of Aerosmith, especially since you consider what they were into and how they came back. We kind of have parallel careers."
7. ROLLING STONES: 'It's All Over Now'
"The rhythm guitar from Brian Jones is just too cool to believe. I think this is one of the essential Rolling Stones songs. The first time I heard it it was pure rock'n'roll, and it really influences me a lot. It had these wide open chords that just rang out."
8. THE KNACK: 'My Sharona'
"It's really corny, but I love this song. It just chills me. I think it's one of the best hooks I've ever heard in my life, and I still love it to this day. When I hear it on the radio I just have to crank it up. They really didn't do anything after this, but it is one of the coolest songs."
9. THE VAPORS: 'Turning Japanese'
"A bit like the Knack, I don't really know if they ever did anything after this, but it's a great song. I think that what I like about it is that it just kept going and going and never gave up. I think every garage band could learn from this song."
10. LOVE: 'Seven Plus Seven Is'
"This song wasn't really popular but I covered it. It's a great record, another three minutes that just fly by. It's a record that I play whenever I go on the radio stations. People always ask me who it is when I play it. Their version was better than our version."