Kerrang!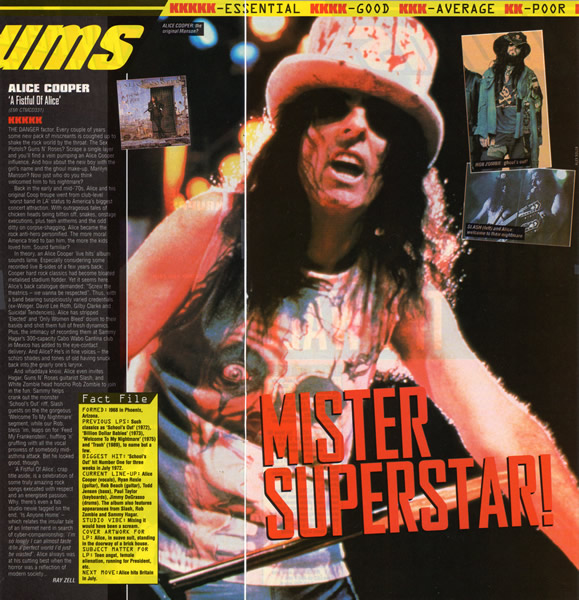 Originally Published: June 21, 1997
Mister Superstar
Author: Ray Zell
'A Fistful Of Alice' (EMI CTMCD331)
KKKKK
The Danger factor. Every couple of years some new pack of miscreants is coughed up to shake the rock world by the throat. The Sex Pistols? Guns N' Roses? Scrape a single layer and you'll find a vein pumping an Alice Cooper influence. And how about the new boy with the girl's name and the ghoul make-up, Marilyn Manson? Now just who do you think welcomed him to his nightmare?
Back in the early and mid-'70s, Alice and his original Coop troupe went from club-level 'worst band in LA' status to America's biggest concert attraction. With outragous tales of chicken heads being bitten off, snakes, onstage executions, plus teen anthems and the odd ditty on corpse-shagging, Alice became the rock anti-hero personified. The more moral America tried to ban him, the more the kids loved him. Souund familiar?
In theory, an Alice Cooper 'live hits' album sounds lame. Especially considering some recorded live B-sides of a few years back; Cooper hard rock classics had become bloated metalised stadium fodder. Yet it seems here, Alice's back catalogue demanded: "Screw the theatrics - we wanna be respected". Thus, with a band bearing suspiciously varied credentials (ex-Winger, David Lee Roth, Gilby Clark and Suicidal Tendencies), Alice has stripped 'Elected' and 'Only Women Bleed' down to their basics and shot then full of fresh dynamics. Plus, the intimacy of recording them at Sammy Hagar's 300-capacity Cabo Wabo Cantina club in Mexico has added to the eye-contact delivery. And Alice? He's in fine voice - the schizo shades and tones of old having snuck back into the gnarly one's larynx.
And whaddaya know, Alice even invites Hagar, Guns N' Roses guitarist Slash, and White Zombie head honcho Rob Zombie to join in the fun. Sammy helps crank out the monster 'School's Out' riff, Slash guests on the gorgeous 'Welcome To My Nightmare' segment, while our Rob, bless 'im, leaps on for 'Feed My Frankenstein', huffing 'n' gruffing with all the vocal prowess of somebody mid-asthma attack. Bet he looked good, though.
'A Fistful Of Alice', crap title aside, is a celebration of some truly amazing rock songs executed with respect and an energised passion. Why, there's even a fab studio newie tagged on the end, 'Is Anyone Home' - which relates the insular tale of an Internet nerd in search of cyber-companionship: 'I'm so lonely I can almost taste it/In a perfect world I'd just be wasted'. Alice always was at his cutting best when the horror was a reflection of modern society...
Fact File:
Formed: 1968 in Phoenix Arizona
Previous LP's: Such classics as 'School's Out'(1972), 'Billion Dollar Babies'(1973), 'Welcome To My Nightmare'(1975) and 'Trash'(1989), to name but a few.
Biggest Hit: 'School's Out' hit number one for three weeks in July 1972.
Current Line-up: Alice Cooper (Vocals), Ryan Roxie (Guitar), Reb Beach (Guitar), Todd Jensen (Bass), Paul Taylor (Keyboards), Jimmy Degrasso (Drums). The album also features appearences from Slash, Rob Zombie and Sammy Hagar.
Studio Vibe: Mixing it would have been a scream.
Cover Artwork for LP: Alice, in suave suit, standing in the doorway of a brick house.
Subject Matter For LP: Teen angst, female alienation, running for president, etc.
Next Move: Alice hits Britain in July.
---
Alice Cooper: Don't mention Manson!
Alice Cooper - the original shock rocker - firmly refuses to endorse the talents of his '90s successor Marilyn Manson.
When asked by Kerrang! what he thought of the man regarded as the world's most controversial rock star, Alice enigmatically brushed aside the question: "Marilyn Manson and I have this agreement, I don't talk about him, and he doesn't talk about me!"
The Coop, who made his name in the '70s with some of the most over-the-top stage performances ever, will be returning to the UK next month to play seven dates: Wolverhampton Civic Hall July 3, Newcastle City Hall 5, Manchester Apollo 6, London Astoria 8 and 9, Southhampton Guildhall 10. And he promises fans some real surprises.
"I want to play the hits, or course, but I also want to do some different songs, including songs I've never done onstage in Britain."
Alice has also just issued a live album called 'A Fistful Of Alice' on EMI. It includes such guests as Rob Zombie, Slash and Sammy Hagar.