Kerrang!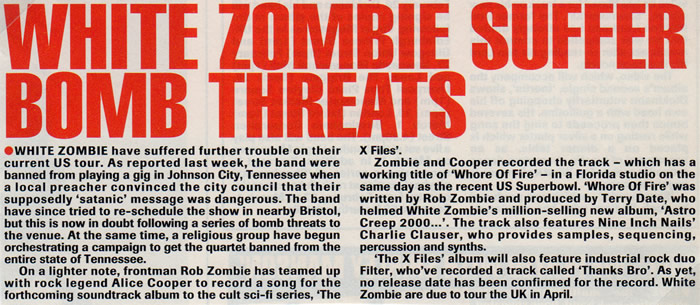 Kerrang!
(February 17, 1996)
Originally Published: February 17, 1996
News Report
....On a lighter note, frontman Rob Zombie has teamed up with rock legend Alice Cooper to record a song for the forthcoming soundtrack album to the cult sci-fi series, 'The X-files'.
Zombie and Cooper recorded the track - which has a working title of 'Whore Of Fire' - in a Florida studio on the same day as the recent US Superbowl. 'Whore Of Fire' was written by Rob Zombie and produced by Terry Date, who helmed White Zombie's million-selling new album, 'Astro Creep 2000...'. The tracks also features Nine Inch Nails' Charlie Clauser, who provides samples, sequencing, percussion and synths.