Kerrang!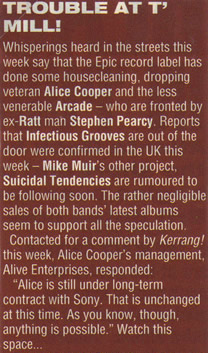 Kerrang!
(October 29, 1994)
Originally Published: October 29, 1994
Trouble At T' Mill!
Whisperings heard in the streets this week say that the Epic record label has been doing some house cleaning, dropping veteran Alice Cooper and less venerable Arcade - who are fronted by ex-Ratt man Stephen Pearcy. Reports that Infectious Grooves are out of the door were confirmed in the UK this week - Mike Muir's other project, Suicidal Tendencies are rumoured to be following soon. The rather negligable sales of both bands' latest albums seem to support all the speculation.
Contacted for a comment by Kerrang! this week, Alice Cooper's management, Alive Enterprises responded:
"Alice is still under long-term contract with Sony. That is unchanged at this time. As you know, though, anything is possible." Watch this space...