Jackie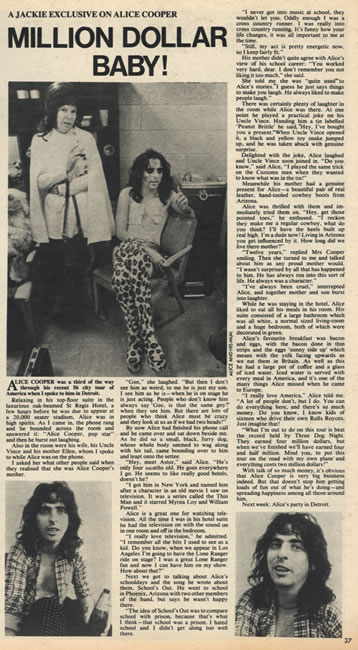 Jackie
(September 08, 1973)
Originally Published: September 08, 1973
Million Dollar Baby!
A Jackie exclusive on Alice Cooper
Alice Cooper was a third of the way through his recent 56 city tour of America when I spoke to him in Detroit.
Relaxing in the top-floor suite in the luxurious oak-beamed St Regis Hotel, a few hours before he was due to appear at a 20,000 seater stadium. Alice was in high spirits. As I came in, the phone rang and he bounded across the room and answered: "Alice Cooper, pop star" and then he burst out laughing.
Also in the room were his wife, his Uncle Vince and his mother Ellen, whom I spoke to while Alice was on the phone.
I asked her what other people said when they realised that she was Alice Cooper's mother.
"Gee," she laughed. "But then I don't see him as weird, to me he's just my son. I see him as he is - when he is on stage he is just acting. People who don't know him always say 'Gee, is that the same guy?' when they see him. But there are lots of people who think Alice must be crazy and they look at us as if we had two heads!"
By now Alice has finished his phone call and he came over and sat down beside me. As he did so a small, black, furry dog, whose whole body seemed to wag along with his tail, came bounding over to him and leapt onto the settee.
"Hey, meet Astor," said Alice. "He's only four months old. He goes everywhere I go. He seems to like really good hotels, doesn't he?
"I got him in New York and named him after a character in an old movie I saw on television. It was a series called the Thin Man and it starred Myrna Loy and William Powell."
Alice is a great one for watching television. All the time I was in his hotel suite he had the television on with the sound on in one room and off in the bedroom.
"I really love television," he admitted. "I remember all the bits I use to see as a kid. Do you know, when we appear in Los Angeles I'm going to have the Lone Ranger ride on stage? I was a great Lone Ranger fan and now I can have him on my show. How about that?"
Next we got to talk about Alice's school days and the song he wrote about them, School's Out. He went to school in Phoenix, Arizona with two other members of the band, but he says he wasn't happy there.
"The idea of School's Out was to compare school with prison, because that's what I think - that school was prison. I hated school and I didn't get along too well there.
"I never got into music at school, they wouldn't let you. Oddly enough I was a cross country runner. I was really into cross country running. It's funny how your life changes, it was all important to me at the time.
"Still, my act is pretty energetic now, so I keep fairly fit."
His mother didn't agree with Alice's view of his school career: "You worked very hard, dear. I don't remember you not liking it too much," she said.
She told me she was "quite used" to Alice's stories. "I guess he just says things to make you laugh. He always like to make people laugh."
There was certainly plenty of laughter in the room while Alice was there. At one point he played a practical joke on his Uncle Vince. Handing him a tin labelled 'Peanut Brittle' he said 'Hey, I've bought you a present." When Uncle Vince opened it, a black and yellow toy snake jumped up, and he was taken aback with genuine surprise.
Delighted with the joke, Alice laughed and Uncle Vince soon joined in: "Do you know," said Alice, "I played the same trick on the Customs men when they wanted to know what was in the tin!"
Meanwhile his mother had a genuine present for Alice - a beautiful pair of real leather, hand-tooled cowboy boots from Arizona.
Alice was thrilled with them and immediately tried them on. "Hey, get those pointed toes." he enthused. "I reckon they make me a regular cowboy, what do you think? I'll have the belts built up real high. I'm a dude now! Living in Arizona you get influenced by it. How long did we live there mother?"
"Twelve years," replied Mrs Cooper smiling. Then she turned to me and talked about him as any proud mother would. "I wasn't surprised by all that has happened to him. He has always run into this sort of life. He always was a character."
"I've always be cruel," interrupted Alice, and together mother and son burst into laughter.
While he was staying in the hotel, Alice liked to eat all his meals in his room. His suite consisted of a large bathroom which was all white, a normal sized living-room and a huge bedroom, both of which were decorated in green.
Alice's favourite breakfast was bacon and eggs, with bacon done in thin strips and his eggs 'sunny side up' which means with the yolk facing upwards as we eat them in Britain. As well as this he had a large pot of coffee and a glass of iced water. Iced water is served with every meal in America, and it's one of the many things Alice missed when he came to Europe.
"I really love America," Alice told me. "A lot of people don't, but I do. You can do everything here, and here's so much money. Do you know, I know kids of just sixteen who drive their own Rolls Royces. Just imagine that!
"What I'm out to do on this tour is beat the record held by Three Dog Night. They earned four million dollars, but when we've finished we'll have earned four and a half million. Mind you, to put this tour on the road with my own plane and everything costs two million dollars!"
With talk of so much money, it's obvious that Alice Cooper is very big business indeed. But that doesn't stop him getting loads of fun out of what he's doing - and spreading happiness among all those around him.