Herald Sun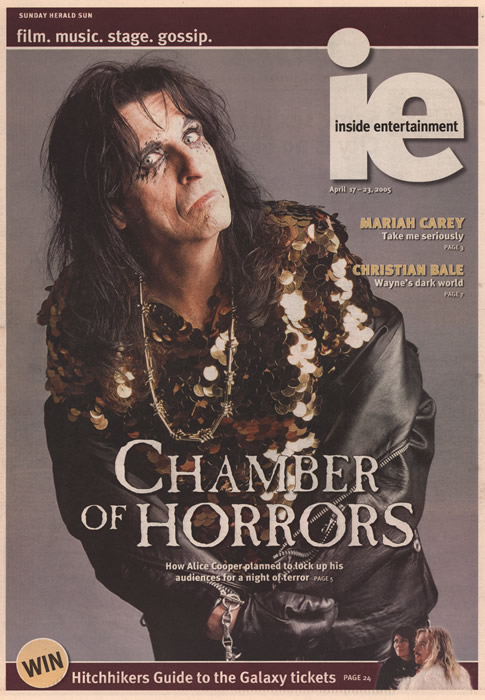 Herald Sun
(April 17, 2005)
Originally Published: April 17, 2005
Phantom of Rock Opera
Alice Cooper had scarier things in store for his fans. Good thing they never happened, writes Graeme Hammond
Author: Graeme Hammond
He fell to his knees to hack at dolls with a hatchet, repeatedly lost his head on the guillotine and was strung, nightly, from the gallows. He splattered the stage with fake blood, sand one song in a straitjacket and in another revealed a hankering for necrophilia.
But an even darker nightmare might have awaited fans had Alice Cooper been able to pull off the ultimate stunt.
The preacher's sone whose shock rock theatrics predated those of Marilyn Manson and Slipknot by more than 20 years says his dream show would have involved audiences being trapped inside an auditorium, forced to endure an experience that would have tormented all their senses.
"We had one idea of putting a show on in a theatre and when people came in, the doors lock," Cooper recalls. "The seats would be set up to give electric shocks. Then the light go our completely, you smell certain smells and things come down from the ceiling and tickle people's skin like spider webs."
Perhaps it's just as well the concept was killed by the demands of a relentless touring schedule.
"We did on stage as many things as we could," says Cooper as he prepares to launch an Australian tour an a new album in June. "We certainly went overboard on our theatrics, just because it was so much fun.
"We were like kids in a candy stop, you know? Can we cut Alice's head off? Sure! Can we make blood go into the audience? Well yeah, the kids will love that if they come home covered in blood.
"I always looked at it this way: If I was 16 and went to a show and this character came out, what would I want him to look like and sing about? Would I want him to be funny or would I want him to be like this really arrogant sort of nasty but likable character? And I said, 'Yeah, Alice should be arrogant.' So that's how we designed him."
Rarely in rock music has a character been created so thoroughly and convincingly. Alice - the alter ego of the rocker once known as Vince Furnier - was a twisted villain complete with long, wild hair, streaky eye makeup and a mischievous mission in life.
"The idea of Alice Cooper was just to p--- off every parent in America," the star says from his home in Scottsdale, Arizona.
He succeeded splendidly and not just in America. I tell Cooper he was responsible for some high-level friction in my own teenage household in 1972 when my mother - sickened by a song called Dead Babies and cover art showing the singer dangling in a noose - attempted to ban his Killer album from our home.
The belated news that he drove a wedge into another once-happy suburban home makes his day.
"Thank you very much," he chortles. "When people say, 'I saw you in '71 or '72, I go, 'Did you sneak out? Wasn't it better when you sneaked out?'"
It may have been the theatrics scoring Cooper all the headlines in the '70s, but behind it all was something far more effective: the music. And for that the band can thank rock genius Bob Ezrin, a producer whom Cooper continues to consult.
"He was our George Martin," says Cooper. "He did exactly what George Martin did to the Beatles, turning great songs into hits. Bob saw from the beginning that because visually we were so strong, people would regard us as a sideshow if out music wasn't as strong. He would take our best ideas, do things we would never do."
More than 30 years after Love It To Death and Killer, the power of those albums remains undiminished. they writhe with lean, snarling garage punk, yet also soar with near-operatic excursions into lurid storytelling on the extended tracks.
Cooper, who has struggled to express himself musically on two earlier ramshackle albums, is proud of 1971's Love It Do Death.
"When people say 'Pick an album that would represent Alice Cooper', they think I'll pick Billion Dollar Babies or School's Out because they were No. 1, but I go, 'No, Love It To Death.' That was pure Alice."
The album became the launching pad for his more cinematic million-sellers, School's Out and Billion Dollar Babies among them.
The high-octane, stripped down rock of those early albums continues to enthral him.
"The best band out there now is Jet, a bunch of snotty garage punks who write great songs. This is exactly what rock 'n' roll needs right now - garage bands like the White Stripes and the Strokes and the Vines. This is the anti-American Idol."
He is dismayed by what the Idol franchise has done to modern rock.
"I don't know why they take these teenagers and make them sound like Burt Bacharach. That not what these kids want to sound like. Go to the mall and ask them what they want to hear. They want to hear AC/DC hard rock."
On his upcoming album, Dirty Diamonds, Cooper hopes to give fans more of jus that. Quite an ambition for the charming, articulate and good-humoured father of three who, at 57, lives a quiet life that includes church, golf and immersion in the music of Nilsson, Laura Nyro and Paul Simon.
"I think sometimes the more normal I am the more insane Alice is," he says. "When I finally do get out on a tour and become Alice it's all so pent-up. Alice can't wait to get on stage and just become this creature."
Alice Cooper plays the Palais Theatre on June 30. Dirty Diamonds will be released in June.
Instant Expert
Born: Vincent Damon Furnier on February 4, 1948, in Detroit, Michigan.
Family: Married Sheryl in March 1976. They have three children, Calico, 23, Dashiel, 19, and Sonora, 12.
Legally changed his name to Alice Cooper in 1974.
Wife Sheryl was a dancer in his show. Today she teaches ballet.
Collects cars and antique watches.
Love It To Death LP was recalled to airbrush Cooper's thumb from the cover after complaints it resembled a penis.
Despite the legend, Cooper never did bite off a chicken's head on stage. Fans, though, did mutilate one thrown into the audience.
(Originally published in the Inside Entertainment supplement of the Sunday Herald Sun in Australia, April 17th, 2005)