Goldmine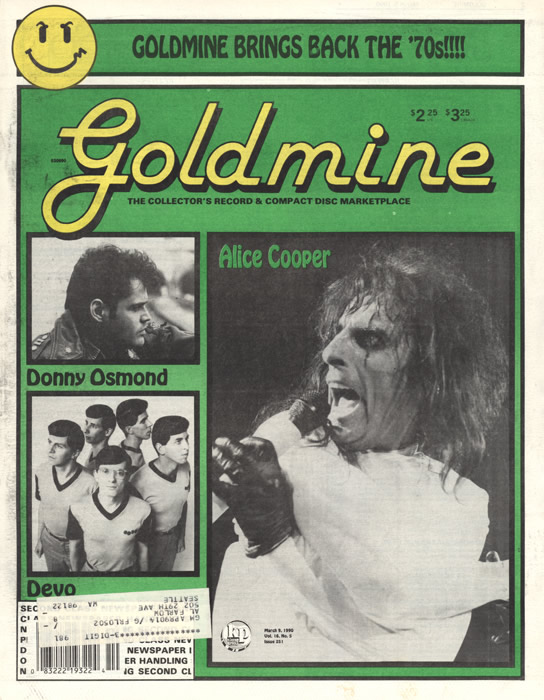 Goldmine
(March 09, 1990)
Originally Published: March 09, 1990
Alice Cooper: Return of the Trash Man
Author: Mary Anne Cassata
It has been more than 12 yeas since Alice Cooper had scored a Top 10 hit single on the Billboard Hot 100 chart when "Poison," from the Epic album Trash, peaked out at #7 just before last Christmas. The man known as the master of shock-rock has proven once again that he not only refuses to die (commercially speaking, of course) but that he can still present formidable competition to the pretenders to his throne.
The record-buying public could have been forgiven for thinking that Alice Cooper was a name that belonged exclusively to the '70s, his presence on the charts having all but dried up in the '80s. But at age 42 Alice Cooper is back, stronger than ever - his latest single, "House of Fire," is #61 at press time and the former Top 20 album is hanging on at #40 - bringing in a third generation of faithful adherents.
To today's young rock fan, Alice Cooper is a living legend, his sensational antics of the '70s - nightmares, baby dolls and snakes included - the blueprint for the more theatrical arena-rock bands of the '80s and now the '90s. Alice Cooper is one of the first names that finger-pointers point to when they try to figure out who to blame for America's youth being led astray.
Trash is Alice Cooper's 20th album, a statistic that would undoubtedly surprise many of those who've bought it - it's fair to say that a good percentage of Alice Cooper's current audience wasn't born yet when Pretties For You reared its ugly head on Frank Zappa's Straight label in 1969. Indeed, Cooper's 1972-75 heyday, which yielded five consecutive Top 10 albums (including the #1 Billion Dollar Babies), must seem like ancient history to some of the same fans who've been lining up for tickets for Cooper's current sell-out tour.
***
The fractured fairy tale of Alice Cooper's life begins, like that of most rock stars, minus the flamboyance that has come to mark his professional life. He was not, of course, named Alice, or even Cooper, but rather Vincent Damon Furnier, born in Detroit on February 4, 1948. The son of a minister, young Vincent relocated many times due to his father's work, finally settling in Phoenix, Arizona.
Although Vincent and his sister Nickie were raised in a strict, religious household, Vincent had dreams of one day becoming famous. Obviously, neither Vincent nor his father ever imagined that he would reach that goal by becoming Alice Cooper, rock 'n' roll villain.
At school he was smart, ambitious and worked hard to achieve high grades. As the "class clown," he revelled in the secret of knowing how to get along with people on a casual level. Having grown up in the nascent television era, Vincent would often imitate characters like 77 Sunset Strip's Ed "Kookie" Byrnes, Ricky Nelson and Elvis.
At age 14, Vince, as he preferred to be called, met his future band mates - Glen Buxton, Dennis Dunaway, John Tantum and John Spear - at Cortez High school.
Of his spirited high school days, Cooper recalled, "Everyone thought I was real nice, but they also thought I was very strange. School was real easy for me, even though I hated it so much. I still had a good time there. There were times when I didn't get along too well with people.
"I was a real smart-ass as a kid," mused Cooper at the height of his career in 1972." I had a real diabolical mind. People always liked me though, especially grown-ups, because I could always talk my way out of trouble. I was a real suck-up. I mean, I'd do anything."
In his junior year, Furnier started writing for the school newspaper and helped to organize the lettermen's talent show. Not particularly musical at the time, he formed his first band anyway, calling it the Earwigs, a parody band that dressed in Beatle wigs and sunglasses. What basically started as a joke would be taken very seriously years later by the aspiring lead singer.
In his autobiography, Me, Alice, Cooper wrote, "We were so good that we won a trophy at the lettermen's talen show. We caused an uproar at school, mostly because we were so bad. But I loved the sudden attention. Everybody was talking about it. It stimulated my entertaining chemicals more than ever before. I got hooked on the limelight. That's why I went into rock 'n' roll. For fame and the sex. I just wanted more of it from that night on."
For Furnier, successful rock bands like the Beatles, the Rolling Stones and the Yardbirds had not only influenced him musically, but initially represented a dream to pursue. During the next few years, the Earwigs underwent some name changes, becoming the Spiders and then the Nazz. (On the east coast another determined teenager named Todd Rundgren also had a group called the Nazz and a regional hit single. However, Vince's band had yet to make their mark.) It was during this era that Furnier began to develop the clever concepts and brash attitudes which eventually led to the emergence of Alice Cooper.
The Spiders played high school dances and small clubs. (Their song material mostly consisted of Yardbirds and Rolling Stones covers.) They were a moddish-looking group (capitalizing on the British music scene) that wore corduroy jackets with matching caps, and used such homemade stage props as brooms, mops and pillow feathers in the act. The high point of the Spiders' show involved a most fist fight. Recalled Cooper, "One of my first performances I came out singing in a bathtub. We used every prop we could think of at the time.
"We didn't make any sense, but people were interested. They didn't know why they were interested. They didn't know why there were interested. We did a lot of kooky things like falling down. The music was terribly complicated. Then the make-up came and I said, 'Let's see how they react to this.' Well, the audience went crazy."
By the time the five friends went off to art college for a year, the Spiders had scored a #1 song in Phoenix. The 1966 regional hit, "Don't Blow Your Mind" (Santa Cruz 003), made them the most popular band in Arizona. Getting prepped for the big-time meant yet another name change and heading out to the West Coast in 1968. As the Nazz, the ambitious band intended to remain as outrageous as possible without crossing over to the ridiculous. Periodically, the Nazz returned to its hometown, but it was evident Los Angeles would provide the ticket to success.
The personnel of the Nazz shifted one last time, concluding with the line-up of lead singer Furnier, Mike Bruce (lead guitar), Dennis Dunaway (bass), Glen Buxton (guitar) and Neal Smith (drums). Inspired by the bizarre experimental rock of Frank Zappa, the Nazz were playing songs form the latter's Freak Out and Absolutely Free albums when they were seen by Zappa himself, who was apparently impressed by the band's ability to empty a room of its patrons. Though the Nazz's musical stylings were not readily accepted by the public, it didn't deter the young band from finding success on its own terms.
According to legend, the band's name supposedly originated in 1968 courtesy of a Ouija board, which proclaimed that Vincent Furnier was the reincarnation of a 17th century witch by the name of Alice Cooper. Furnier, the band member most influenced by spiritualism at the time, adopted the name as his own, although Alice Cooper also referred to the name of the band for the next few years. The band members felt that the name change fit their musical and visual approach perfectly.
Furnier-Cooper felt that the name was something more. "When you think of Alice Cooper," he explained in 1972, "it sounds so American. We thought everybody would think it was a blond folk singer with a guitar. What really got us thinking was out more to the West Coast, where there were 600 bands and only six places to play. You really had to do something different to get noticed." The group's initial song catalog consisted of such obscurities as "Fields of Regret," "Nobody Likes Me" and "Science Fiction."
The Cooper professed to be all-American, and the lead singer's confusing sexual ambivalence onstage soon became a key element in the act. In 1976 Cooper confessed, "I drank so much that I would pass out. I would go onstage wearing a pink satin clown outfit with blue eye-makeup and swig a bottle of wine."
At that point, the Alice Cooper band had appeared regularly at the famed Cheetah Club in L.A. Within a short time, they had earned the reputation of being the "worst band" in Los Angeles. Their bizarre appearance often consisted of chrome-colored suits, the stage lighting dark and moody with a phosphorescent background glow.
To futher enhance the setting, the band found it both amusing and entertaining to antagonize what little audience was left standing in the smoky club. On a couple of occasions, the Cooper band opened for the Doors at the Cheetah. What Jim Morrison's audience got was an unknown band playing song with science fiction themes like computers taking over the world. Alice Cooper had a knack for driving hundreds of people away from the club. One night, though, a few brave souls remained, including Frank Zappa, the GTO's and young man named Shep Gordon, who became Cooper's manager and remains so to this day.
At age 21, Gordon had just graduated from the University of Buffalo. When he caught sight of the Alice Cooper group that fateful night, it had reminded him of how the public responded to successful acts like Bob Dylan and the Rolling Stones. "What really struck me about Alice Cooper was the negative energy," he remarked in 1972. "They had the strongest energy I had ever seen. I knew I just had to manage them."
Gordon had it all planned out with perfect precision. He though if Elvis Presley could shake people up enough by swiveling his hips on television, and the Rolling Stones had easily disgusted parents by urinating on a gas station wall, why wouldn't Alice Cooper have a shot at becoming a huge rock star too? Any band that had the power to clear out a room of 700 people in a matter of seconds must have something special, and Gordon wasn't about to give up until he found what it was.
He arranged for the band to record on Zappa's new label, Straight Records. In 1969, they debuted for Pretties For You and a year later Easy Action followed. The new band's first offering made #193 on the U.S. charts. Easy Action, when it was released, didn't rank much higher, but the band's stage show started to garner interest on the West Coast.
"Our reputation was built on the show," confirmed Cooper in early 1971. "We refined the madness. We would do things like open pillows and have compressed air blow the feathers around. We totally involved the audience in what we were doing onstage, and people loved it."
In the summer of 1969, the group travelled to Cooper's birthplace, Detroit, for the annual Saginaw Pop Music Festival. They were the last act on the bill which featured the Stooges and the MC5. That day, the tough street-fighting Motor City audience seemed to be in the mood for a little bloodshed, and Alice Cooper was the one act that would deliver it. For the band, they had finally found an audience that appreciated their unconventional approach to rock 'n' roll. That night Cooper appeared onstage wearing a pink night gown over his pants. He opened singing "Nobody Likes Me," using a glass window pane as a stage prop. For the grand finale, the band broke into a mock fighting scene which aroused the hostile audience even more. Blood splattered the stage, and the group barely made it out alive.
Another incident early in Alice Cooper's career would brand the singer with a notorious reputation for years to follow. Apparently one night at the end of a climatic performance, Cooper took a live chicken and thrust it into the audience. The animalistic Detroit people tore the unsuspecting foul into a million pieces. Cooper's instinct for improvisation became a huge cause celebre, and this day he prefers to forget the memory. Over the years, he has justified his actions with this statement: "I'm not from the country. I just assumed a chicken could fly. I mean, they have wings and everything. The next day the headlines read that I bit the head off the chicken and sucked its blood out. From that time on, every town we played, we had to check in with the Humane Society." A legend was born.
Parents around the world immediately formulated anti-Alice attitudes. If anything, Alice Cooper, the man, would be a force to reckon with whether people liked it or not. Later that same year, the band made a cameo in the film Diary Of A Mad Housewife, performing at a private party.
The Coopers lived on very little and slept five to a room. Alice soon began incorporating such terrorizing props as a guillotine, a gallows, and an electric chair to further intensify the act. He viewed his props as theatre, his role much like that of actor Vincent Price in his scary movies. Curious to see what kind of reaction it would garner, Cooper, one night, brought his pet boa constrictor onstage. Kachina immediately took a strong shine to the spotlights. After a few performances with her owner, the lady reptile became a permanent addition to the show. Says Cooper, "When I bring a snake onstage everybody take it differently. What I do is give people images, and by the end of the show 20 different stories are told. I'm making people use their imaginations."
In early 1970, the group, ironically, played the Toronto Peace Festival. Also that year, Shep Gordon arranged for Jack Richardson and his young assistant, Bob Ezrin, to produce the third Alice Cooper album. Richardson had been responsible for making hit songs for top Canadian music acts like the Guess Who. Though he wasn't completely available to take on the project, his assistant Ezrin filled in the gaps. (Years later Ezrin went on to produce many classic Cooper albums.) Love It To Death became the first Cooper album for Warner Brothers Records.
The imaginative lead singer worked especially hard on the album, trying to create new characters to illustrate the songs onstage. Ezrin's initial concern was to channel the group's musical lunacy into standard rock songs. Cooper liked experimenting with different personas and thought it would be more effective to let his character tell the song's story. "Ballad Of Dwight Fry" best represented the imagery that Cooper wanted to project in his songs: Disturbing lyrics like "See my lonely life unfold/I see it everyday/See my lonely mind explode when I've gone insane" presented Alice having a mental breakdown complete with a straitjacket and men in white coats.
However, the rest of the album wasn't quite as intense. The debut single "I'm Eighteen" established the band as a top recording act. The teenage anthem broke out even on AM radio and quickly ascended the charts, hitting the #21 spot. The LP peaked at #35 in the U.S. and #27 in the U.K. A 1971 review of Love It To Death in Rolling Stone stated, "The difference between this album and the previous two is simple cool professionalism. This is the first Cooper album upon which their stage show could be completely based (or vice versa).
The Killer album, which followed later in 1971, took the deranged Alice character a step further. He progressed from killing chickens to killing babies, having himself "executed" for his grisly crimes. The U.S. singles "Under My Wheels" (#59) and "Be My Lover" (#49) helped earn Alice Cooper a gold and ultimately platinum record, which he proudly presented to his father on Father's Day. The cover of the album captured Kachina in all her glory, and inner sleeve featured Cooper dangling from a noose. Other choice LP cuts like "Halo Of Flies," "Desperado" and the chilling "Dead Babies" intensified Alice's image even further.
On stage, the plight of Little Betty in "Dead Babies" ends with Cooper hacking a baby doll to pieces and discarding its remains into the audience. The concept of Killer was designed to accompany the stage show. At the end of an emotionally-packed 90 minutes, Cooper would be apprehended for his evil acts and face simulated death by the gallows. For the real person behind the demented character, sex and violence were nothing but exaggerated theatrics.
As the band's popularity and finances increased, they decided to move to Connecticut. In the comfort of luxury, they lived in a Greenwich mansion complete with tennis courts and a swimming pool. For two years, the Coopers became one of the state's most popular tenants. Film legend Bette Davis lived next door, and at first was apprehensive about her new neighbors. But being an avid film buff, Cooper soon quieted any reservations the great lady harbored about having rock star neighbors.
With the release of the next album, School's Out, and the single of the same name, teenagers around the world heralded Alice Cooper as their new rock 'n' roll hero. The more Cooper openly despised authority figures the stronger the massive following grew. In 1975 he said, "The kids understand. They know Alice is harmless. Our whole system is based on violence. I'm just putting it out onstage. But I don't take it seriously. I'm doing it on sort of a mock level. The kids know Alice is having fun up there. when I was a kid my favorite actors were the villains like Bela Lugosi or Vincent Price. If I were a kid right now, Alice would be my hero."
The single "School's Out" made #7 here and also topped the U.K. charts for three weeks, turning the group into international rock stars. The LP reached #2 in America and the second single, "Elected," which was accompanied by a promotional film clip, climbed to #26 (U.S.) and all the way to #6 in Britain. The film [album] epitomized teenage rebellion and sex in the form of such as "Blue Turk," "Luney Toon [Tune]" and "Public Animal #9."
In the summer of 1972, the group went on it's latest concert tour overseas, and this time, England got more than it bargained for. The day before the London concert, a truck displaying a huge billboard of Cooper in the nude with a boa constrictor wrapped around him stopped traffic for miles. The truck conveniently broke down in the middle of Piccadilly Circus, causing all sorts of havoc.
By the end of the year, "School's Out" became one of the largest-selling singles in Warner Brothers Records' history. For a promotional twist, the album came with a pair of paper panties enclosed. On the record's release date, it was held back in England, where the panties were manufactured, because of a flammability law - it was illegal to import the albums from England, and supposedly Cooper's manager Gordon knew about the illegality. The stunt, of course, made headline news around the world which further boosted record sales.
With each new production, Cooper inevitably would try to out-do the last both onstage and on vinyl. Billion Dollar Babies because a prime example of his master showmanship. The LP, which was partially recorded on the group's mobile unit in Greenwich, featured appearances by Donovan, Marc Bolan and Harry Nilsson. In the 1974 book Billion Dollar Baby, authored by Chicago columnist Bob Greene, it was revealed for the first time that Cooper's sinister exterior had been just a clever act. In fact, he was even tiring of hacking baby dolls and facing the nooses every night. The man behind the black eyes was just a regular guy who liked to watch television and play golf. Not so threatening after all.
The LP catapulted the group's popularity, topping both the U.S. and U.K. charts at the coveted #1 position. The much publicized theatrical stage show featured more gore and sensationalism with such songs as "Sick Things" and "I Love The Dead." The debut single, "Elected" (originally "Reflected" from Pretties For You), made the U.S. charts at #26 and #4 in the U.K.. The second offering, "Hello Hurray" (originally recorded by folk singer Judy Collins), went to #35 here and #6 in England. The next single, "No More Mr. Nice Guy," shot to #25 in the States and climbed to #10 in the U.K. The last released single, the title track, only reached #57 on the U.S. charts.
At this point, Cooper began having difficulty maintaining his perspective on his image, discovering just how difficult it was to maintain his public character all the time. When he sang "No More Mr Nice Guy," his sentiments were directed to the ever-present press. "I'm Ozzie Nelson offstage," he often related. "I just like to hang around the house." Between recording and making personal appearances, Cooper continued to remain in the public eye. It wasn't unusual for him to be seen in the company of such Hollywood legends as George Burns, Jack Benny and Groucho Marx. In fact, he once presented the first "Alice Cooper Living Legend Award" to Burns.
Initially, the band's early supporters had accused them of "softening" their hard-edged image and musical approach to appease a mass following. At the pinnacle of their success, changes were in the wind, including personal conflicts and musical differences. As the time neared to make the next Alice Cooper album, the band agreed to experiment and "jumble the image around."
Muscle Of Love arrived in the stores in November 1973, packaged in a plain brown cardboard box. The LP, which featured backup vocals by Liza Minnelli and Ronnie Spector, made the Top 10 in America, #34 in the U.K. The opener, "Big Apple Dreamin' (Hippo)," was the band's attack on life in New York City. A ballad titled "Hard Hearted Alice" continued the LP's theme and revealed another look at the plight of being a sought-after rock star. The acoustic introduction had Cooper quietly singing such sensitively written lyrics as "Time is free as a jailbird/At least that's what I heard when you live in a hideout.../Hard hearted Alice is what you want to see/Hard hearted Alice is what we want to be."
It had been suggested that Muscle Of Love was merely a showcase for Cooper's individual talent, as opposed to a band effort. Its debut single, "Teenage Lament '74," reached #48 here and #42 in Britain. Toward the middle of the year Cooper took a long hiatus from touring and the band went on to pursue other career interests. Manager Shep Gordon explained, "It was everybody that wanted to get out. You have to remember, when you do the same thing every night, seven days a week, it can get to you." The only question that remained was who actually held the rights to the name Alice Cooper? Originally it was the band, but before the actual split, Vincent Furnier too the name for himself in a California court.
In early 1975, what was Cooper's thought regarding a pending solo career? "I think I'm one of the most secure people I know," he replied when cornered by a reporter. "I have a lot of faith in myself. I'm looking forward to the new show." With several musical accomplishments behind him, Cooper took a minor career detour and concentrated on making some television appearances.
Towards the late '70s, the ex-Cooper sidemen formed a band, appropriately called Billion Dollar Babies. The sole album, Battle Axe on Polydor, received mixed reviews, but the chemistry just wasn't there. The group disbanded a year later. Neal Smith and Dennis Dunaway resurfaced later in the Flying Tigers, which also proved short-lived. Following a few aborted attempts at a solo career, Michael Bruce moved to Nevada and ventured into real estate. In late '89 Smith and Dunaway signed to an independent New York record label, Grudge.
In March '74, Cooper made his television debut on the NBC "Wednesday Night Mystery Movie" The Snoop Sisters. Taking a cue from his ghoulish character, he portrayed an aspiring witch dressed in a skeleton costume. Later that year, he appeared on Hollywood Squares, something Cooper hardly remembers today. At this point, Alice Cooper, the public figure, had reached his peak. He transcended from super rock star to Hollywood celebrity in a matter of a few short months. Soon he was making appearances on talk shows like Mike Douglas and The Tonight Show. The imaginative little kid from Phoenix who loved escaping into the fantasy world of television found himself hobnobbing with some of Tinsel Town's finest. A compilation album, Alice Cooper's Greatest Hits, reached #8 by the end of the year.
Welcome To My Nightmare established Alice Cooper as a solo artist. It presented a new musical direction. His new band included ex-Lou Reed sidemen Dick Wagner and Steve Hunter (both have, over the years, earned valuable positions as part of Cooper's production team).
The LP, produced by Ezrin, proved to be one of the performer's most recognized and revered works. For the album and the stage show, Cooper portrayed the part of "Steven," an emotionally disturbed little boy who was plagued by horrendous nightmares. The songs take Steven through a volatile night until, at the end, he escapes the gruesome characters. Veteran Hollywood villain Vincent Price narrated the fiendish story, years before his appearance on Michael Jackson's Thriller.
Recorded in Toronto, the LP became the basis for an ABC television special. The ballad "Only Women Bleed" climbed to #12, and the album #5. The sensationalized stage show featured giant spiders, a graveyard scene and a 10-foot cyclops. The Nightmare extravaganza cost over $400,000 to produce. Disney technicians were hired under Cooper's supervision to construct the massive set. "I'm a set designer as much as I am a performer," Cooper remarked at the start of the tour. "It's show business. It's rock 'n' roll and it's real necessary. Rock 'n' roll is important to me... My character grew out of Saturday afternoon at too many movies." Shep Gordon compared the show, which also included a chorus line of dancers dressed in skeleton costumes (Alice wore white tails and a top hat), to a "cheap Japanese movie."
The further adventures of Alice/Steven continued with the 1976 album Alice Cooper Goes To Hell. Did Cooper actually awaken from his nightmare? The concept was continued a year later with Lace And Whiskey. Go To Hell reached #27 and the ballad "I Never Cry" climbed to #12, topping a million in sales. The LP featured Cooper in a duel with the devil. A record review in Creem magazine read, "How, you ask, does the son of a preacher man grow up a rough-faced, leather-clad rock 'n' roll star? By constant rebellion, that's how." With producer Ezrin at the helm and ace guitarist Dick Wagner co-writing the music, most critics gave Cooper the thumbs up sign.
Cooper's reflections on the project strictly concerned humor. All those Bible scriptures he had memorized as a kid came in handy. "I found out that just about all my writing was in the end based on the religious thing," he observed in 1977. "I didn't realize it. I figured it would be funny to exploit the devil."
Though hard-hitting songs like "Guilty," "Wish You Were Here" and the title track were effective, it was with "I Never Cry" that Cooper ran the risk of losing his mean edge. Was Alice really becoming a "softie" like some music critics had claimed? He addressed the situation and described his ballad success as "Heavy housewife rock... I'm a deadly romantic, I love Burt Bacharach because his music is so romantic. I love soundtracks from movies." Both Lace And Whiskey and The Alice Cooper Show (recorded live in 1977 preserved the Cooper tradition of rock and theatre as established on Nightmare.
The LP reached #42 here and #33 in the U.K. The single, "You And Me," became his biggest ballad since "I Never Cry." He wondered if America's housewives knew that the Alice Cooper who sang such romantic songs was the same demented persona who speared baby doll heads years earlier. Even Bob Dylan proclaimed, "Alice Cooper is one of the most underrated songwriters of our time".
On the release of his live album, Cooper told the press, "By now I hope the audience realizes it's just a role I play, because I don't take anything I do seriously." he also featured in cameos in two movies. In Sextette, Alice starred with Mae West and Ringo Starr. For the musical film Sergeant Pepper's Lonely Hearts Club Band, he shared the screen with Peter Frampton and the Bee Gees.
By 1978 Cooper's penchant for poking fun at death nearly took its toll in the form of alcoholism. He checked into a New York hospital for chronic alcoholism and received treatment for the next three months. From The Inside was the result of his ordeal. Having learned how to successfully leave alter-ego "Alice" onstage, he teamed up with Bernie Taupin to co-write the songs on the album.
In an interview following the release of From The Inside, Cooper confessed, "I was at the point where I was either going to pass out physically somewhere and end up in the hospital without my own commitment, or I was going to commit myself. I was drinking two quarts of whiskey a day. I have always been a public drinker and I think once you belong to the public, then the public cure should be part of it too."
The single "How You Gonna See Me Now" (written by Cooper based on a letter to his wife from the hospital) reached #12 in America and #62 in England, while the album made #68 (U.S.) and #61 (U.K.). Lyrically, From The Inside was received as his most effective album in years. It also became Warner Brother Records' first album to be humorously shipped "insane" (as opposed to the standard gold), packaged with special "hospital doors" that opened on the cover. One door revealed Cooper groping for his solitude in the "Quiet Room."
Regarding the mystery he told the press, "Must Alice die, so I can survive?" It was one hell of a nightmare for a while, but Alice had already written the script. He would return from the undead with his heart into it.
With the 1980s, a new Alice Cooper emerged. His 14th album, Flush The Fashion, presented the perfect introduction to the coming decade. He proved he hadn't lost his knack for creating trends. The Roy Thomas Baker-produced album marked a departure from Cooper's previous image and music. Former Elton John guitarist Davey Johnstone (who also played on From The Inside), co-wrote some of the songs, adding a melodic touch.
The single "Clones (We're All)" reached #40 and became Cooper last hit for some years. The LP made #44 (U.S.) ad #56 (U.K.). Onstage, the makeup-laden Alice looked something like a cross between Joan Crawford and a geisha girl: his basic black hair had been pulled back in a pony tail and topped with either a black or red beret.
"I'm focused right into the '80s," Cooper mused on a summer afternoon. "In the past I was known for my horror show. I'm a specialist. I've developed my sense of pacing and dramatics." Heading toward a new wave/hard-rock approach, Cooper described his latest look by saying, "I'm not dwelling on rebellion because we've already done that whole punk-rock thing."
Not forgetting his acting, he also appeared in the movie Roadie with Art Carney, Debbie Harry and Meatloaf.
In the next few years, it seemed Alice Cooper's brilliant career was headed towards rapid demise. Such albums as Special Forces (1981), Zipper Catches Skin (1982) and Dada (1983) were met with only modest success. By now Cooper had realized that some of the younger generation he influenced a decade earlier was eclipsing him musically. Heavy metal and hard-edged rock sounds were in demand and somewhere Cooper's original music got lost in the shuffle.
At 33, he denied retiring from the rock circuit. "This is the third generation of fans I'm playing to now," he said. "I get tired of people saying Alice can't do it anymore. There's always some punk kid who thinks he's faster than me. I love the challenge of going out and competing again."
The man who used to sell out concert arenas admitted being comfortable playing theaters. "Alice brings forth a certain threat and the new Alice is even more threatening than the old Alice," he related in 1982 about his onstage character. "This Alice is so nationalistic. He goes beyond Patton (the Special Forces tour took on a military theme). If anyone deserves to be a legend it's me. Nobody has done what I have done onstage."
Special Forces reached #123 here and #96 in England. A cover version of the single "Seven And Seven Is" was released only in England and charted at #62. A special live A-Side. "For Britain Only/Under My Wheels," peaked at #566 in the U.K. Zipper and Dada failed to chart in America.
Following a hiatus of a few years, Cooper starred in a horror movie titled Monster Dog, playing the familiar villain role (although his real voice was dubbed out). The film was shot on location in Spain and is now available on home video.
He then re-entered the recording scene on a new label, MCA. His debut for the company in 1986, Constrictor, was followed a year later by Raise Your Fist And Yell. With metal music in its prime, Cooper could once again feel comfortable competing with such heavy-hitters as Ozzy Osbourne who, although he has worked similar musical and theatrical territory as long as Cooper, cited Alice as a mentor of sorts. Said Osbourne in 1987, "Alice is the father of us all. He's great. He was doing things on stage that I would never do. I'm glad he's back."
In 1985, after Cooper appeared in Twisted Sister's recording of the song "Be Chrool To Your Scule" (as well as the video), that group's singer, Dee Snider, proclaimed, "Alice Cooper is my hero. If it wasn't for Alice Cooper, there would be no Twisted Sister."
Constrictor's only single, "The Man Behind The Mask," was featured in the movie Friday The 13th, Part Six. The resurfaced Cooper made his comeback attempt clear with a tour and home video release both titled The Nightmare Returns. Constrictor, meanwhile, peaked at #59 and revived Cooper as something of a metal artist. Raise Your Fist stalled at #73 and didn't feature a single. However, in Britain, "Freedom" charted at #50 and Cooper's controversial stage show raised a new consciousness of the artist.
"Some people would say, isn't it great that Alice Cooper has a 19th album?" he said. "Let me tell you something, my attitude is more dangerous than ever. As far as I'm concerned, this is the revenge of Alice Cooper." Toward the end of 1987, he also made a cameo appearance in the John Carpenter film Prince Of Darkness, recording a song of that title (inspired by the film) on the Raise Your Fist LP.
In 1988 Cooper signed with Epic Records and began working with songwriter-producer Desmond Child (Bon Jovi, Aerosmith, Kiss, Joan Jett). His debut for the label, Trash, featured sexually-orientated lyrics and twisted attitudes about relationships in the '90s. Having moved away from the gothic image, his recent album has introduced yet another generation to Alice Cooper and revived much of the attention lost in recent years. Trash has sold over two million copies worldwide at this writing and stands to become his biggest-selling album ever.
"Everybody relates to trash. Kids get trashed at school, trashed at home," explains Cooper. "We live in a highly-pressured time. Drugs are a much bigger deal today. The fear of addiction is right there. Living is harder - it's a dangerous world and Trash is what it's all about."