Chicago Sun-Times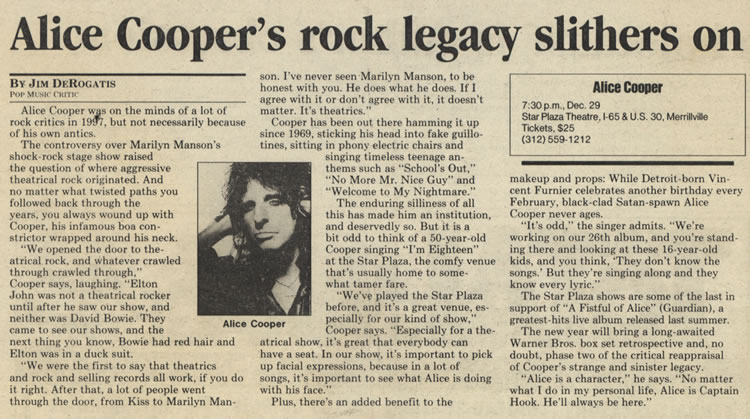 Chicago Sun-Times
(December 24, 1997)
Originally Published: December 24, 1997
Alice Cooper's Rock Legacy Slithers On
Author: Jim DeRogatis
Alice Cooper was on the minds of a lot of rock critics in 1997, but not necessarily because of his own antics.
The controversy over Marilyn Manson's shock-rock stage show raised the question of where aggressive theatrical rock originated. And no matter what twisted paths you followed back through the years, you always wound up with Cooper, his infamous boa constrictor wrapped around his neck.
"We opened the door to theatrical rock, and whatever crawled through crawled through," Cooper says, laughing. "Elton John was not a theatrical rocker until after he saw our show, and neither was David Bowie. They came to see our shows, and the next thing you know, Bowie had red hair and Elton was in a duck suit.
"We were the first to say that theatrics and rock and selling records all work, if you do it right. After that, a lot of people went through the door, from Kiss to Marilyn Manson. I've never seen Marilyn Manson, to be honest with you. He does what he does. If i agree with it or don't agree with it, it doesn't matter. It's theatrics."
Cooper has been out there hamming it up since 1969, sticking his head into fake guillotines, sitting in phony electric chairs and singing timeless teenage anthems sucks as "School's Out," "No More Mr. Nice Guy" and "Welcome to My Nightmare."
The enduring silliness of all this has made him an institution, and deservedly so. But it is a bit odd to think of a 50-year-old Cooper singing "I'm Eighteen" at the Star Plaza, the comfy venue that's usually home to somewhat tamer fare.
"We've played the Star Plaza before, and it's a great venue, especially for our kind of show," Cooper says. "Especially for a theatrical show, it's great that everybody can have a seat. In our show, it's important to pick up facial expressions, because in a lot of songs, it's important to see what Alice is doing with his face."
Plus, there's an added benefit to the makeup and props: White Detroit-born Vincent Furnier celebrates another birthday every February, black-clad Satan-spawn Alice Cooper never ages.
"It's odd," the singer admits. "We're working on our 26th album, and you're standing there and looking at these 16-year-old kids, and you think, 'They don't know the songs.' But they're singing along and they know every lyric."
The Star Plaza shows are some of the last in support of "A Fistful of Alice" (Guardian), a greatest-hits live album released last summer.
The new year will bring a long-awaited Warner Bros. box set retrospective and, no doubt, phase two of the critical reappraisal of Cooper's strange and sinister legacy.
"Alice is a character," he says. "No matter what I do in my personal life, Alice is Captain Hook. He'll always be here."