Bulletin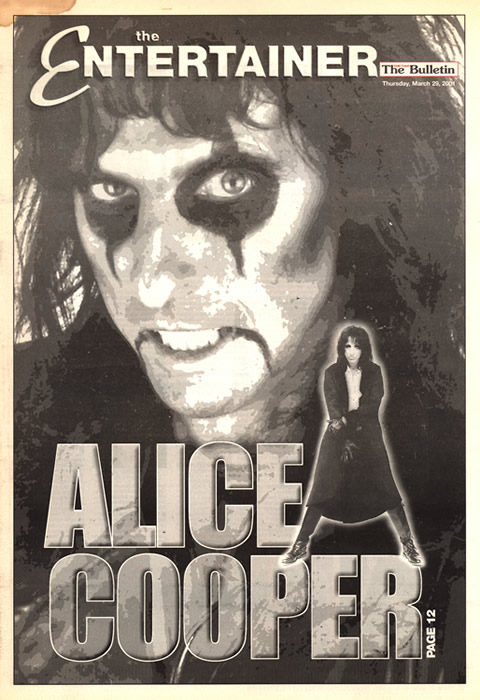 Bulletin
(March 29, 2001)
Originally Published: March 29, 2001
Rock's Horror Show
Author: Jason Oxenbridge
Pioneer shock rock maestro Alice Cooper says the best thing about being a rock 'n' roll dinosaur is that you get to eat smaller bands for breakfast.
Yes kids, the Alice Cooper horror show is coming to town and the self-confessed prophet of doom is.. as happy as hell.
Hitting Australia to tour his Brutal Planet rock show in April, the 52-year-old godfather of black theatre metal has sold more than 50 million albums worldwide.
For Cooper the quest to gorge rock 'n' roll cartoon violence continues, as does the reaction by audiences left mortified and captivated in his wake by some of the most outrageous stage antics in the history of rock.
"I would put my band up against any other band on the planet today," says Cooper.
Stepping on to the platform at the Carrara Sporting Complex on Easter Saturday to deliver a 'variety show' litter with all the usual decapitations and deformed corpses. Brutal Planet will also feature famed Bad Company vocalist Paul Rogers.
Soaring to fame in the 1970s with albums including School's Out and the 1975 classic Welcome To My Nightmare, Cooper has outraged many with his chicken-head biting antics - and he promises to be equally grotesque this time 'round. Babies in prams, guillotines and various bones and body parts strewn across the stage will be a part of the Alice Cooper Easter 'offering'.
The stage is filled with props. On one side is a Frankenstein chamber and on the other, Alice Cooper's guillotine.
The doors open and a half-human, half-cyber mutant warns the crowd of our brutal planet and of the treacherous person known as Alice Cooper.
"If he knew I was warning you, I would be killed... if I was lucky," says the mutant.
Cooper has said previously that the show has a similar feel the wicked Australian survival film Mad Max.
He said the imagery of the film and some of the desolate Australian desert scenes had influenced him.
But the thing that really shook Cooper about Mad Max was that it all came down to a survivalist philosophy, ideally suiting Cooper's own - that in the end only the strong survive.
"It looks very much like the set of Road Warrior," he says.
"That's basically what this show is about.
"It's a vision of what the world is going to be like in 50 years if things continue the way they are.
"It's a pretty brutal place, and over-the-top, death-around-every-corner kind of place and, trust me, it's coming."
The ghoulish, Satan-tinged, barbaric Brutal Planet (named after Cooper's latest album), has outraged church groups around Australia, who are gearing up to protest following the new that Alice Cooper is headed to Australia with his production.
Cooper, a devout Christian, scoffs at the irony which he says is rift in many religious organisations.
For him the show serves as a vehicle to depict those ironies.
Good Friday, not black Friday, is a time for Alice to reflect on his beliefs.
"The reason I created Alice was for my alter ego to be able to show off, because I'm not one," says Cooper.
"You know, I know people who don't have faith in anything at all.
"I am a Christian and I profess my faith, but Alice is also a prophet of doom.
"Unfortunately 80 per cent of Christian organisations are not Christian.
"They don't practice Christianity and are usually the one that protest the loudest.
"I believe in the Christian way of life, but I look forward to controversy.
"I absolutely can defend anything I do on stage and I have a definite, clear vision of what I'm doing up there."
But even at Alice's most despicable, the show is always done with only the best taste.
"If you're going to spit blood, do it was class.
"Even when getting your head cut off, you have to set up an audience emotionally.
"You have to tease them to the point where they can't wait until it happens."
A fan of the horror flick genre, particularly those films direct by creator of movie suspense, Alfred Hitchcock, Cooper is a stickler for detail - right down to the final rotting corpse... the beginning of the end.
"The greatest thing about Hitchcock was that he would set you up and then not reveal anything expected," says Cooper.
"I absolutely studied Hitchcock's every movie and you come to appreciate with it was that made him so special.
"You can't do horror or shock without being humorous in some or other way."
Cooper says contemporary misfit Marilyn Manson's ascension to shock rock giganticism does nothing to appease, but on the contrary leaves a bad taste, amazingly even inside his mouth.
"The great thing is that I've been able to perform like this for 30 yeas and I get a bit of leeway," says Cooper.
"You can't leave an audience hanging out there on the a ledge at the end of a show and that's what Marilyn Manson does.
"You need to make them fulfilled.
"My show doesn't leave them on a negative and that's constructive.
"I want to see an ending that leaves you feeling good. It has to be satisfying."
Cooper set the dial and determines his own destiny. When confronted, he can be articulate, diplomatic and intelligent.
But the man who is also outstanding with a golf club in hand, unleashes a scathing aspect of his cool demeanour when his fitness and ability to keep touring is questioned.
Words like dilapidated are best avoided when describing the sinewy rock giant. One journalist from the Herald Sun who stated 'School's in for Cooper. Dilapidated rocker Alice Cooper has announced another Australian tour', rocked Cooper.
"I bet this guy is 80 pounds overweight," crackles Cooper.
"Who is he? Let's have a race and I guarantee you I'll kick his arse. I'm in better shape now than what I was 30 years ago.
"I'm in perfect shape right now, and I run every night.
"I'm like a boxer."
(Originally published in The Entertainer supplement of The Gold Coast Bulletin on March 29th, 2001)