Buffalo News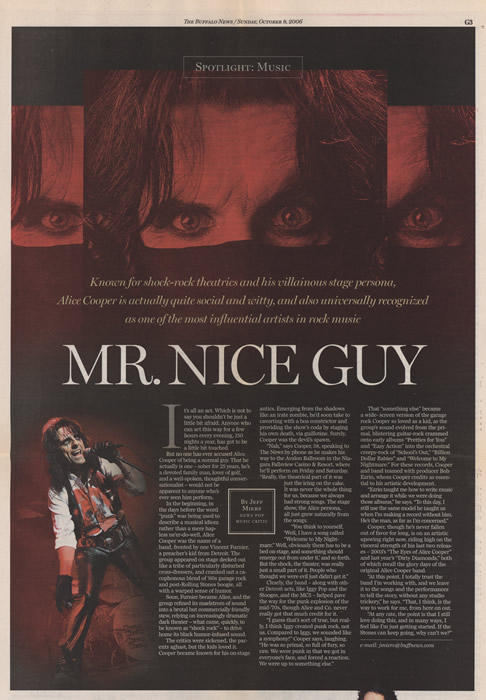 Buffalo News
(October 08, 2006)
Originally Published: October 08, 2006
Mr. Nice Guy
Known for shock-rock theatrics and his villainous stage persona, Alice Cooper is actually quite social and witty, and also universally recognized as one of the most influential artists in rock music
Author: Jeff Miers
It's all an act. Which is not to say you shouldn't be just a little bit afraid. Anyone who can act this way for a few hours every evening, 150 nights a year, has got to be a little bit touched.
But no one has ever accused Alice Cooper of being a normal guy. That he actually is one - sober for 25 years, he's a devoted family man, lover of golf, and a well-spoken, thoughtful conversationalist - would not be apparent to anyone who's ever seen him perform.
In the beginning, in the days before the word "punk" was being used to describe idiom rather than a mere hapless ne'er-do-well, Alice Cooper was the name of a band, fronted by one Vincent Furnier, a preacher's kid from Detroit. The group appeared on stage decked out like a tribe of particularly disturbed cross-dressers, and cranked out a cacophonous blend of '60s garage rock and post-Rolling Stones boogie, all with a warped sense of humor.
Soon, Furnier became Alice, and the group refined its maelstrom of sound into a brutal but commercially dramatic dark theater - what came, quickly, to be known as "shock rock" - to drive home its black humor-infused sound.
The critics were sickened, the parents aghast, but the kids loved it. Cooper became known for his on-stage antics. Emerging from the shadows like an irate zombie, he'd soon take to cavorting with a boa constrictor and providing the show's coda by staging his own death, via guillotine. Surely, Cooper was the devil's spawn.
"Nah," says Cooper, 58, speaking to The News by phone as he makes his way to the Avalon Ballroom in the Niagara Fallsview Casino & Resort, where he'll perform on Friday and Saturday. "Really, the theatrical part of it was just the icing on the cake. It was never the whole thing for us, because we always had strong songs. The stage show, the Alice persona, all just grew naturally from the songs.
"You think to yourself, 'Well, I have a song called "Welcome to My Nightmare." Well, obviously there has to be a bed on stage, and something should emerge out from under it,' and so forth. But the shock, the theater, was really just a small part of it. People who thought we were evil just didn't get it."
Clearly, the band - along with other Detroit act is, like Iggy Pop and the Stooges, and the MC5 - helped pave the way for the punk explosion of the mid-'70s, though Alice and Co. never really got that much credit for it.
"I guess that's sort of true, but really, I think Iggy created punk rock, not us. Compared to Iggy, we sounded like a symphony!" Cooper says, laughing. "He was so primal, so full of fury, so raw. We were punk in that we got in everyone's face, and forced a reaction. We were up to something else."
That "something else" became a wide-screen version of the garage rock Cooper so loved as a kid, as the group's sound evolved from the primal, blistering guitar-rock crammed onto early albums "Pretties For You" and "Easy Action" into the orchestral creepy-rock of "School's Out," "Billion Dollar Babies" and "Welcome to My Nightmare." For these records, Cooper and band teamed with producer Bob Ezrin, whom Cooper credits as essential to his artistic development.
"Ezrin taught me how to write music and arrange it while we were doing those albums," he says. "To this day, I still use the same model he taught us when I'm making a record without him. He's the man, as far as I'm concerned."
Cooper, though he's never fallen out of favor for long, is on an artistic upswing right now, riding high on the visceral strength of his last two releases - 2003's "The Eyes of Alice Cooper" and last year's "Dirty Diamonds," both of which recall the glory days of the original Alice Cooper band.
"At this point, I totally trust the band I'm working with, and we leave it to the songs and the performances to tell the story, without any studio trickery," he says. "That, I think, is the way to work for me, from here on out.
"At any rate, the point is that I still love doing this, and in many ways, I feel like I'm just getting started. If the Stones can keep going, why can't we?"