Bravo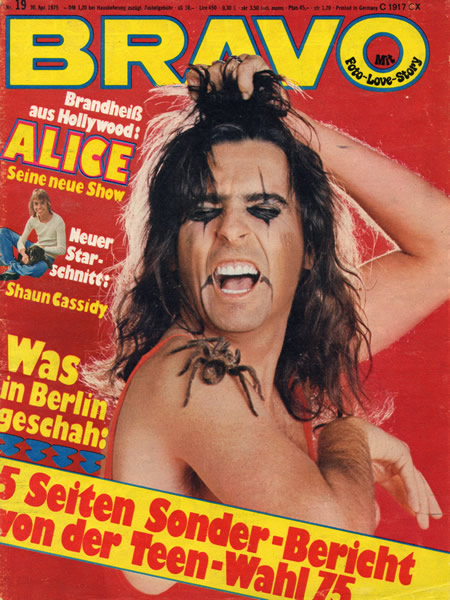 Originally Published: April 30, 1975
Alice Cooper
Author: Frances Schoenberger
Alice took a rest for two years. Now America's shock rocker is back with his new show called: "Welcome To My Nightmare" which takes him on a worldwide tour. BRAVO watched Alice's tour-rehearsal and gives you a preview of what is going to happen on Alice's German leg of the tour next summer.
Alice is lying on a huge bed in the middle of the stage - tossing and turning while sleeping. Suddenly his nightmare begins and the whole audience is going to witness it. Green monsters, a five meter tall Cyclops and torturers dressed in black chasing and vexing Alice in a two-hour-spectacle. Alice himself shows up as an oversized spider.
This is the way Alice presented his nightmares in a 90 minute movie which was just broadcasted in the USA. Alice has been touring since April 1st throughout the USA for 60 days, with a show very similar to the TV-broadcast. Afterwards Alice will be touring in Europe. He will probably be in Germany at the end of August.
Alice, who changes clothes five times each night, does have a new show and a new band as well: Dick wagner (guitar), Jozef Chirwosky (keyboards), John Prakash (bass), Steve Hunter (guitar) and Pennti Glan (drums). The whole band appears on stage in striped pajamas.
The horror-actors are part of a ballet-group - its leader is a scary looking bald headed Japanese man. Alice told me while at a rehearsal break: "My new show hits eyes, ears and especially the nerves of the audience. It's much more horrifying than a ghost train ride.
Should we be expecting musical surprises as well?
"Yes! For the first time I'm doing a ballad called 'Only women Bleed' - my music is much more eclectic. Most songs like the title song 'Welcome To My Nightmare' or 'Years Ago' have a melodic beginning and end up with a bombastic rock 'n' roll finale. So you'll never know what's gonna happen next in my new show..."
Kindly translated November 2009 by Rado