Billboard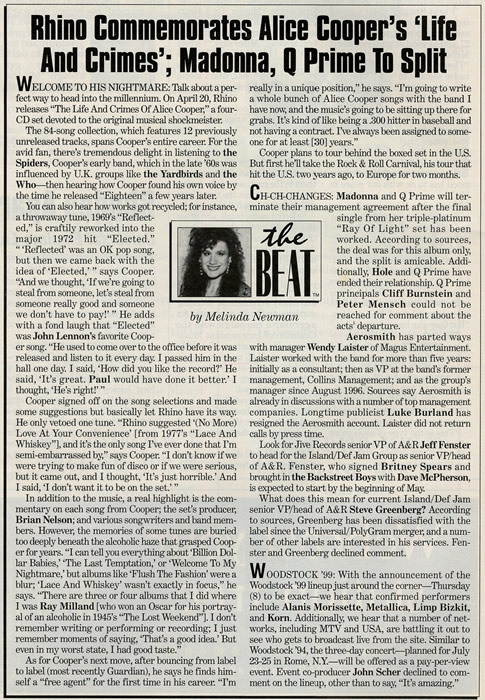 Billboard
(April 10, 1999)
Originally Published: April 10, 1999
Rhino Commemorates Alice Cooper's 'Life And Crimes'
Author: Melinda Newman
Welcome to his nightmare: Talk about a perfect way to head into the millennium. On April 20, Rhino releases "The Life And Crimes Of Alice Cooper," a four CD set devoted to the original musical shockmeister.
The 84-song collection, which features 12 previously unreleased tracks, spans Cooper's entire career. For the avid fan, there's tremendous delight in listening to the Spiders, Cooper's early band, which in the late '60s was influenced by U.K. groups like the Yardbirds and the Who -- then hearing how Cooper found his own voice by the time he released "Eighteen" a few years later.
You can also hear how works got recycled; for instance, a throwaway tune, 1969's "Reflected," is craftily reworked into the major 1972 hit "Elected." "'Reflected' was an OK pop song, but then we came back with the idea of 'Elected,'" says Cooper. "And we thought, 'If we're going to steal from someone, let's steal from someone really good and someone we don't have to pay!" He adds with a fond laugh that "Elected" was John Lennon's favorite Cooper song. "He used to come over to the office before it was released and listen to it every day. I passed him in the hall one day. I said, 'How did you like the record?' He said, 'It's great. Paul would have done it better.' I thought, 'He's right!'"
Cooper signed off on the song selections and made some suggestions but basically let Rhino have its way. He only vetoed one tune. "Rhino suggested '(No More) Love At Your Convenience' [from 1977's "Lace And Whiskey"], and it's the only song I've ever done that I'm semi-embarrassed by," says Cooper. "I don't know if we were trying to make fun of disco or if we were serious but it came out, and I thought, 'It's just horrible.' And I said, 'I don't want it to be on the set.'"
In addition to the music, a real highlight is the commentary on each song from Cooper; the set's producer, Brian Nelson; and various songwriters and band members. However, the memories of some tunes are buried too deeply beneath the alcoholic haze that grasped Cooper for years. "I can tell you everything about 'Billion Dollar Babies,' 'The Last Temptation,' or 'Welcome To My Nightmare,' but albums like 'Flush The Fashion' were a blur; 'Lace And Whiskey' wasn't exactly in focus," he says. "There are three or four albums that I did where I was Ray Milland [who won an Oscar for his portrayal of an alcoholic in 1945's "The Lost Weekend"]. I don't remember writing or performing or recording; I just remember moments of saying, "That's a good idea.' But even in my worst state, I had good taste."
As for Cooper's next move, after bouncing from label to label (most recently Guardian), he says he finds himself a "free agent" for the first time in his career. "I'm really in a unique position," he says. "I'm going to write a whole bunch of Alice Cooper songs with the band I have now, and the music's going to be sitting up there for grabs. It's kind of like being a .300 hitter in baseball and not having a contract. I've always been assigned to someone for at least [30] years."
Cooper plans to tour behind the boxed set in the U.S. But first he'll take the Rock & Roll Carnival, his tour that hit the U.S. two years ago, to Europe for two months.