BAM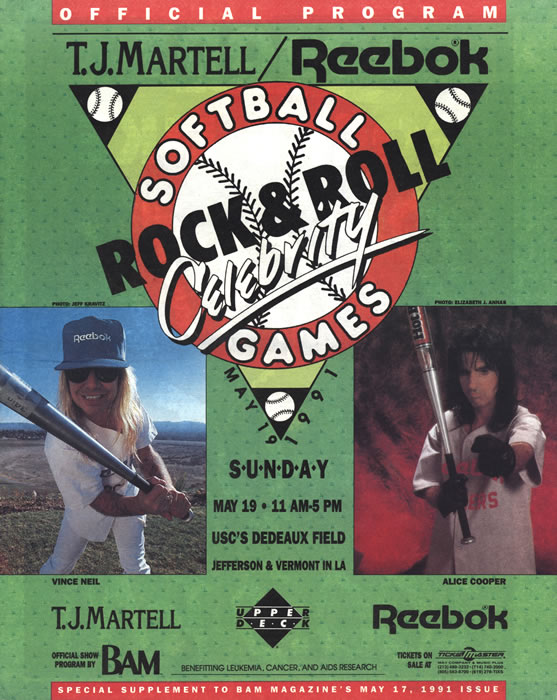 Originally Published: May 17, 1991
Alice Cooper: The Rollers
"Living Legend" is probably one of the most overused cliches in all of rock 'n' roll, but no one deserves the title more than the one nd only Alice Cooper. Call him the "Master of Shock Rock," "Black Humorist Supreme," or, simply, "Rock's Greatest Showman." Whatever you call him, it can't be denied that Alice has left his mark on countless performers and rock 'n' roll in general over the years.
Alice Cooper first reached national prominance during the early '70s, when he practically invented "shock rock" with his radically threatrical approach to rock concernts. With the stated intention of "driving a stake through the heart of the Love 'n' Peace Generation," Alice played hard rock that was powered by crunching riffs, blazing guitars, and lyrics that seemed to connect directly with the dissatisfied teenage psyche. Aiming to out-shock even the Rolling Stones, Alice more than succeeded with a wit and humor that few have been able to duplicate... although scored have tried during the years since.
Beginning wiht the now-legendary Love It to Death LP and its hit single, "I'm Eighteen," Alice Cooper has scored hit about after hit album - Killer, School's Out, Billion Dollar Babies, Welcome To My Nightmare, etc. - and hit anthem ater hit anthem - "Elected," "School's Out," "Hello Hooray," "Under My Wheels," "Only Women Bleed." Each of his shows have gotten bigger, better... and more outrageous, with Alice setting many trends, including the first long-form rock video (Welcome to My Nightmare) and "concept" video ("Elected") years before anyone had ever heard of MTV. Scores of today's modern rockers sing his praises and influences, a fact that was driven home several years go when Guns N' Roses joined Alice in the studio for a rendition of his classic "Under My Wheels," which was featured in the film, The Decline of Western Civilization, Part II: The Metal Years.
Alice signed to Epic Records in 1988, and he hooked up with songwriter Desmond Child (or Aerosmith, Bon Jovi, and Joan Jett fame). The collaboration resulted in Trash, which was one of hard rock's recent crowning glories. His latest Epic LP, Hey Stoopid, is slated for a July 2nd release. Alice assembled an all-star cast for the new record, including such longtime Cooper disciples as Nikki Sixx and Mick Mars of Motley Crue, Slash of Guns N' Roses, Vinnie Moore, and Joe Satriani. Wow! Like we said a "living legend" - a legent in his own time!
(Official Program originally released as a special supplement to BAM magazine on May 17th, 1991)