Aftonbladet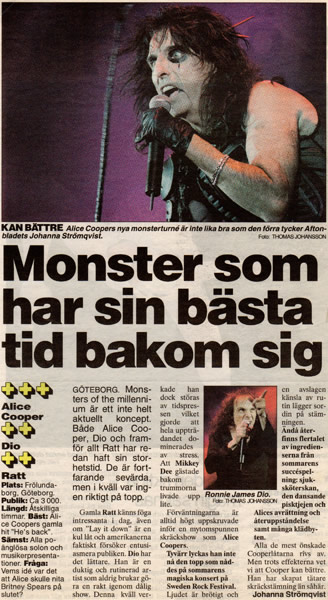 Aftonbladet
(April 27, 2001)
Originally Published: April 27, 2001
Monster with his best years behind him
Author: Johanna Strömqvist
Gothenburg. Monster of the Millennium is not a very modern concept. Both Alice Cooper, Dio and most of all Ratt, have already had their great eras. They are still worth seeing, but tonight neither of them were in top form.
Old Ratt feels pretty uninteresting today, even if "Lay It Down" is a fun song and the Americans do try to bring some enthusiasm to the audience. Dio has it easier. He is a skilled and experienced artist, who usually never gives a totally bad show. Although this evening he seems to be bothered by the time constraints, which made the whole performance feel dominated by stress.
The expectations are always high before a legendary horror show like Alice Cooper's.
Unfortunately he failed to reach the high that was reached at last summer's magical concert at The Sweden Rock Festival. The sound is unclear and a rancid feeling of routine puts a lid on the atmosphere.
Even though most of the ingredients from the success of the gig last summer is still there: the nurse, the dancing dominatrix with the whip, Alice's execution and resurrection, as well as several costume changes.
All of the most wanted Cooper songs are played, but in spite of the effects - we do know that Cooper can do better. He has created a more dense horror feeling than this before.
(Kindly translated from the original Swedish language article by Christian Strandell, September 2010)