Toyfare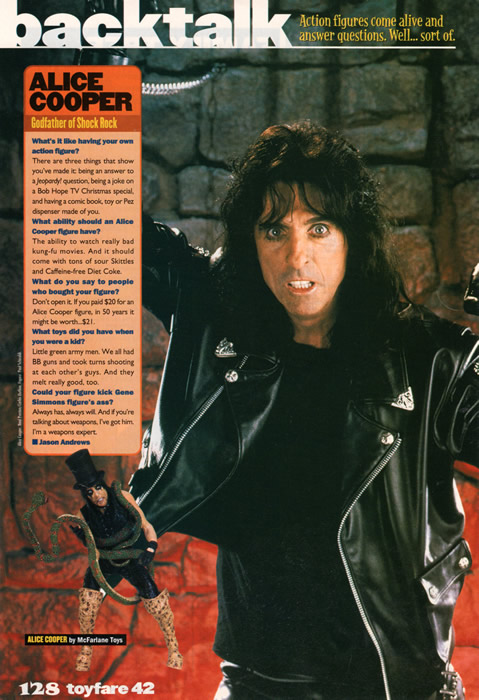 Originally Published: February 2001
Alice Cooper
Godfather of Shock Rock
Author: Jason Andrews
What's it like having your own action figure?
There are three things that show you've made it: being an answer to a Jeopardy! question, being a joke on a Bob Hope TV Christmas Special, and having a comic book, toy or pez dispenser made after you.
What ability should an Alice Cooper figure have?
The ability to watch really bad kung-fu movies. And if should come with tons of sour Skittles and Caffeine-free Diet Coke.
What do you say to people who bought your figure?
Don't open it. It you paid $20 for an Alice Cooper figure, in 50 years it might be worth... $21.
What toys did you have when you were a kid?
Little green army men. We all had BB guns and took turns shooting at each other's guys. And they melt really good, too.
Could your figure kick Gene Simmions figure's ass?
Always has, always will. And if you're talking about weapons, I've got him. I'm a weapons expert.