Times, The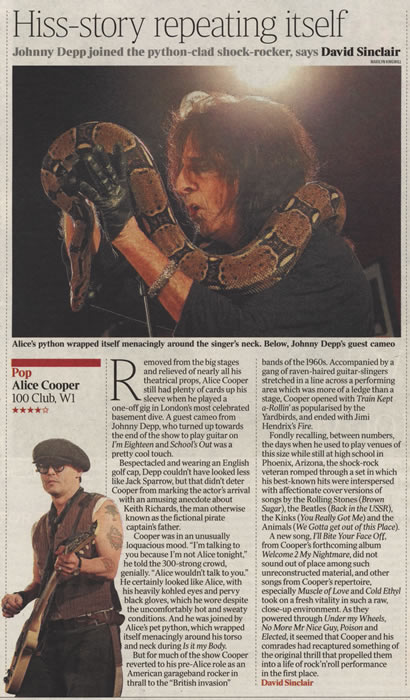 Times, The
(June 28, 2011)
Originally Published: June 28, 2011
Hiss-Story Repeating Itself
Johnny Depp joined the python-clad shock-rocker
Author: David Sinclair
Alice Cooper
100 Club, W1
Removed from the big stages and relieved of nearly all his theatrical props, Alice Cooper still had plenty of cards up his sleeve when he played a one-off gig in London's most celebrated basement dive. A guest cameo from Johnny Deep, who turned up towards the end of the show to play guitar on I'm Eighteen and School's Out was a pretty cool touch.
Bespectacled and wearing an English golf cap, Depp couldn't have looked less like Jack Sparrow, but that didn't deter Cooper from marking the actor's arrival with an amusing anecdote about Keith Richards, the man otherwise known as the fictional pirate captain's father.
Cooper was in an unusually loquacious mood. "I'm taking to you because I'm not Alice tonight," he told the 300-strong crowd, genially. "Alice wouldn't talk to you." He certainly looked like Alice, with his heavily kohled eyes and pervy black gloves, which he wore despite the uncomfortably hot and sweaty conditions. And he was joined by Alice's pet python, which wrapped itself menacingly around his torso and neck during Is it my Body.
But for much of the show Cooper reverted to his pre-Alice role as an American garageband rocker in thrall to the "British invasion" bands of the 1960s. Accompanied by a gang of raven-haired guitar-slingers stretched in a line across a performing area which was more of a ledge than a stage, Cooper opened with Train kept a-Rollin' as popularised by the Yardbirds, and ended with Jimi Hendrix's Fire.
Fondly recalling, between numbers, the days when he used to play venues of this size while still in high school in Phoenix, Arizona, the shock-rock veteran romped through a set in which his best-known hits were interspersed with affectionate cover versions of songs by the Rolling Stones (Brown Sugar), the Beatles (Back in the USSR), the Kinks (You Really Got Me) and the Animals (We Gotta get out of this Place).
A new song, I'll Bite Your Face Off, the Cooper's forthcoming album Welcome 2 My Nightmare, did not sound out of place amoung such unreconstructed material, and other songs from Cooper's repertoire, especially Muscle of Love and Cold Ethyl took on a fresh vitality in such a raw, close-up environment. As they powered through Under My Wheels, No More Mr Nice Guy, Poison and Elected, it seemed that Cooper and his comrades had recaptured something of the original thrill that propelled them into a life of rock'n'roll performance in the first place.