Time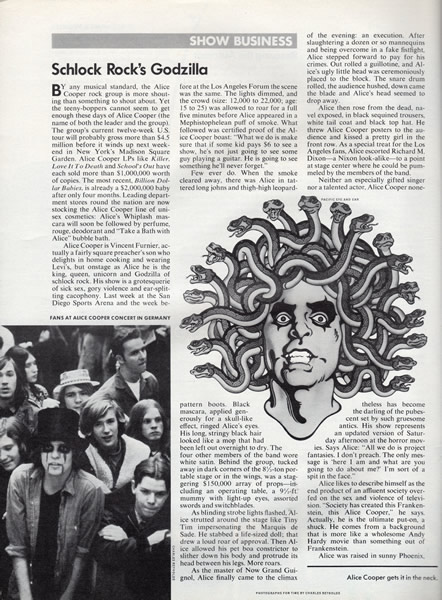 Originally Published: May 28, 1973
Schlock Rock's Godzilla
By any musical standard, the Alice Cooper rock group is more shouting than something to shout about. Yet the teeny-boppers cannot seem to get enough these days of Alice Cooper (the name of both the leader and the group). The group's current twelve-week U.S. tour will probably gross more than $4.5 million before it winds up next weekend in New York's Madison Square Garden. Alice Cooper LPs like Killer, Love It To Death and School's Out have each sold more than $1,000,000 worth of copies. The most recent, Billion Dollar Babies, is already a $2,000,000 baby after only four months. Leading department stores round the nation are now stocking the Alice Cooper line of unisex cosmetics: Alice's Whiplash mascara will soon be followed by perfume, rouge, deodorant and "Take a Bath with Alice" bubble bath.
Alice Cooper is Vincent Furnier, actually a fairly square preacher's son who delights in home cooking and wearing Levi's, but onstage as Alice he is the king, queen, unicorn and Godzilla of schlock rock. His show is a grotesquerie of sick sex, gory violence and ear-splitting cacophony. Last week at the San Diego Sports Arena and the week before at the Los Angeles Forum the scene was the same. The lights dimmed, and the crowd (size: 12,000 to 22,000; age: 15 to 25) was allowed to roar for a full five minutes before Alice appeared in a Mephistophelean puff of smoke. What followed was certified proof of the Alice Cooper boast: "What we do is make sure that if some kid pays $6 to see a show, he's not just going to see some guy playing a guitar. He is going to see something he'll never forget."
Few ever do. When the smoke cleared away, there was Alice in tatered long johns and thigh-high leopard-pattern boots. Black mascara, applied generously for a skull-like effect, ringed Alice's eyes. His long, stringy black hair looked like a mop that had been left out overnight to dry. The four other members of the band wore white satin. Behind the group, tucked away in dark corners of the 8 1/2-ton portable stage or in the wings, was a staggering $150,000 array of props-including an operating table, a 9 1/2-ft. mummy with light-up eyes, assorted swords and switchblades.
As blinding strobe lights flashed, Alice strutted around the stage like Tiny Tim impersonating the Marquis de Sade. He stabbed a life-sized doll; that drew a loud roar of approval. Then Alice allowed his pet boa constricter to slither down his body and protrude its head between his legs. More roars.
As the master of Now Grand Guignol, Alice finally came to the climax of the evening: an execution. After slaughtering a dozen or so mannequins and being overcome in a fake fistfight, Alice stepped forward to pay for his crimes. Out rolled a guillotine, and Alice's ugly little head was ceremoniously placed to the block. The snare drum rolled, the audience hushed, down came the blade and Alice's head seemed to drop away.
Alice then rose from the dead, navel exposed, in black sequined trousers, white tail coat and black top hat. He threw Alice Cooper posters to the audience and kissed a pretty girl in the front row. As a special treat for the Los Angeles fans, Alice escorted Richard M. Dixon - a Nixon look-alike - to a point at center where he could be pummeled by members of the band.
Neither an especially gifted singer nor a talented actor, Alice Cooper nonetheless has become the darling of the pubescent set by such gruesome antics. His shows represent an updated version of Saturday afternoon at the horror movies. Says Alice: "All we do is project fantasies. I don't preach. The message is 'here I am and what are you going to do about me?' I'm sort of a spit in the face."
Alice likes to describe himself as the end product of an affluent society overfed on the sex and violence of television. "Society has created this Frankenstein, this Alice Cooper," he says. Actually, he is the ultimate put-on, a shuck. He comes from a background that is more like a wholesome Andy Hardy movie than something out of Frankenstein.
Alice was raised in sunny Phoenix, the son and grandson of ordained ministers. Since their fundamentalist sect does not allow its ministers to receive salaries, Father Ether Furnier earns his living as an engineer for Goodyear Aerospace Corp. Though the Furniers are obviously proud of their son and his success, Ether admits: "It is quite a shock when you expect to sire a gospel missionary and instead you get a rebel rock star."
The Furniers had warnings early on. Even though Vince was not especially musical (he still plays only the harmonica), he would dress up to imitate Elvis Presley or Ricky Nelson. Later, as a sophmore at Cortez High, he organized his first band, the Earwigs. "It wasn't a band, it was a joke," says his older sister Nickie. He also wrote sports and feature stories for the school paper under the ironic pseudonym Muscles McNasal--Muscles because he was so skinny, McNasal because of a misshapen nose. It seems that Vince bravely concluded a marathon run, then went home and fainted, nose first.
Out Front. "He was not a common student," says Vince's former track coach and journalism instructor, Emmett Smith. "When I think of Vince, the first picture that comes to my mind is of him lying on top of the cabinets thinking up stories for the paper." The cabinets were in the school's pressroom; they were seven feet high with only a two-foot space between the top and ceiling. Vince regularly wrote all his copy lying up there. The stories were good and on time. Smith says that Vince was "very, very creative, a fine writer."
Sister Nickie recalls that Vince's main concern in life was to be different. When all the other kids were wearing jeans and T shirts to school, he sported a jacket and tie. "Pretty soon everybody else started dressing up, and when that happened, he started dressing down," she says. "With a personality like that, you know he was going to do something to get himself out in front."
Little did Nickie know that Vince would soon be fronting a gaggle of presumably straight males operating as a Los Angeles rock group with a transvestite look. At that point, Alice Cooper seemed more appropriate than Nazz or Spiders, names the group had worked under previously. The group was so weird that it naturally came to the attention of that master zapper of the Establishment Frank Zappa, who released Alice's first LP (Pretties for You) on his own Straight label.
It was not until Shep Gordon, their current manager, saw them and took them on that the Alice Cooper phenomenon began to happen. "When I saw 2,000 people walk out on them," said Gordon, "I knew I had to manage them. They exhibited the strongest negative force I'd ever seen."
Alice has recently taken possession of a four-bedroom desert sprawl of a house in the Paradise Valley section of Phoenix, just beneath the Camelback Mountain residence of Senator Barry Goldwater. The senator is safe. Alice has no immediate plans to return to the West. Home at the moment is a Manhattan penthouse that is, by his own description, "elegantly decadent." Until recently he lived in a 40-room mansion in Greenwich, Conn., complete with a male effigy hanging by the neck in the living room, wall to wall mirrors in the bathrooms, swastikas posted on the bedroom walls. The band still lives there. Alice's friends and colleagues describe him as a straight heterosexual (so does Alice), and he has been seen with the same girl, Cindy Long, for five years.
His next ambition, says Alice, is to make a movie. "I want to write it, produce it, everything," he says. "It will be the ultimate decadent movie. It would have to be."