Sounds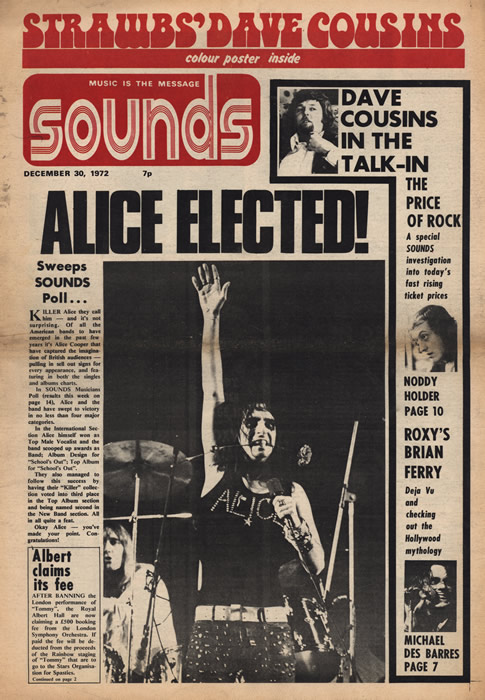 Sounds
(December 30, 1972)
Originally Published: December 30, 1972
Alice Elected!
Sweeps SOUNDS Poll...
Killer Alice they call him - and it's not surpring. Of ll the American bands to have emerged in the past few years it's Alice Cooper that have captured the imagination of British audiences - pulling in sell out signs from every appearance, and featuring in both the singles and albums charts.
In SOUNDS Musicians Poll (results this week on page 14), Alice and the band have swept to victory in no less than four major categories.
In the International Section Alice himself won as Top Male Vocalist and the band scooped up awards as Band; Album Design for "School's Out"; Top Album for "School's Out".
They also managed to follow this success by having their "Killer" collection voted into third place in the Top Album section and being named second in the New Band section. All in all quite a feat.
Okay Alice - you've made your point. Congratulations!
Sounds Poll
Well, Alice certainly got himself elected! Alice and band swept through the International Section of this years poll - winning four separate awards. Of the four - which included Best Band, Best Album "School's Out", and Album Design for the same collection - the biggest surprise was his win as Male Vocalist. For this he usurped Neil Young, James Taylor, Beefheart, Robert Plant, Bolan, in fact all the giants in the field on both sides of the Atlantic.
International Section
Band
Alice Cooper
Led Zeppelin
Jethro Tull
Emerson, Lake and Palmer
Mountain
Faces
T. Rex
Santana
Grateful Dead
Deep Purple
Male Vocalist
Alice Cooper
Neil Young
Robert Plant
Rod Stewart
Ian Gillan
James Taylor
Mick Jagger
Captain Beefheart
Paul Rogers
Marc Bolan
Album
School's Out
Harvest
Killer
Bangla Desh
Never A Dull Moment
Thick As A Brick
Trilogy
Exile On Main Street
Argus
The Slider
Album Design
School's Out
Thick As A Brick
Faust
Santana III
Killer
Never A Dull Moment
Concert For Bangla Desh
Exile on Main Street
Eat A Peach
The Slider
New Artist/Band
Focus
Alice Cooper
Roxy Music
Bruce, Wets and Laing
Don McLean
Faust
Eagles
Jo Jo Gunne
Manassas
Wings