Rue Morgue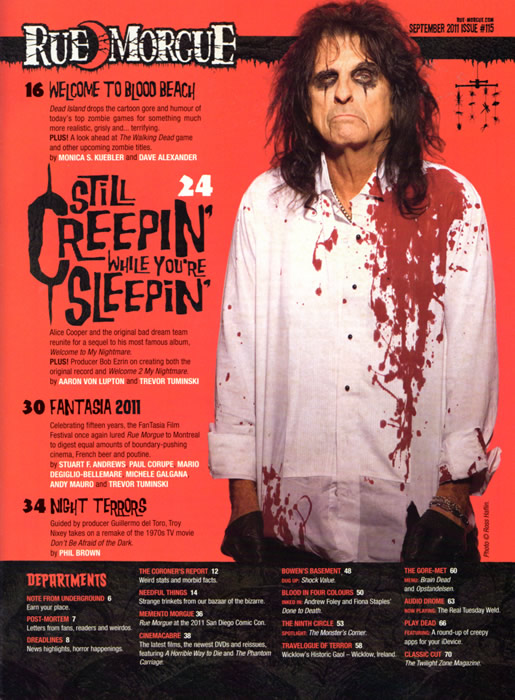 Rue Morgue
(September 2011)
Originally Published: September 2011
Still Creepin' While You're Sleepin'
Alice Cooper and the original bad dream team reunite for a highly anticipated sequel to his most famous album, Welcome to My Nightmare
Author: Aaron Von Lupton
The last time we saw Alice Cooper, he was hacking the limbs off dead bodies and using them to build a giant arachnid.
Or at least that's what his latest fictional character was doing on the 2008 serial killer concept album Along Came A Spider. The fate of the Spider character was originally slated to be explored in a sequel titled Night Shift, but those plans were derailed last year when Canadian producer and Cooper collaboator Bob Ezrin reminded the aging shock rocker that it was the 35th anniversary of that other horror concept album - the iconic 1975 classic Welcome To My Nightmare. To make a follow-up worthy of the groundbreaking original, Cooper looked to his storied past, gathering up the pieces that made him both a mainstream music icon and a cult hero, in order to build another lasting rock 'n' roll monster.
Of course, any rock and horror fan worth his greasepaint know a thing or two about Welcome To My Nightmare, right? The album, with the Drew Struzan-illustrated cover art that helped make it one of the most recognizable records of the 1970s, remains teh ultimate intersection between horror and rock showmanship. Until its release, Alice Cooper was a band, not an individual. But when the rest of the group - guitarists Michael Bruce and Glen Buxton, bassist Dennis Dunaway and drummer Neal Smith - wanted to take a breather from the increasingly over-the-top theatrics of their Grand Guignol-like stage show, Alice knew he had to go solo if he wanted to take the act to the next level of spectacle.
"By Billion Dollar Babies, we were out-grossing the Rolling Stones," says Cooper, now 63, of his 1973 precursor to Nightmare. "The media said that was the biggest and most theatrical we could possibly get and I think the original band tended to agree. I didn't. I thought we hadn't even done half the things that we could do, and now we had the budget to do them. But now that we were making so much money, the rest of the guys weren't so keen with the idea of me taking everything and putting it back into the show. So I took all the money I, and [manager] Shep [Gordon], had in the world and put it into the production of Welcome To My Nightmare, my first solo project."
Taking Ezrin with him - the man who is credited with giving birth to the Alice Cooper Group's definitive sound on 1971's Love It To Death - Cooper concocted a story about a child named Steven who was unable to wake from a nightmare.
"The beauty of it was that anything can happen in a nightmare," says Cooper, reminiscing about the writing process. "The entire album depended on two songs, specifically 'Steven' and 'Welcome To My Nightmare.' Once we got those two down, everything kind of connected up because it was part of the nightmare. I think if you took ten people and put them in a room and had them listen to Welcome To My Nightmare and then told them to write down what the story was about, they would give you ten different stories. That's exactly what I wanted because, to me, that's what art is supposed to do. It's supposed to provoke and make you use your imagination. If you took Tobe Hooper, Dario Argento and Wes Craven and asked them to make a movie out of it, you would get three different movies, because they would all visualize it differently."
In keeping with the non-linear approach, the songs offered on musical twist after another. Opening with the disco-fed title track (now a Halloween staple), side one of the album dove into some serious hard rock with "Devil's Food" and "The Black Widow," followed by the vaudevillian "Some Folks" and "Only Women Bleed," the first of many successful Cooper rock ballads - also one of his biggest hits of all time. But Welcome To My Nightmare took a legitimately frightening turn on side two, with a trilogy of terror - "Years Ago", "Steven" and "The Awakening" - that included the use of creepy child voices and dripping blood sound effects that can still inspire actual nightmares.
Since the band wouldn't be joining Cooper on his journey to the netherworld, new recruits were necessary. Guitarists Steve Hunter and Dick Wagner from Lou Reed's backing band were ground in to drive home the sound that was being orchestrated by Ezrin. The duo's bombastic twin guitar noodling marked a major departure from the darker, grittier work of previous six-stringers Bruce and Buxton, but was perhaps more fitting for what was, to some extent, a rock opera.
Oh, and let's not forget the album's guest star, the legend himself, Vincent Price, whose bizarre and humorous tribute to the arachnids between "Devil's Food" and Black Widow" remains an unforgettable moment in the Cooper canon. This horror titan two-in-one probably led to more than a few nerdgasms out there in monster-kid land, and also had a noted impact of future shock rock icon Rob Zombie.
Surprisingly, the creative outburst behind Welcome To My Nightmare was in large part sparked by practical business matters. Technically, the original Alice Cooper Group was still under contract to Warner Bros., but a loophole allowed Cooper himself to escape if he were doing a "soundtrack." As a result, Welcome To My Nightmare was followed by a TV special simply called The Nightmare, essentially an extended music video for the entire record, starring Cooper as Steven and Price as the Spirit of the Nightmare. The album was also considered a soundtrack for the upcoming tour, and indication of his visual and theatrical it would be. It was all a gamble but one that paid off. Welcome To My Nightmare became one of Cooper's most successful albums, and the one that would both launch and define his solo career. The Steven character became forever linked to his legacy, popping up repeatedly on future releases.
"Whenever people ask who Steven is, I tell them that he is the six-year-old that lives in all of us," explains Cooper. He's full of curiosity, in some ways fearless, in some ways scared of everything. There's a certain amount of innocents in him while is is on this adventure by himself."
Almost four decades later, the idea to do a sequel emerged when Cooper approached Ezrin, with whom he had recently collaborated on a few re-recorded hits for the Guitar Hero: Warriors of Rock video game, about the aforementioned Night Shift. Much of it had already been written when Ezrin reminded him of what they had accomplished 35 years ago. Perhaps a sign of things to come, Cooper's last three albums - The Eyes of Alice Cooper (2003), Dirty Diamonds (2005) and Along Came a Spider (2008) - can be described as a return to the classic garage sound of the original band. Just as in 1975, Cooper and Ezrin believed it was time to up the ante with a more theatrical concept. The result: Welcome 2 My Nightmare (out September 16 in North America and October 17th in the UK on Ezrin's own Bigger Picture label).
"I think any time you get Bob Ezrin and I together, we bring out the worst in each other," says Cooper with a laugh. "Our dark senses of humour merge and we come up with a lot of good songs. We just thought, 'Okay, what would Alice's nightmare be 30 years on? Would he still be afraid of things under the bed?' No, Alice's nightmares would be disco, technology (Alice would just hate technology), working nine-to-five in a cubicle, that sort of thing. Then we took themes from the previous album and found a way for them to fit this album. For example, at one point the guy is singing over this piano song, and all of a sudden he says, 'But I think I heard that song before' and then the 'Steven' theme kicks in. If you're an Alice fan, that sends a chill up your spine because all of a sudden you realize you are going to be connected to the original nightmare. It's a scary album, but I think it may be even clever than he first one."
The track listing alone reveals a few references from the past: "The Nightmare Returns" (the name of Cooper's 1986 world tour), "I Gotta Get Outta Here" (an iconic lyric from the song "Ballad Of Dwight Fry") and "The Underture" (possibly a play on "Titanic Overture," the opening track from Cooper's 1969 debut Pretties For You). It also reflects an approach to horror that is more in line with a Robert Rodriquez film than an Ezrin album, with grindhouse-ish title such as "Disco Bloodbath Boogie Fever" and "Ghouls Gone Wild." As with the original, Cooper and Ezrin based their writing approach on the disjointed narratives that can characterize real nightmares.
"I love the fact that one this album, one minute you're in a disco and you're shooting everyone and they just keep coming out of the ground, and the next second you're at a beach party from the '60s, only all the girls are in bikinis and all the guys are just sort of falling apart - that's "Ghouls Gone Wild," Cooper notes.
If the less-than-serious vibe seems worrisome, Cooper assures that it's definitely being done in the spirit of the original source material and that if nothing else, the album is still scary.
"You could play Welcome To My Nightmare and then play this album and it would sound like a continuation," he says. "I honestly feel that music has not changed much in 40 years. Hard rock is still hard rock. 'Cold Ethyl' and a song like 'I'll Bite Your Face Off' could have been written right next to each other. But hte thing that really holds it all together is the Alice voice and sense of humour and the Alice style of lyric writing. Then Bob Ezrin is the one that makes it scary when he comes in and starts adding little classical pieces. It's when he starts playing certain chords against each other and they don't quite fit, but they do. You are expecting one thing and you get something else. That's what makes it a really scary album."
Ezrin isn't the only Nightmare alum to make it back for the sequel. Guitarist Hunter, who recently joined Alice on tour and filled in for the late Buxton for the live performance at the Alice Cooper Group's long overdue induction into the Rock 'n' Roll Hall of Fame this spring, was also recruited to help bring back the classic sound.
"The opening riff on the album, 'I Am Made Of You', is an epic, like 'Hello Hooray' [the opening track on Billion Dollar Babies], but maybe even grander," attests Cooper. "Steve Hunter plays this guitar solo that might be the best we've ever had on any album. Every time I hear it I get the chills."
The track was co-written by hitmaker Desmond Child, the principle songwriter on 1989's Trash, an album from a very different and cleaner period in the shockmaster's career. Unfortunately, Wagner was not able to participate in the recording as he is currently recovering from a stroke, but Cooper still found an interesting way to include him.
"We recorded a song that we wrote in the late '70s called 'Something To Remember Me By,'" he explains. "The four biggest hits for Alice were the ballads 'Only Women Bleed,' 'You and Me,' 'I Never Cry' and 'How You Gonna See Me Now' but this might be the prettiest ballad we've ever done. My voice finally got into a position where I could sing it and do it justice. When Dick heard it, he just couldn't believe how well it was done. It really is a classic Alice/Wagner song."
One obvious hole to fill on the sequel was that of Price. Somehow the album would just feel incomplete without a similar horror icon taking on the role of curator for this new nightmare. While early internet rumours suggested Sir Christopher Lee would be playing the part, the Hammer vet sadly turned it down, feeling that it would conflict with his own metal concept album, Charlemagne, released last year. While Cooper contemplated pursuing actor Anthony Hopkins to play the part, in the end he offered the job to an old friend, who he's toured with over the years.
"I thought about getting Anthony Hopkins to do it as the Hannibal Lecter character, but that's just not classic enough," he says. "If I can't get that classic Vicent Price or Christopher Lee voice, then I'm going to go with something more modern. That's when I realized that Rob Zombie would be perfect for it because he is really one of the voices of horror."
In an ironic twist, Cooper decided that Welcome 2 My Nightmare would be the right time to reform with the classic Alice Cooper Group lineup - the same roster that he left behind to work on the original. So Bruce, Dunaway and Smith (along with Hunter) reunited to record the track "When Hell Comes Home," as well as a bonus track "Under The Bed," which will only be available in Classic Rock magazine's special "fan pack" release of the album.
"Nothing has changed that much from the original band," proclaims Cooper. "Dennis, Neal and Mike are the exact same guys and they all play the same way. 'When Hell Comes Home' is a song that could have been on Love it to Death or Killer. I just said, 'Let's do this song live in the studio,' and I didn't evern have to say, 'Try and think 1971' because when they started playing it, the 1971 was built right in. I kind of looked at Bob Ezrin and said, 'That was perfect.'"
The original Welcome To My Nightmare is without a doubt the shining moment of Cooper's solo collaborations with Ezrin, and only partly because of the music. The Nightmare TV special, Welcome to My Nightmare concert film, and world tour brought all of the album's audio scares to life, from Alice battling a giant black widow, to running from an enormous robot cyclops, to dancing with the dead for "Cold Ethyl" (still part of his stage show). So the question is, how theatrical can the sequel get? Ezrin has been quoted in the media as saying that he could see the new album being transformed into a musical.
"That will always be a possibility," offers Cooper. "To me, Welcome to My Nightmare part one and two could be done in theatres with someone else playing Alice Cooper 30 years from now. It's a viable musical as it is. I would just hate to hear it watered down. In other words, I would like to a see a rock musical stay a rock musical. I was a little disappointed with [the musical adaptation of The Who's] Tommy because they went with all orchestration and violins. They turned down the amps because they didn't want to offend anyone from the Midwest. The only way I see Welcome to My Nightmare working is as a rock performance."
In bringing back the original players and revisiting his crowning achievement, Cooper is, for perhaps the first time in his career, carrying out a project with only the old-school fans in mind. It makes sense. Clearly in the twilight of his rock star career, he's done it all. Even a haunted attraction based on the two Nightmare albums is set to open this Halloweeen at Universal Studios Hollywood. It may be a bit much to expect Welcome 2 My Nightmare to come even close to matching the success of its predecessor, but don't try telling that to Cooper. As far as he's concerned, his horror business is never complete.
"I keep reminding Rob Zombie and all my disobedient children out there that I am sill the oldest vampire, and to fear me," he chuckles. "You would htink that I would be secure, but still, every time I put an album out, every time I go on stage, I feel like I need to prove something. Some people think, 'Let's go see Alice. He'll be up there and he'll play all his songs and it will be nice,' but what they get is pure Alice Cooper, full of energy, rage and devious tricks. They are not seeing the normal 63-year-old man up there. They are seeing someone that defies age."
Maestro to the Madness
Legendary producer Bob Ezrin discusses the genesis of Alice Cooper's new nightmare and his long partnership with the father of shock rock.
Author: Trevor Tuminski
If it wasn't for Bob Ezrin, toiling in obscurity may have been the extent of Alice Cooper's nightmares.
It was September 8, 1970, when the rookie produccer - then only 22 leaving in Toronto - was sent to New York by famed Canadian producer Jack Richardson to see the Alice Cooper Group play at a popular glam and punk club called Max's Kansas City. The band had been hoping the rock vet would helm its next record but the group was ultimately too edgy and androgynous for Richardson, who had but one charge for his young understudy: get rid of 'em. Fortunately, things didn't go exactly as planned.
"What I saw was the most incredible rock show I'd ever seen," Ezrin enthuses. "It was the theatre of the absurd, it was cock-and-balls rock, it was high art, it was countercultural, it was sexually confusing, it was so many things wrapped into one show, and at the core of it were these songs that everybody in the place knew the words to... Everybody in the joint had spider eyes and spandez on, and black fingernail polish and jet black hair. youdidnt' see that in the streets of New York or anywhere at that time. There was no goth movement. There was no performance art rock happening on that level like there was in England. I thought this could change the approach to rock music altogether and I wanted to be a part of it."
Ezrin immediately signed on to produce the band's next album and returned to Toronto to fight for his job. His insticts were correct. The chemistry between producer and band proved to be palpable. Ezrin, picture above in the studeio, refined the quintet's psychedelic tendencies into the hard, garage rock sound tht characterized some of Cooper's most pivotal and best selling albums: Love it to Death and Killer, both releaesd in 1971, School's Out (1972) and Billion Dollar Babies (1973). Though he would bow out of working on the group's next record, Muscle of Love, once Cooper decided to forge a solo career, the rocker wisely brought him back on board for the 1975 breakout album Welcome to My Nightmare.
"As he was growing as an artist, I was growing as a producer," says Ezrin. "I learned on the job making Alice Cooper records and developed who I am while he and I together developed who Alice was."
Welcome to My Nightare became a massive hit but it would also serve, in hindsight, as a high watermark of Cooper's lenghty solo career. When Ezrin wasn't producing other hit records, including KISS' Destroyer and Pink Floyd's The Wall, the pair would team up for three more studio albums, none of which ever matched Nightmare's combination of critical acclaim and commercial success.
Fast-forward to early 2010, when Ezrin received an unexpected call from Cooper's management informing him of plans to re-record some of the shock rocker's greatest hits with another producer for Guitar Hero: Warriors of Rock. Grateful for the gesture, Ezrin was also insistent the he be the one to oversee the sessions, telling management, "Nobody's going into the studio to record 'I'm Eighteen' but me."
Of the ensuing production, he notes. "It was kind of like no time had passed since the last time we were in the studio together. It was so natural and automatic and at the same time really effective. I had such a great time doing it what I wanted to keep going and so did [Cooper]. That's when we started talking about what to do next."
The team eventually agreed that the best idea was to bring back the character of Steven from the original Nightmare and do it "2011 style." So Ezrin and Cooper writing and recording a new chapter to the spooky story they started telling some 36 years ago.
Hesitant to reveal the new album's narrative, the producer cautiously allows that Welcome 2 My Nightmare picks up right from the opening track, "Caffeine," with an older Steven trying desperately not to slip off inot dreamland, for fear of what awaits him there.
"Of course, the nightmare returns and he finds himself in a scary world that looks very much like hell," explains Ezrin, who also co-writes, arranges and plays various instruments on many of the songs. "He has these crazy encounters, sort of Technicolor experiences that mirror some of the things that he was most frightened of on Earth. For example, he finds himself at a disco, which is a place Alice would never go. [Laughs] A disco from hell where it's on a loop. It's a bloodbath. People come, they dance, they get butchered, they fall in bloody heaps on the floor, then they rise up again and it starts all over."
Another track, "Ghouls Gone Wild," is described as "Beach Blanket Bingo with dead bodies." Steven then has an encounter with a devilish vixen called The Lady in Red (played by dance-pop singer Ke$ha), who threatens to take his heart and soul. Standing up to her, he's forced to relive a particularly painful childhood memory on "When Hell Comes Home," in which his father comes back to terrorize him and his mother.
While the sonic mandate for the original album was to capture the most natural sounds possible on the analog tape, the sequel was recorded in the digital realm, allowing for the manipulation and creation of sounds and effects that simply weren't possible with '70s technology. Ezrin downplays the shift in approach, crediting the lyrics and Cooper's performance, not studio trickery, for the materials truly scary moments.
"Getting [Alice] into a character, for me, is not that hard because I know them all very well. I know them personally," he explains. "I can call them up and appeal to them. He can slip in and out of those characters at will... Unlike people who may not have had that much experience with him, I know when he's really nailing it and when he needs to try it again. He trusts me so he lets himself go a lot when I'm there. He's not guarded in any way, shape or form. He's not self-conscious. He's the most natural performer I think I've ever worked with."
Clearly, more than just a legacy of successful rock records was in the air hat fateful night in New York. The manner in which Cooper and Ezrin collaborate and the important role each has played in the other's career make it evident they share a special bond.
"I feel like Siamese twins in a certain way," confides Ezrin. "We were really joined at the hip at one point and we came up together at the same time... I really love that man. I feel very connected to him and very much in sync with him and have since the very first day that we met."