Rolling Stone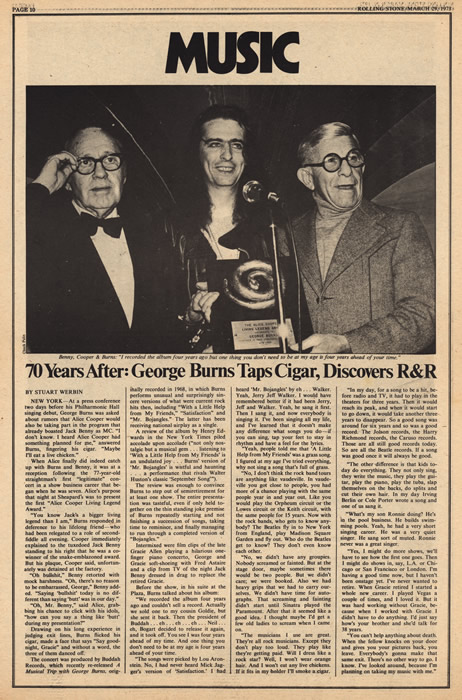 Rolling Stone
(March 29, 1973)
Originally Published: March 29, 1973
70 Years After: George Burns Taps Cigar, Discovers R&R
Stuart Werbin
New York - At a press conference two days before his Philharmonic Hall singing debut, George Burns was asked about rumors that Alice Cooper would also be taking part in the program that already boasted Jack Benny as MC. "I don't know. I heard Alice Cooper had something planned for me," answered Burns, fingering his cigar. "Maybe I'll eat a live chicken."
When Alice finally did indeed catch up with Burns and Benny, it was at a reception following the 77-year-old straightman's first "legitimate" concert in a show business career that began when he was seven. Alice's purpose that night at Sheapard's was to present the first "Alice Cooper Living Legend Award."
"You know Jack's a bigger living legend than I am," Burns responded in deference to his lifelong friend - who has been relegated to a rol of second-fiddle all evening. Cooper immediately explained to ths tuxedoed Jack Benny standing to his righ that he was a co-winner of the snak-emblazoned award. But his plaque, Cooper said, unfortunately was detained at the factory.
"Oh bullshit," Benny retorted with mock harshness. "Oh, there's no reason to be embarrassed, George," Benny added. "Saying 'bullshit' today is no different than saying 'butt' was in our day."
"Oh, Mr. Benny," said Alice, grabbing his chance to click with his idols, "how can you say a think like 'butt' during my presentation?"
Drawing on his long experience in judging exit lines, Burns flicked his cigar, made a face that says "Say goodnight, Gracie" and without a word, the three of them danced off.