Rolling Stone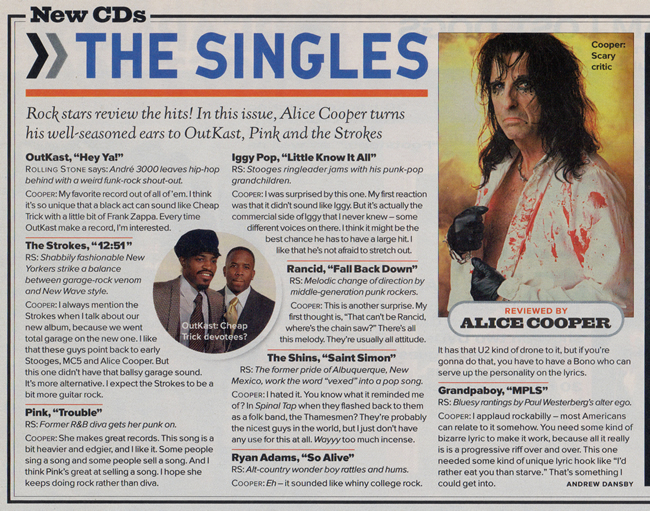 Rolling Stone
(November 27, 2003)
Originally Published: November 27, 2003
The Singles
Rock stars review the hits! In this issue, Alice Cooper turns his well-seasoned ears to OutKast, Pink and the Strokes.
OutKast, "Hey Ya!"
Rolling Stone says: Andre 3000 leaves hip-hop behind with a weird funk-rock shout-out.
Cooper: My favorite record out of all of 'em. I think it's so unique that a black act can sound like Cheap Trick with a little bit of Frank Zappa. Every time OutKast make a record, I'm interested.
The Strokes, "12:51"
RS: Shabbily fashionable New Yorkers strike a balance between garage-rock venom and New Wave style.
Cooper: I always mention the Strokes when I talk about our new album, because we went total garage on the new one. I like that these guys point back to early Stooges, MC5 and Alice Cooper. But this one didn't have that ballsy garage sound. It's more alternative. I expect the Strokes to be a bit more guitar rock.
Pink, "Trouble"
RS: Former R&B diva gets her punk on.
Cooper: She makes great records. This song is a bit heavier and edgier, and I like it. Some people sing a song and some people sell a song. And I think Pink's great at selling a song. I hope she keeps doing rock rather than diva.
Iggy Pop, "Little Know It All
RS: Stooges ringleader jams with his punk-pop grandchildren.
Cooper: I was surprised by this one. My first reaction was that it didn't sound like Iggy. But it's actually the commercial side of Iggy that I never knew - some different voices on there. I think it might be the best chance he has to have a large hit. I like that he's not afraid to stretch out.
Rancid, "Fall Back Down"
RS: Melodic change of direction by middle-generation punk rockers.
Cooper: This is another surprise. My first thought is, "That can't be Rancid, where's the chainsaw?" There's all this melody. They're usually all attitude.
The Shins, "Saint Simon"
RS: The former pride of Albuquerque, New Mexico, work the word "vexed" into a pop song.
Cooper: I hated it. You know what it reminded me of? In Spinal Tap when they flashed back to them as a folk band, the Thamesmen? They're probably the nicest guys in the world, but I just don't have any use for this at all. Wayyy too much incense.
Ryan Adams, "So Alive"
RS: Alt-country wonder boy rattles and hums.
Cooper: Eh - it sounded like whiny college rock. It has that U2 kind of drone to it, but if you're gonna do that, you have to have a Bono who can serve up the personality on the lyrics.
Grandpaboy, "MPLS"
RS: Bluesy ranting by Paul Westerberg's alter ego.
Cooper: I appaud rockabilly - most Americans can relate to it somehow. You need some kind of bizarre lyrics to make it work, because all it really is is a progressive over and over. This one needed some kind on unique lyric hook like "I'd rather eat you than starve." That's something I could get into.