Record Collector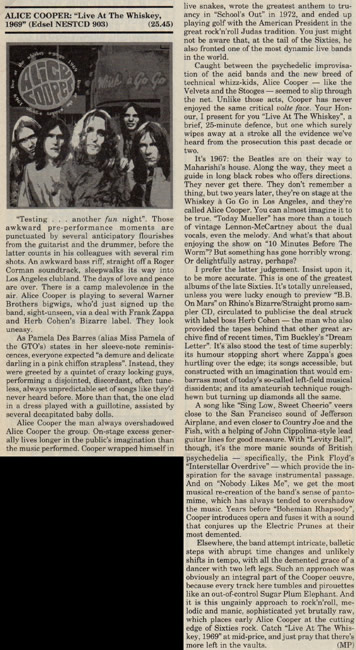 Record Collector
(June 1992)
Originally Published: June 1992
Live at the Whiskey A-Go-Go Album Review
ALICE COOPER:
"Live At The Whiskey, 1969" (Edsel NESTCD 903) (25:45)
"Testing... another fun night". Those awkward pre-performance moments are punctuated by several anticipatory flourishes from the guitarist and the drummer, before the latter counts in his colleagues with several rim shots. An awakward bass riff, straight off a Roger Corman soundtrack, sleepwalks its way into Los Angeles clubland. The days of love and peace are over. There is a camp malevolence in the air. Alice Cooper is playing to several Warner Brothers bigwigs, who'd just signed up the band, sight-unseen, via a deal with Frank Zappa and Herb Cohen's Bizarre label. They look uneasy.
As Pamela Des Barres (alias Miss Pamela of the GTO's) states in her sleeve-notes reminiscences, everyone expected "a demure and delicate darling in a pink chiffon strapless". Instead, they were greeted by a quintet of crazy looking guys, performing disjointed, discordant, often tuneless, always unpredictable set of songs like they'd never heard before. More than that, the one clad in a dress played with a guillotine, assisted by several decapitated baby dolls.
Alice Cooper the man always overshadowed Alice Cooper the group. On-stage excess generally lives longer in the public's imaginations than the musical performance. Cooper wrapped himself in live snakes, wrote the greatest anthem to truancy in "School's Out" in 1972, and ended up playing golf with the American President in the great rock'n'roll Judas tradition. You just might not be aware that, at the tail of the Sixties, he also fronted one of the most dynamic live bands in the world.
Caught between the psychedelic improvisation of the acid bands and the new breed of technical wizz-kids, Alice Cooper - like the Velvets and the Stooges - seemed to slip through the net. Unlike those acts, Cooper has never enjoyed the same critical volte face. Your Honour, I present you "Live At The Whiskey", a brief, 25-minute defence, but one which surely wipes away at a stoke all the evidence we've heard from the prosecution the past decade or two.
It's 1967: the Beatles are on their way to Maharishi's house. Along the way, they meet a guide in long black robes who offers directions. They never get there. They don't remember a thing, but two years later, they're on stage at the Whiskye a Go Go in Los Angeles, and they're called Alice Cooper. You can imagine it to be true. "Today Mueller" has more than a touch of vintage Lennon-McCartney about the dual vocals, even the melody. And what's that about enjoying the show on "10 Minutes Before The Worm"? But something has gone horribly wrong. Or delightfully astray, perhaps?
I prefer tha latter judgement. Insist upon it, to be more accurate. This is one of the greatest albums of the late Sixties. It's totally unreleased, unless you were lucky enough to preview "B.B.On Mars" on Rhino's Bizarre/Straight promo sampler CD, circulated to publicise the deal struck with label boss Herb Cohen - the man who also provided the tapes behind that other great archive find of recent times, Tim Buckley's "Dream Letter". It's also stood the test of time superbly: its humour stopping short where Zappa's goes hurtling over the edge; its songs accessible, but constructed with an imagination that would embarrass most of today's so-called left-field musical dissents; and its amateurish technique rough-hewn but turning up diamonds all the same.
A song like "Sing Low, Sweet Cheerio" veers close to San Francisco sound of Jefferson Airplane, and even closer to Country Joe and the Fish, with a helping of John Cippolina-style lead guitar lines for good measure. With "Levity Ball", though, it's more manic sounds of British psychelia - specifically, the Pink Floyd's "Interstella Overdrive" - which provide the inspiration for the savage instrumental passage. And on "Nobody Likes Me", we get the most musical re-creation of the band's sense of pantomime, which has always tended to overshadow the music. Years before "Bohemian Rhapsody", Cooper introduces opera and fuses it with a sound that conjures up the Electric Prunes at their most demented.
Elsewhere, the band attempt intricate, balletic steps with abrupt time changes and unlikely shifts in tempo, with all the demented grace of a dancer with two left legs. Such an approach was obviously an integral part of the Cooper oeuvre, because every track here tumbles and pirouettes like an out-of-control Sugar Plum Elephant. And it is this ungainly approach to rock'n'roll, melodic and manic, sophisticated yet brutally raw, which places early Alice Cooper at the cutting edge of Sixties rock. Catch "Live At The Whiskey, 1969" at mid-price, and just pray that there's more left in the vaults.