Record Collector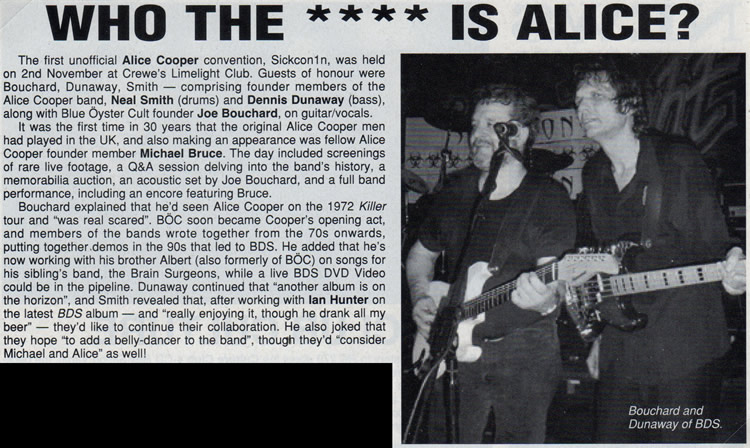 Record Collector
(December 2002)
Originally Published: December 2002
Who the **** is Alice?
The first unofficial Alice Cooper convetion, Sickcon1, was held on 2nd Novemeber at Crewe's Limelight Club. Guest of honour were Bouchard, Dunaway, Smith -- comprising founder members of the Alice Cooper band, Neal Smith (drums) and Dennis Dunaway (bass), along with Blue Oyster Culy founder Joe Bouchard, on guiatr/vocals.
If was the first time in 30 years that the original Alice Cooper men had played in the UK, and also making as appearance was fellow Alice Cooper founder member Michael Bruce. The day included screenings of rare live footage, a Q&A session delving into the band's history, a memorabilia auction, an acoustic set by Joe Bouchard, and a full band performance, including an encore featuring Bruce.
Bouchard explained that he'd seen Alice Cooper on the 1972 Killer tour and "was really scared". BOC soon became Cooper's opening act, and members of the bands wrote together from from 70s onwards, putting together demos in the 90s that led to BDS. He added that he's now working with his brother Albert (also formerly BOC) on songs for his sibling's band, the Brain Surgeons, whil a live BDS DVD Video could be in pipeline. Dunaway continued that "another album is on the horizon", and Smith revealed that, after working with Ian Hunter on the latest BDS album -- and "really enjoying it, though he drank all my beer" -- they'd like to continue their collaboration. He also joked that they hope "to add a belly-dancer to the band", though they'd "consider Michael and Alice" as well!
Top 10 Satanic Rockers
Alice Cooper
Vincent Furnier assumed his band's name and then ditched them in an unprincipled big for rock 'n' roll immortality (just as well he didn't front Blodwyn Pig). Having himself hanged nightly on stage, featuring the voice of Vincent Price on his albums long before Wacko Jacko - it was all just showbiz to the Coop.