Record Collector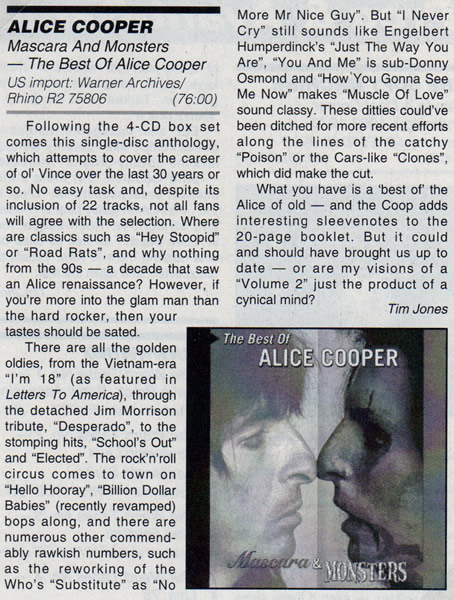 Record Collector
(April 2001)
Originally Published: April 2001
Alice Cooper
Mascara and Monsters
Author: Tim Jones
Following the 4-CD box set come this single disc anthology, which attempts to cover the career of ol' Vince over the last 30 years or so. No easy task and, despite its inclusion of 22 tracks, not all fans will agree with the selection. Where are classics such as "Hey Stoopid" or "Road Rats", and why nothing from the 90's - a decade that saw an Alice renaissance? However, if you're more into the glam man than the hard rocker, then your tastes should be sated.
There are all the golden oldies, from the Vietnam-era "I'm 18" (as featured in Letters To America), through the detached Jim Morrison tribute, "Desperado", to the stompign hits, "School's Out" and "Elected". The rock'n'roll circus comes to town on "Hello Hurray", "Billion Dollar Babies" (recently revamped) bops along, and there are numerous other commendably rawkish numbers, such as the reworking of the Who's "Substitute" as "No More Mr Nice Guy". But "I Never Cry" still sounds like Engelbert Humperdinck's "Just the Way You Are", "You And Me" is sub-Donny Osmond and "How You Gonna See Me Now" makes "Muscle Of Love" sound classy. These ditties could've been ditched for more recent efforts along the lines of catchy "Poison" or the Cars-like "Clones", which did make the cut.
What you have is a 'best of' the Alice of old - and the Coop adds interesting sleevenotes to the 20-page booklet. But it could and should have brought us up to date - or are my visions of a "Volume 2" just the product of a cynical mind?