Raw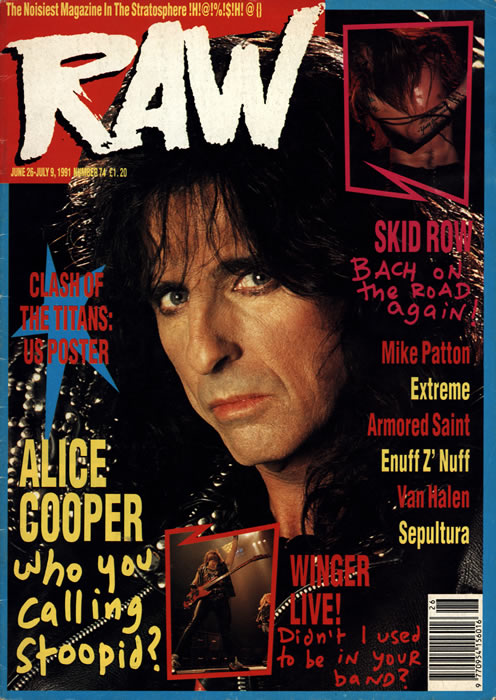 Originally Published: June 26, 1991
Don't Knock The Shock
Back with a new album, a guest visit from a coupla Guns n'Roses and Ozzy Osbourne, a few "messages" and a new stage show, ALICE COOPER rolls into his 40's and still has some gob to gurgle.
Author: Carole Linfield
Jet black hair, wiry frame and startling sapphire-blue eyes. Alice Cooper, at fortysomething, is no stranger to holding court, telling the world about his latest exploits. In LA studio, his latest album 'Hey Stoopid', booms from the speakers, while he watches TV, seemingly giving his undivided attention to a flood of prying questions. Nearly 20 years since he first depraved schoolgirls and boys all over the globe, Alice Cooper - real name Vincent Furnier - laughs at the thought of being perceived as a new act who merely debuted last year with his chart-friendly 'Trash' album.
"It kinda makes [it] interesting. 'Cos when I play you get an audience that ranges from 15 to 35. You get people who saw the original show, the stuff in the bathtub, and they bring their kids along and say 'Hey, now this is Rock 'n' Roll!'."
Guns n' Volume
"Alice has moved on. Now we're in competition with bands like Guns n' Roses and Metallica. We can't miss a beat, with our stage show we have to be one jump ahead of everyone."
Has the music had to change much since those early days of shock excess?
"Music hasn't changed much since the 70's. 'Under My Wheels' could have been written in 1970 or 1990. Guns n' Roses 'Welcome To The Jungle' could easily been written in 1970. They're so similar."
And, quite appropriately, both Slash and Axl turn up on the new Alice album, along with a whole host of other stars.
"Guns n' Roses are good players and, when I listen to their albums, I think, 'Yeah, that's how I would have played it!'. On this album we have lots of different people playing. Joe Satriani and the guy he taught, Steve Vai, are on it. I rang them up for a song called 'Feed My Frankenstein' which has them doing a guitar duel...it's a real monster song. I wrote that track with Zodiac Mindwarp who I've always really admired. When I heard their 'Prime Mover', I thought, 'Funny, I don't remember recording that', it sounded just like us. So, when he sent me a song, I thought, 'Great!' and I just changed a few words to make it more Alice-ish."
Other writing credits go to Nikki Sixx, Mick Mars, Jim Vallance, Jack Ponti, Joe Petrellington and Alice stalwart Dick Wagner.
"I feel really loose about the whole thing as I've got so many things coming up from different places. But, it all has to get past Alice and I do a lot of re-writing usually. On this, though, it's mainly just been the lyrics."
Getting Stoopid
The first single from the album, the title track, shows the Alice lyrical slant off to good effect, with a message song that's certainly set to be a 'School's Out' for the 90's generation.
"It's not what the whole albums about but it's intended to be a new anthem for 1991. I get so many letters from kids who are 14, or so, and they're talking about suicide. It's like they're taking things too seriously and I'm trying to say it's not what Rock 'n' Rolls about. I hope I can relieve some of the tension there. Whereas some guys are busy trying to save the Amazon, I think it's pretty important to try to save some of the kids at home. It's like a positive message saying, 'Look, there's a lot of goods things out there, don't let it blow things for you. There's no glamour in suicide. The rest of the album is pure Rock 'n' Roll insanity and mayhem and has nothing to do with that message but I think that song, in particular, is important."
Kicking Booze
One of the contributing factors that signalled the end for Alice Cooper the band, was Alice's admitted alcoholism. Now beyond the vapour haze, he can see that quitting was the most important thing he could have done for himself and his music.
"I had a coupla drinks...I started in 1970 and finished in 1985. It was a very big drink.
And then came the hangover to end all hangovers?
"It wasn't as bad as I thought. It was three days of horror but then I was fine. When I look back now and think about the Alice Cooper of 'School's Out' or 'Welcome To My Nightmare', it's almost like another lifetime. I find it hard to even remember it. I just think now that if you're 100 per cent mentally and physically you can do a much better job. Drugs is over and done with...but, I'm still obsessed with TV."
Back On The Road
To warm up for this tour in his own right, Alice hits the road again in early July for a mega Metal bash that'll be storming the US as you read this...
"We're out with Judas Priest, Motorhead and Metal Church, doing 25 outdoor dates across the country. Everyone should be a bit stupid in the summer and it'll be a good warm up for a big tour, which should take us to Europe. I love playing in Europe!"
The theatrics for the coming shows are, of course, fundemental. So, what tricks can the UK fans expect when the show finally hits town?
"We're bringing in some special effects. Like, the opening will be the album cover coming to life and the set will be a third the new album, one third from 'Trash' and one third oldies. It gets pretty heavy on the oldies usually because we just have so many to do. We have to do '18', 'School's Out', 'Under My Wheels', Billion Dollar Babies', 'Only Women Bleed'. There are certain things you've just got to do or you'd get killed!"
So, after all these years, do you ever think, 'Oh, no! Not that again!'?
"Once I'm on stage I don't mind. But, sometimes before I go on, it makes me go 'Uuuuugh!'. I kinda learnt this from when I saw Jimi Hendrix. I really loved his 'Are You Experienced?' album and when he said 'God, if I have to do 'Foxy Lady' one more time...', I thought, 'You've got to do it!'. I think it's good that the audience still wants to hear the standards. Three tours ago it sent me crazy but now I'm past that. I want to do 'Generation Landslide'."
And 'No More Mr. Nice Guy'?
"Gotta Be. That song has been covered so many times. And so has 'Only Women Bleed', that must have been covereed at least 20 times. And, there's even a version of 'Under My Wheels' on the just-released retrospective and rarities album by Hanoi Rocks. Things like that are always a compliment. No matter how songs turn out, that some group or person actually wanted to it is really important. I remember when I started out in the band, I always wished I'd written The Kinks' 'You Really Got Me'."
Taking It To The Limit
The legend of Alice Cooper is stamped shock Rock and excess. Redefining horror and music, has it reached its final terror level?
"The audience has seen everything now. There have been so many special effects in movies that it's not possible to shock anyone anymore. When we started there was no Freddy Krueger. Alice was the only horror thing, so it was real easy. It was sexual as well. There was a sexual revolution going on and the whole Alice thing was so out of place. I can't think of anything that's shocking. We don't want to be gross and it's gone beyond just shocking people out of their everyday lives."
So, is Alice Cooper growing up?
"I hope not."
But, surely, as a married man, Alice is more, well, sane?
"Alice has nothing to do with my family life. I'm still schizophrenic. That's what's kept me sane. I turned into Alice and it's the dark side...like, the Darth Vader of Rock'n'Roll."
Isn't Alice Cooper that bloke who had a hit last year? Well, yes and no. Let me take you back...way back!
Hot summer 1972: Alice Cooper. Mysterious. Frightening. A horror show of sex, violence and passion. Back then he/she was a group name, rebels with a cause, singing about the pains of adolescence. It was outrage all the way! Five lean long-haired Rockers took the stage with a male singer with a females name! He sang in the bath onstage! Their debut LP, 'Pretties For You' featured a sad girl lifting her dress on the cover. It was followed by 'Easy Action' - both on Frank Zappa's Straight label - and then Warners grabbed 'em by the short and scaleys and gave major league promotion.
The result was their best ever album, 1971's 'Love It To Death'. It had torment of teens on 'I'm 18', insanity on 'The Ballad Of Dwight Fry', lust by the bucketload on 'Is It My Body'. Alice was a schizophrenic personality, the son of a preacher man, who painted his face and decapitated dolls onstage.
'Killer', inevitably, came next. 'School's Out' examined pre-pubescent delights with a cover wrapped in paper panties, supplying the group with their first No.1 with the title track in June '72. Continued mass scale acceptance didn't follow, however, as the next LP. 'Billion Dollar Babies', explored necrophilia and warped politicians on the seminal classic 'No More Mr. Nice Guy' (recently revived by Megadeth for the soundtrack of the Shocker movie).
But, 'Babies' was the end of the road. 'Muscle Of Love' didn't fulfil the potential and the band split. Alice, the man, continued to plunder the shock Rock grave with 'Welcome To My Nightmare', then headed for the doldrums with 'Lace And Whiskey' telling the story of his alcoholism and 'Alice Cooper Goes To Hell' narrating his fall from grace. The patchy 'Dada' and 'Zipper Catches Skin' didn't help matters. However, interest was re-generated by 1986's 'Constrictor' and the following year's 'Raise Your Fist And Yell', which even saw Alice playing live in the UK (with a band that featured Kip Winger on bass and muscleman guitarist Kane Roberts).
'Trash', released in 1989, continued the good work. The legendary Desmond Child produced a more accessible Alice and hit single 'Poison'. The album was his first Top 40 platter in 11 years. Alice Cooper was back and the newie, 'Hey Stoopid', should see the bedraggled snake charmer even more active.
---
Stoopid move!
Alice Cooper
Hey Stoopid
Epic EPC 468416 1
Ever wondered how an eternal teenager copes with growing old? Alice, it seems, has been pondering the same question for a while without coming to any set conclusions. Consequently he's at a halfway house between the fiendish deliquency of old and Bon Jovi-styled commercial respectability garnered with his last multi-platinum album 'Trash'.
It comes as no surprise therefore that 'Hey Stoopid' boasts material that tends to sit between the two stools of past and present.
Of the 'Trash'-style Alice material you get the likes of the title track (supposedly featuring the talents of Ozzy and Slash and echoing a positive "Just so no" message), 'Might As Well Be On Mars' (co-written with the irksome Desmond Child and the legendary Dick Wagner), the inconsequential 'Little By Little' and the risible 'Dirty Dreams'. Then there's the cuts which could've featured on earlier albums such as 'Billion Dollar Babies' or 'Welcome To My Nightmare'. Cuts like the adult balladary of 'Burning Our Bed' (a distant echo of 'Only Women Bleed'), 'Frankenstein' (hilarious teen-beat Metal co-written with Zodiac Mindwarp and starring the guitar talents of both Steve Vai and Joe Satriani, as well as Crue bass man Nikki Sixx) and the eerie finale of 'Wind-Up Toy'.
It makes an uneasy pastiche that'll doubtlessly appeal to fans who may have discovered Cooper-man since his rebirth in '86 with the Metalized lunge of 'Constrictor' and which 'Trash' addicts with positively adore. For the rest of us Alice is playing it shamefully safe, choosing the likes of Yankland Hard Rock hunks as Bon Jovi, Winger et al as golfing partners when he should be hanging out with more obvious drinking partners such as Motorhead, Iggy or even the Ramones.
The original Punk Rock kid, Alice still has the voice, the charisma and the twisted attitude to make a great, challenging album. After the likes of 'Hey Stoopid' and 'Trash' it remains to be seen whether he has the balls. ***