Psychotronic Video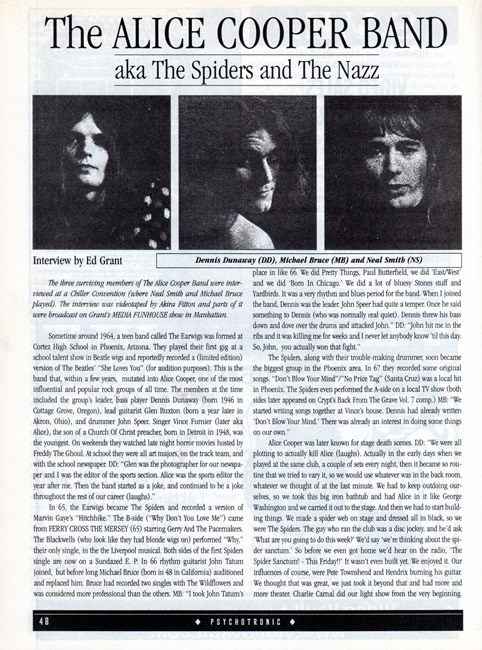 Psychotronic Video
(1999)
Originally Published: 1999
The Alice Cooper Band
aka The Spiders and The Nazz
Author: Ed Grant
The three surviving members of The Alice Cooper Band were interviewed at a Chiller Convention (where Neal Smith and Michael Bruce played). The interview was videotaped by Akira Fitton and parts of it were broadcast on Grant's MEDIA FUNHOUSE show in Manhattan.
Sometime around 1964, a teen band called The Earwigs was formed at Cortez High School in Phoenix, Arizona. They played their first gig at a school talent show in Beatle wigs and reportedly recorded a (limited edition) version of The Beatles' "She Loves You" (for audition purposes). This is the band that, within a few years, mutated into Alice Cooper, one of the most influential and popular rock groups of all time. The members at the time included the group's leader, bass player Dennis Dunaway (born 1946 in Cottage Grove, Oregon), lead guitarist Glen Buxton (born a year later in Akron, Ohio), and drummer John Speer. Singer Vince Furnier (later aka Alice), the son of a Church Of Christ preacher, born in Detroit in 1948, was the youngest. On weekends they watched late night horror movies hosted by Freddy The Ghoul. At school they were all art majors, on the track team, and with the school newspaper. DD: "Glen was the photographer for our newspaper and I was the editor of the sports section. Alice was the sports editor the year after me. Then the band started as a joke, and continued to be a joke throughout the rest of our career (laughs)."
In 65, the Earwigs became The Spiders and recorded a version of Marvin Gaye's "Hitchhike." The B-side ("Why Don't You Love Me") came from FERRY CROSS THE MERSEY (65) starring Gerry And The Pacemakers. The Blackwells (who look like they had blonde wigs on) performed "Why," their only single, in the the Liverpool musical. Both sides of the first Spiders single are now on a Sundazed E.P. In 66 rhythm guitarist John Tatum joined, but before long Michael Bruce (born in 48 in California) auditioned and replaced him. Bruce had recorded two singles with The Wildflowers and was considered more professional than the others. MB: "I took John Tatum's place in like 66. We did Pretty Things, Paul Butterfield, we did 'East/West' and we did 'Born In Chicago.' We did a lot of bluesy Stones stuff and Yardbirds. It was a very rhythm and blues period for the band. When I joined the band, Dennis was the leader. John Speer had quite a temper. Once he said something to Dennis (who was normally real quiet). Dennis threw his bass down and dove over the drums and attacked John." DD: "John hit me in the ribs and it was killing me for weeks and I never let anybody know 'til this day. So, John, you actually won that fight."
The Spiders, along with their trouble-making drummer, soon became the biggest group in the Phoenix area. In 67 they recorded some original songs. "Don't Blow Your Mind"/"No Price Tag" (Santa Cruz) was a local hit in Phoenix. The Spiders even performed the A-side on a local TV show (both sides later appeared on Crypt's Back From The Grave Vol. 7 comp.) MB: "We started writing songs together at Vince's house. Dennis had already written 'Don't Blow Your Mind.' There was already an interest in doing some things on our own."
Alice Cooper was later known for stage death scenes. DD: "We were all plotting to actually kill Alice (laughs). Actually in the early days when we played at the same club, a couple of sets every night, then it became so routine that we tried to vary it, so we would use whatever was in the back room, whatever we thought of at the last minute. We had to keep outdoing ourselves, so we took this big iron bathtub and had Alice in it like George Washington and we carried it out to the stage. And then we had to start building things. We made a spider web on stage and dressed all in black, so we were The Spiders. The guy who ran the club was a disc jockey, and he'd ask 'What are you going to do this week?' We'd say 'we're thinking about the spider sanctum.' So before we even got home we'd hear on the radio, The Spider Sanctum! - This Friday!!' It wasn't even built yet. We enjoyed it. Our influences of course, were Pete Townshend and Hendrix burning his guitar. We thought that was great, we just took it beyond that and had more and more theater. Charlie Carnal did our light show from the very beginning. Charlie would hear about this new thing called the strobe light. So he read and learned how to make one out of a metal ammunition box. He put a light and a motor in it. It was called a lobster strobe. Nightly this thing would catch on fire because the bulb was so hot. Night after night."
Alice Cooper later used parts of musicals (like West Side Story) on their records and in their act. The early group was actually in a musical! The Elvis-inspired Bye Bye Birdie was staged in The Theater In The Round in Phoenix. DD: "It was Jani Murray and Sherry Spillane (Mickey's wife), and a young guy named Tom Hanson played Conrad Birdie. We were the band. It's a good thing they cast us as that because we sure couldn't act or dance. The musical director was Elmer Bernstein who showed us the songs. Choreographer Michael Bennett, before he became a big hit on Broadway, wanted us to dance across the stage. We attempted that several times before he got this bright idea to have a girl grab us by each arm and they did the dancing. We were sort of forced to go where they wanted us to. It was a lot of fun. It was tricky because the stage would go around. At the end of the show Conrad would ride in on a Harley and pick up Sherry Spillane and then he'd ride out. They would open up this big steel door so they could go out into the parking lot. It was all dark when they left. Once the stage had turned and they smashed into this giant metal door, and the sound was unbelievable. Then we'd go back to the local club and play. We were The Spiders then."
At some point The Spiders became The Nazz (named after a Yardbird's track and Lord Buckley's name for Jesus) and recorded "Wonder Who's Loving Her Now/Lay Down And Die Goodbye" (on the Very label). They didn't know that another band in Philadelphia with the same name would be recording soon. The band had a drummer friend, 6'3" tall Neal Smith, born in 48 in Akron, Ohio. Smith had been in the Phoenix band The Holy Grail. Even though John Speer was still in the group, the three other musicians started practicing in the desert with Smith. NS: "Before I was in the band, we would go out in the middle of the desert in Arizona. Glen, Michael, Dennis and I. We'd take one amp and a case of beer and play all night. It was very experimental, very avant garde. Some of what happened in (the LPs) Pretties For You and Easy Action was a bit of a spin off of that sort of a feeling. It gelled." DD: "Neal had just one snare drum when we played in the desert. We could see all of the stars in the sky. It was the very last telephone pole where we plugged in the electricity, it was the end of the line. We could see all of these cat's eyes. People would drop off their cats out there, and they multiplied like crazy and you could see all these eyes glowing out there, so we had an audience. Every time a car came, the music would die way down and get real quiet." MB: "Way beyond out there were all those orange groves. After we'd done this a few times we got complaints from the migrant workers for the orange groves who couldn't sleep because we were playing and the growers were complaining to the sheriff's department." NS: "The cops came out a couple of times."
The Nazz then made the major move to Los Angeles, and after a while, lived in the house of actor John Phillip Law (PV #12) who was usually busy working in Europe. NS: "Two things happened. I joined the band in Sept. of 67. In Spring of 68 we changed our name to Alice Cooper." Michael Bruce eventually became the main song writer. MB. "We wrote together, at 2001 Ivar John Phillip Law's house in that little room. I remember when Alice had a melody line and we came up with 'Second Coming.' I'd write a little ditty on my own and Dennis would do his bass thing. And Neal and I would get together. It was always a group effort. John (Speer) didn't make the quantum leap to that next logical level and Neal was perfect for that." NS: "I was probably a little more flamboyant. I had lived in San Francisco and I moved back to Los Angeles. They were buddies from college. We used to travel on the road with them. Glen and I were pretty good friends. My intention was to join a band in Los Angeles. I ended up joining the band in a month or so. It was a natural progression. I was a lot more willing to experiment with music." As soon as they arrived in L.A., they went to see Syd Barrett's Pink Floyd (then on Tower Records). The British band went to check them out too, and they all had dinner together.
The band failed an audition for the Original Sound label, home of Sean Bonniwell and The Music Machine. (The Spiders had played the group's hit "Talk Talk" and Alice later recorded it). They played at the annual "Lenny Brucemas" show in Santa Monica at The Cheetah and cleared out the audience. The Doors, Paul Butterfield, and The Collectors (from Canada) also played. That's where they met the all-groupie band The GTOs. One of The GTO's (Girls Together Outrageously), Christine Frka (who OD'd in 72), was known as Miss Christine and was on the cover of Frank Zappa's Hot Rats LP. She introduced the band to Zappa. They went to Zappa's house (it had been built for Tom Mix) in Laurel Canyon for an audition. NS: "In that same period of time was when we played for Frank Zappa and he wanted us to sign (with his Straight label) and to use his management and that was Herbie Cohen. And we said 'Why do we want to work with your manager because he manages you. We want somebody to manage us.' And so my sister, Dennis' wife Cindy Dunaway, had worked in a boutique in Hollywood and two dudes from the East came in, Shep Gordon and Joe Greenberg. My sister said, 'Oh, by the way my brother's in a band called Alice Cooper,' and that's how we met our managers. They wanted to work with us. That's when we cleared out The Cheetah. When they came to see us and he (Gordon) said 'Anybody that can clear out The Cheetah with that much energy - there must be a way to turn that around.' That just made Zappa like us more for a negative reason and Shep for a positive reason." When they signed their record contracts some band members were still under 21. Greenberg and Gordon (who had managed The Left Banke) represented them. Cindy Smith (who later married Dennis) also provided the (at the time) shockingly asexuual clothes for the band.
In L.A., the Alice Cooper Band partied with Jim Morrison, Jimi Hendrix, David Crosby, and Arthur Lee (Alice later recorded Love's classic "7+7 Is"). They opened for The Doors at The Cheetah and for Led Zeppelin (during the group's first US visit) at The Whiskey A Go Go and shared a bill with Blue Cheer. In November, '68 they opened for Wildman Fischer and Zappa's Mothers Of Invention at a Cal State show. In December, a "Gala Pre-Xmas Bash" at The Santa Monica Shrine Exposition Hall featured Alice Cooper, The Mothers, Captain Beefheart, The GTOs, and Wildman Fischer (all signed to Straight/ Bizarre), Kim Fowley, and The Easy Chair (with Jeff Simmons).
On March 30, 1969, Alice Cooper played at The Avalon Ballroom. The show was broadcast on FM radio and later showed up on bootleg LPs. In May "Reflected"/"Living" (Straight 101) became the first single on Zappa's label and PRETTIES FOR YOU (Straight 1051) was the band's first LP. It was produced (with no credit) by Ian Underwood of The Mothers on 16 tracks in Burbank. After the first pressing, part of Ed Beardsley's cover painting (a woman lifting her skirt) was censored. The spooky "Levity Ball" (recorded live at The Cheetah) was based on CARNIVAL OF SOULS (!). "Earwigs To Eternity" was a nod to the band's early Phoenix days. You could receive a free Pretties LP if you subscribed to the new Detroit newspaper Creem ($5 for 24 issues!). The album was mostly ignored by the then new serious rock press and only made it to #193 on the charts. It was reissued (on Straight/Warners) in 70. For a comparison, here are chart positions for some other 1969 LPs that sold more copies: First MC5 LP (#30), Mothers: Uncle Meat (#43), first Stooges LP (#108), and Zappa (with Cap. Beefheart): Hot Rats (#173). The first two LPs by Dick Wagner's Frost (from Detroit) both sold more copies than the Cooper LP. The 2nd Velvet Underground LP (#199) sold even less, as did The Flamin' Groovies - Supersnazz, and Captain Beefheart - Trout Mask Replica (which did not chart at all).
The band started playing outside of the LA. area to promote the LP. They played Max's Kansas City in Manhattan for the first time. They played the 4th Of July weekend Saugatuck Pop Festival with The Stooges, The MC5, Bob Seger, Procol Harum, and The Amboy Dukes. On Aug. 3 they played The Mt. Clemens Pop Festival (near Detroit) with The Stooges, MC5, and Eric Burden. On Aug. 9 the Manson murders occurred back in L.A. On Sept 13 the band played The Toronto Rock And Roll Festival. The amazing show featured top '50s rock stars and star John Lennon playing without the Beatles for the first time since the 50s. The Doors closed the show. Alice Cooper followed Screaming Lord Sutch. Kim Fowley introduced them ("A group for the future!"). They did their "Freakout Song" (with Alice yelling "I am not a number!" - from THE PRISONER TV series), then returned and backed Gene Vincent (a drinking friend of Jim Morrison at the time). Band members threw out feathers (from pillows) which led to the infamous "chicken incident." Somebody threw a live chicken up to Alice, who threw it back. Audience members then tore it apart. The entire festival was filmed by D. A. Pennebaker but only the Lennon/Yoko portions (and some of the 50s acts) are easily available. The Alice Cooper audio portion came out on various bootlegs.
The Detroit Black Magic and Rock N Roll Festival on Halloween (at the large Olympia theater) featured The MC5, Stooges, The Frost, Amboy Dukes, Coven, SRC, Bob Seger, The Pleasure Seekers (with Suzi Quatro), Kim Fowley, Savage Grace, Frut, and from England: Arthur Brown, The Bonzo Dog Band, and Pink Floyd (no longer with Syd) plus Timothy Leary, and "Satan himself" (Anton Lavey) - all for $5!!. It was produced by Mike Quatro and Russ Gibb. The Altamont concert (on Dec. 6) soon helped put an end to the brief rock festival era.
In Feb., 70, the budget price Zapped sampler LP was released with "Titanic Overture" and "Reflected" (or "Refrigerator Heaven" depending on which copy you got) and in March, EASY ACTION (Straight/Warners 1845) was released (it was planned as Straight 106l). The lowest selling of all Alice Cooper band LPs, it was produced by David Briggs (Crazy Horse, Neil Young, Spirit). Tracks included "Return Of The Spiders" (dedicated to Gene Vincent), "Lay Down And Die Goodbye," (a new 7.30 mins. version of the Nazz B-side), and "Mr. And Misdemeanor" ("Nobody likes us but we adore you!"). Michael Bruce sang "Beautiful Flyaway" and the 6.50 mins. "Below Your Means" which featured some choice Quicksilver Messenger Service style guitar work. The Rolling Stone newspaper put the LP in their "Condemned" section, but it got a good review in Creem. Other LPs that didn't sell much at the time included The Mothers - Burnt Weenie Sandwich (#94) and Chunga's Revenge (#119), the 2nd MC5 LP (# 137), the first Mott The Hoople LP (#185), and The Mothers - Weasels... (#189). The Flamin Groovies - Flamingo, The Stooges - Funhouse, and the 3rd Velvets LP, also did not chart at all. A second Alice Cooper single, "Return Of The Spiders"/"Shoe Salesman," never got past the promo-copy stage.
The band was tired of being treated as a Zappa-sponsored joke in L.A. With nothing to lose, they decided to move to the higher energy Detroit area where they had gotten the strongest response. It was a return home for Alice and not far from Akron where Smith and Buxton had grown up. They lived on a 50-acre farm near Pontiac, Michigan and partied with local bands (including The Stooges and MC5). They concentrated on playing small midwestern teen clubs, booked by Leo Fenn, who managed The Pleasure Seekers, featuring Suzi Quatro (who is actress Sherilyn Fenn's aunt). They even played in Steubenville, Ohio (!) with the Velvet Underground. On June 13 they played at The Cincinnati Pop Festival at The Crosley (baseball) Field. Incredibly, part of this show was broadcast as a national NBC special (MIDSUMMER ROCK)! It was hosted by TODAY SHOW anchor Jack Lescoulie, with young on-the- scene reporter Bob Waller. This amazing document (broadcast in late Aug.) features Iggy and The Stooges, Grand Funk Railroad, Mountain, and (the reformed) Traffic. Other acts (including The Bob Seger System, Mott The Hoople and Cleveland's Damnation Of Adam Blessing) did not make it to the broadcast. The Alice Cooper band members were covered with huge sheets as they performed a long version of Dunaway's not yet recorded "Black Juju." Alice "hypnotizes" the audience (including a young future PV editor) with a watch and chain and Michael Bruce plays organ much like on Pink Floyd's "Set The Controls..."
The July Creem newspaper (Vol. 2 #14) had a cover story (Purging The Zombatized Void with Alice Cooper). During Aug 7-9, "200,000" people attended The Goose Lake festival near Jackson, Michigan. For $15, they saw Alice Cooper and other acts including The Faces (with Rod Stewart), Ten Years After, Jethro Tull, Mountain, The Flying Burrito Brothers (with Gram Parsons), The Flock, The James Gang, and local acts including The Stooges, SRC, Brownsville Station, Detroit (produced by Bob Ezrin), Bob Seger, and The Frost. In the fall they played Max's Kansas City again. DD: "Maxs Kansas City, at that point, Andy Warhol had taken home most of his paintings. It had seen its heyday. I recall about three people in the audience when we played. We used to say, the smaller the crowd, the bigger the rumors, so we'd try and psych up to do a decent show when we played. One of the three people in the audience was (producer) Bob Ezrin." MB: "We played one show there and it was really hot and they opened that back door and a policeman got up on the stage and said 'This has all got to stop!' And the people were going 'No! NO!' It was that old Alice Cooper magic that kept happening, it was conflict. They were getting complaints. It used to be a livery stable, I think, and there was a big door where they passed hay through."
More national exposure came in Frank Perry's movie DIARY OF A MAD HOUSEWIFE released in October. The band plays a song at a Manhattan party, throws out feathers and destroys their instruments. NS: "It was Mars Bonfire who wrote the song. He was the guy who wrote 'Born To Be Wild,' which had been a huge song in the late 60s. The people doing the movie had made a deal. They gave a certain number of songs that he had written to us to do. We started the song off but ended with 'Lay Down And Die, Goodbye,' the total freakout thing that we did where we smashed everything. Carrie Snodgress, I was totally in love with her, Dick Benjamin played her husband in the movie. He came over and got all our autographs. He was excited to meet us. It was pretty cool. I wanted to use two big turkey legs for drum sticks to end the song. I really wanted to eat them though. We were kinda hungry in those days."
By late 1970, Cohen had sold the Straight label to Warners. NS: "Warner Brothers bought out the Straight contract because they wanted Linda Ronstadt and James Taylor. For $50,000, Warners got Linda Ronstadt, James Taylor and Alice Cooper. Which, I think, is one of the best deals ever. But they didn't want Alice Cooper on the label, so we had to do another demo. That's why we got together with Bob Ezrin at Max's Kansas City." The Canadian Ezrin worked for Jack Richardson and his Nimbus 9 Productions (known for big hits by The Guess Who). Ezrin became Alice Cooper's official producer. The first release on Warner was "Hallowed Be My Name"/"Caught In A Dream." Both songs were great but did not sell. Meanwhile the band played the last show at the old Fillmore (The Straight Theater) in San Francisco with The Flamin' Groovies, The MC5 and The Stooges. Alice Cooper's influence was starting to appear as Actress (pre-NY Dolls) was formed in New York.
All of a sudden the struggling, low-selling, critically-hated band could be heard on top 40 stations throughout the land. In Feb., 71 the second Ezrin-produced 45, "Eighteen"/"Is It My Body" went all the way to #21 on the charts. It had broken first on the Canadian CKLW (heard in Detroit, Toronto, Cleveland...). The band toured the U.S. from May until the fall. They started using new makeup, a straight jacket, and an electric chair on stage. I (MJW) saw them at the Mentor (Ohio) Hullabaloo club, doing almost the entire Love It To Death LP (complete with the homemade strobe light). A similar (b/w camcorder) entire show from this period exists on tape, as does a (color) Detroit PBS special. In March, LOVE IT TO DEATH (Straight/Warners 1883 - planned as Straight 1065), which had been recorded in Chicago, went to #35 on the LP charts. It also went to #28 in the UK. The original cover had Alice's thumb sticking out of his pants. It was soon airbrushed away. It was the first Cooper LP with exact band member song credits. The all-around excellent album ends with "Second Coming," "The Ballad Of Dwight Frye," (set in an asylum) and a rousing version of Australian Rolf Harris' "Sun Arise" (which had been #3 in the UK in 62). Creem, as usual, gave it a good review. The band played the April 1-3 Mar Y Sol festival in Puerto Rico with Dr. John and Black Sabbath (acts that also used horror and voodoo lyrics), The Allman Brothers and others. In June, "Caught In A Dream"/"Hallowed Be My Name" (they switched the sides) made it to #94 and the band was on the cover of Circus magazine. In Oct. they toured Europe, including Denmark, Holland, and England (where they played The Rainbow) for the first time, leaving behind the inspiration for glam and punk rock. Also in Oct., MEDICINE BALL CARAVAN was released. It had been filmed the previous year and featured another live version of "Black Juju." Martin Scorsese was an associate producer of the unpopular corporate (Warner Brothers) sponsored traveling concert feature. The Cooper track was also on the soundtrack LP.
In Nov. another great album, KILLER, was released and went to #21 (#27 UK). It was later certified platinum. It included the hard to believe but wonderful "Dead Babies" (it was the year of the My Lai massacre court martial) and "Under My Wheels," featuring a Buxton guitar solo apparently actually by former leader of The McCoys Rick Derringer. The cover was a close-up of a boa constrictor (Kachina) and there was a fold-out calendar. In later interviews, Alice claimed the snake was given to him, but it belonged to Neal. NS: "Kachina was on the road, you can't take a dog or a cat on the road. The snake was great, she ate rats once a month. I used to carry it in a carpet bag. You could take anything on a plane in those days. I have a classic picture where we're waiting for an airplane and there's this little old lady sitting next to this carpet bag with a seven-foot boa constrictor in it. We decided to use her on stage for 'Is It My Body?' and then she was the cover girl on the Killer album. Later people always wanted to give us snakes. Some people brought us a bag with a snake when we were getting on a plane. Somehow they got their car on the runway and brought this bag up to the plane. Our road manager opened the bag and it was a wild python. It opened its mouth and it went BAM, ready to strike at him. I think it was probably the people from Kiss that brought that to us (laughs). So we gave that back to them." DD: "I think Alice should do all of his interviews hooked up to a lie detector. Neal did have the snake. It was his snake. In Toronto, the snake was missing from a hotel room. All of a sudden we got a call from Charley Pride. Kachina had come up out of his toilet in his room."
A gallows, constructed by the Warner Bros, studio prop department, was added for the Killer show. It was used to hang Alice during the song "Killer," which featured a Moog synthesizer. It had been written by Bruce and Dunaway while on peyote. A "Nobody Likes Me" flexidisc came free with the tour book. In Dec., A CLOCKWORK ORANGE was released and "Under My Wheels" (with horns)/ "Desperado" (with strings) went to #59. MB: "We had to go out and play this stuff. Bob was bringing a lot of ideas in. I told him, 'We're not Procol Harum,' I love their music, but we were doing a different thing. I was concerned with 'How do we do that on stage?' At that time we didn't have the money and the production capabilities like we did later with Billion Dollar Babies. We got into a little rift. We wanted to keep it as basic as we could. A lot of what he did on Love It To Death was piano, which was kind of organic and fit in, as opposed to, like, say horns. We were all writers on all of our singles. Everything like that clicked for us during Love It To Death and Killer." NS: "I think Love It To Death was our purest album. 'Under My Wheels' was probably the first song with horns. With Killer it started to come in a little bit. It's cool, a kind of Sticky Fingers kind of a thing. It came out great and is a classic song. It was a diversion for us. We played it live without the horns. On stage we still pulled it off. I still think it's one of the best rock songs that we did. I think he (Ezrin) added a classic feel and put what we did just a little bit over the edge musically. On some of the classic songs like 'Sick Things,' 'I Love The Dead,' 'Dead Babies,' and 'Ballad of Dwight Fry.' those sort of got gothic, or more haunting or classical, I guess. Everyday we were always creating Alice Cooper and I think Bob played an integral part of that musically."
1972 was the biggest year for the band which had started out in high school in Phoenix (and was the last full year of the Viet Nam war). Alice made the cover of Rolling Stone. Glen Buxton (the first member with a serious drinking problem) had a pancreas operation. The New York Dolls (Actress + David Johansen), featuring Johnny Thunders doing guitar parts a lot like ones on Cooper LPs, played in England, Kiss was formed, Roxy Music, who had supported Alice Cooper at a Wembley concert, released their first LP, and T. Rex and Lou Reed had chart hits. David Bowie first made the US charts with 4 LPs (going back to 68) at once (!). His new band was called The Spiders (from Mars). It was a year of Cooper influenced glam rock. The Jan., 72 issue of Creem (Vol. 3 #8) has Alice as Santa Glaus on the cover and a story (Alice Cooper All-American) by Lester Bangs. In March "Be My Lover"/"Yeah Yeah Yeah" went to #49. In May the Killer tour finally ended. In June "School's Out"/"Gutter Cat" (with a pic sleeve) went to #7 and all the way to #1 in England. It was the band's best-selling single and became an even bigger anthem than "Eighteen." The SCHOOL'S OUT LP (also in June) went to #2 (#4 UK). It originally came with disposable panties (3 different colors) instead of a dust sleeve plus a report card. The inflammable panties made the news and hundreds of them were dropped on the audience at a Hollywood Bowl show. The album featured more synthesizers and studio production work than before and had West Side Story writing credits for Leonard and Elmer Bernstein. Detroit guitarist Dick Wagner (from The Frost) was also used in the studio for the first time. The now very famous group played Carnegie Hall, and The Rainbow in London. They appeared on Beat Club in Germany and The Old Grey Whistle Test in England. They all moved to a 40-room mansion in Greenwich CT. The former tenants were Ann-Margaret (star of the movie version of BYE BYE BIRDIE) and her husband Roger Smith (from 77 SUNSET STRIP).
Life on the road got stranger. NS: "Alice and I caught like 20 sharks one night. In the gift shop of the lobby of the Edgewater Hotel in Seattle, you could rent a pole (or maybe it was a Slovak) and fish right out of your window. We were watching TV and drinking beers and the line was tied to the chain of the lamp and every time the lamp went ch - ch we pulled it up. We ended up filling the whole bathtub in Alice's and my room with sharks. I kept the biggest shark." In Oct., "Elected"/"Luney Tune" (with a pic sleeve) went to #26 (#4 UK). It was the first of four singles from the Billion Dollar Babies LP. The first Alice Cooper video was shot for "Elected," a topical reworking of their earlier "Reflected." On Nov. 7, Nixon was re-elected and the band went on a big Euro tour.
On Jan. 23,73 The Viet Nam War finally ended. It was also to be the last full year of the Alice Cooper band. They were at the top of the international pop world, but things started to go seriously wrong. In Feb. the group appeared on the debut night of IN CONCERT (ABC). The popular late night live music show, along with MIDNIGHT SPECIAL (which debuted the same night) helped keep American teens home stoned and drunk instead of on the streets or at rock festivals. Alice Cooper's performance was blocked from the air in Cincinnati and in other local markets by outraged station managers. BILLION DOLLAR BABIES, the only Cooper LP to include the lyrics, became the biggest selling album of them all. It went to #1 (US and UK!) and was later certified platinum. It had been recorded with the 16-track Record Plant mobile studio in CT, then in NYC and in London (with Donovan singing on the title track). The inside band photo resembles the censored Beatles "butcher" LP cover (and probably influenced the famous cover of Nirvana's Nevermind). The same month the showbiz anthem "Hello Hurray" (written by Rolf Kemp) went to #35 (#6 UK) with "Generation Landslide" on the B-side. In March the band started its biggest tour yet featuring a giant toothbrush and tooth, and a Nixon impersonator. Joe Gannon (from Liza Minnelli shows) produced the stage set and The Amazing Randi designed the guillotine. Dennis was later cited for being against more theatrics. DD: "I never wanted less theatrics. I just didn't want certain kinds of theatrics, I didn't want a dancing musical."
In April "No More Mr. Nice Guy"/"Raped And Freezin'" went to #25 (#10 UK) and the group made the cover of Forbes (!). Glen and Alice were both drinking too much. Mick Mashbir was hired to play many of Buxton's guitar parts from behind a curtain. Group members had less control but they all got their own places to live. The massive Babies tour finally ended at Madison Sq. Garden. NS: "All we did was rehearse and do concerts. If we could hang around a pool that was a vacation for us. I had just gotten married and Dennis had gotten married." In Oct. "Billion Dollar Babies"/"Mary Ann" was #57 and Elton John's #1 LP Yellow Brick Road (with very Ezrin-like production) included "All The Young Girls Love Alice." In Dec. "Teenage Lament 74" (with background vocals by Liza Minnelli, The Pointer Sisters, Patti LaBelle, and Ronnie Spector)/"Hard Hearted Alice" went to #48 (#12 UK). Few people saw the comic jail set video for the A-side. The band's weakest album in every way, MUSCLE OF LOVE went to #10 (#34 UK). All previous Alice Cooper LPs had gimmicks or at least gatefold covers. This one came in an awkward, easily-crushed cardboard box. Photos inside had the band as sailors at the "Institute Of Nude Wrestling." Angelo Rossitto (!) appeared (as Mr. Trundnich) in two pics. Buxton wasn't even on the album. Musicians included Dick Wagner, Mick Mashbir, and Steve Hunter (gts), Bob Dolin (keyboards), plus strings and horns. Jack Richardson produced. The group had written a theme song for the James Bond movie, MAN WITH THE GOLDEN GUN (74). Lulu's theme was used instead and "Man With The Gold Gun" made it to the Muscle LP.
There was no new stage show; but a cannon (by The Amazing Randi) was added and the band had to wear the white sailor suits (another bad move). They toured with Flo And Eddie (and sometimes ZZ Top) and played Brazil (to record crowds). Buxton went into rehab after the tour. A June cover story in Creem (Vol. 5 #1) included Alice Cooper Blew His Wad, Lust, Greed and Dental Hygiene, and Alice Cooper's Alcohol Cookbook (!). Alice was on the cover of Rolling Stone again. Bob Ezrin produced Lou Reed's Berlin (featuring Dick Wagner) and three more Bowie LPs charted. Aerosmith, Slade and Sweet were getting popular.
1974 was the end. "Muscle Of Love"/"Crazy Little Child" (the last group single) didn't even chart. GOOD TO SEE YOU AGAIN ALICE COOPER (aka BILLION DOLLAR BABIES) was a barely released movie backed by Bob Guccione and Penthouse magazine. Director Joe Gannon combined mediocre concert footage (the band can hardly be seen) with old Hollywood film clips and lots of comedy. Two versions were later released, one with the comedy scenes removed. DD: "The comedy was Monkees-like to me. We had fun doing it but it wasn't good for the image of the group, it was more like The Monkees. That was their gig. It was more like The Monkees copying The Beatles." NS: "After Muscle Of Love and especially the movie, these things were coming out of nowhere. We'd always brainstormed on everything, as a group, sat down and discussed what we were going to do. I didn't even know where these people came from who were giving us the ideas. It was too silly and way too watered down. It was fun to do but it was like a home video. The version without the comedy to me is the better one." MB: "I tried to watch it once, that silent movie crap. The beginning stuff was good with the pink bulldozer and we're the band and Alice is coming down the stairway." Watergate made the news in March. In June a kid in Calgary hung himself - guess who got blamed. Meanwhile back in L.A., Alice was drinking with John Lennon, Nilsson and Mickey Dolenz ("The Hollywood Vampires") or in London with Keith Moon and Marc Bolan.
Aug. brought ALICE COOPER'S GREATEST HITS which went to #8. The 12 cut comp. had tracks from 5 LPs: Love It To Death (" 18," "Is It My Body"), Killer ("Desperado," "Under My Wheels," "Be My Lover"), Schools Out (title track), Billion Dollar Babies ("Elected," "No More Mr. Nice Guy," "Hello Hurray," "Billion Dollar Babies") and Muscle Of Love ("Teenage Lament, 74" "Muscle Of Love"). It was later certified platinum. The gangster cover art was by Drew Struzan (INDIANA JONES poster...). An Aug. cover story in Creem (Vol. 6 #3) was Alice Cooper (solo) Tour Of Tinseltown. Solo LPs were planned. Neal recorded an LP (with Dennis) and Bruce recorded an LP (with Dolin and Mashbir and even Cooper). MB: "We were just trying to take some time off. We were constantly in contact. We took a year off to do whatever we wanted. We all had been so much a part of (planning the stage show). We'd come into the office and somebody would say, 'here is your new stage.' It was the same time when we lost Charlie Carnal. Shep said 'You can't pay this guy this kind of money.' I felt like 'I didn't want to be there - It's our fucking money, we're paying you 20%, shut your mouth. If we want to give it to Charlie... 'It was slowly - chop off a piece here, chop off a piece there... After a while, it was, 'What am I doing here?' and then 'I'm not here anymore.' I felt disenfranchised and dismembered."
DD: "Lets face it, it was very unusual for a light-show person to get equal cut with the band. But Charlie was so good and was a major part in making the shows look theatrical. The lights that we used were old theater lights and they weighed a ton. I couldn't lift them, let along climb up and hang them. When we wrote a song he'd be figuring out the stage lighting. He rehearsed it. A lot of things happened. (Our breakup) coincided with Watergate and explaining the breakup of the band was about as simple as explaining Watergate. It was time. We got overworked and fairly burned out. I don't think we could have gone on much longer at the pace that we were. It was time for a break and unfortunately after the break we didn't get back together. We hadn't done our Sgt. Pepper in my point of view. We were getting there but we had more to do." NS: "We each have our own explanation. We had talked about replacing Glen. On the Billion Dollar Babies tour, we had Glen on stage but had hired other musicians to cover some of his parts. On some of the newer stuff, as the music was changing he didn't play. I think the band broke up before we could get another member. Nobody could bring in another guitarist and actually sever Glen from the band. You can't overestimate how tight the five of us were." MD: "We wanted a break and we wanted Glen to take a break get some special help at that time. None of us wanted to not have Glen be part of anything. We needed to stop the horrendous pace. When we did take the time, it was like a flash-flood that took everybody beyond anybody's wildest expectation. Glen still had his health then. Even after the splitup, nobody ever sued anybody. We always hoped that down the road something magical would happen again. We're friends to this day."
In 1974 some LPs were by Aerosmith (Toys In The Attic - #1), Sweet (Desolation Boulevard - #25), the 4th Roxy Music LP (#37), the 1st Patti Smith LP (#47), the 5th Roxy Music (#50), and Lou Reed Live (#62). None of them would have been the same without Alice Cooper. The Tubes, a band with an outrageous stage show, was a direct copy. Leader Bill Spooner had been in a 60s Arizona band with Michael Bruce and John Tatum (!). The first Tubes LP went to #113. Meanwhile Bob Ezrin produced the first Kiss album, and the Ramones, The Dictators, The Patti Smith Group, Blondie, Rocket From The Tombs and other bands were formed.
In 75 Alice hired the Muscle Of Love studio guys from Detroit and Canada (Dick Wagner, Steve Hunter, Prakash John...) who had been backing Lou Reed. WELCOME TO MY NIGHTMARE, which was supposed to be one of the several "solo" LPs released, went to #5. NS: "I was always envious of Kiss when they each got to do their own album. I thought that was done brilliantly. It's diplomatic and the fans really dug that." The four musicians signed legal papers that had been drawn up to dissolve the band just before Alice's live "solo" debut in the Nightmare stage act. Some of them had been with Furnier for 10 years. The first new Alice Cooper single was the #12 feminist pop hit "Only Women Bleed." A concert movie of WELCOME TO MY NIGHTMARE, filmed in the UK (with the new band kept in shadows) was released. Alice played Vegas. A July cover story in Creem (Vol. 7 #2) on the original band was: Supergroup On Ice?
In 1976 John Lydon sang "Eighteen" and "School's Out" at his Sex Pistols audition and punk rock hit in the UK. ALICE COOPER GOES TO HELL went to #27, but it was his last top 40 LP for a long time. More were later released on Warners, MCA and Epic. Alice played golf, appeared on HOLLYWOOD SQUARES, THE MUPPETS, and THE GONG SHOW and had a one-shot Marvel comic book. In 77, Bruce, Smith, Dunaway (plus Bob Dolin on keyboards and Mike Marconi - gt.) re-emerged as Billion Dollar Babies. The BATTLE AXE (Polydor) LP was released and a stage production was planned. They only did four shows though. Bruce got married and returned to Arizona. Alice went into rehab again, acted and hung out with more celebrities. Meanwhile the first LP by Cleveland's Dead Boys was released. During shows, singer Stiv Batons recreated Cooper's on-stage hanging act.
In 81, Neal Smith worked with The Plasmatics starring Wendy 0. Williams. NS: "As far as The Plasmatics were concerned, there was only one Alice Cooper album and that was Pretties For You. The blue Mohawk with a chainsaw on your skull! (Lead guitarist) Ritchie (Stotts) is a great guy. Anybody who bangs a guitar on his head until it starts bleeding, that's a whole 'nother level of theatrics. I met them when Dennis and I had a band around New England, The Flying Tigers. They had the same kind of electricity and energy and they had an amazing show. They had kicked their drummer out after their first album, which I thought was great. I played on the Beyond The Valley Of 1984. That was fun. They played fast. In the early 80s, Dennis and Joe Bouchard (from Blue Oyster Cult) and I worked as Brainstorm." Meanwhile Alice starred in MONSTER DOG (PV #27). In 88 the GLAM ROCK video comp (Virgin) featured "School's Out." In 89 Cooper's TRASH LP, his best selling since the mid 70s, went to #20. In '91 ALICE COOPER - PRIME CUTS (PV #19) was released. Half of the approx. 24 video clips in the "history of" tape are with the original band (although some are brief). Alice's best quote (about the original band) was "We put the stake in the heart of the love generation." In 93 VH1 MY GENERATION - METAL ROOTS (Rhino) featured "Eighteen" from the German BEAT CLUB show. In 96 Michael Bruce's book No More Mr. Nice Guy was published in England. In 98 Glen Buxton died (at 50) from pneumonia. He had suffered serious drinking, drug and IRS problems, and had worked for Goodyear Aerospace. He had recently played a one-off Alice Cooper band reunion gig, though. DD: "I've known Glen for so many years, but saying I knew him the longest is like, 'I went to Venus - I went to Mars.' Glen was the fire of the group. He was a triple Scorpio and did not fall short of that. He was a one-of-a-kind character and he was great to know. He had a tragic life unfortunately. He seemed to be happy at the end. He was about to be married. He had happiness after a lot of down years. He worked on total feeling. If he was inspired you couldn't believe how well he was playing, but it wasn't a consistent thing. We were able to adapt to playing large shows. 'Black Juju,' the first time we played it on stage was the first time we ever played it. Glen was perfectly at home with that concept. He thrived on it. But once we had to get to the more professional level of making the show the same every night, that wasn't Glen. I think he would have gotten along good with Miles Davis, the story where he told everybody to play 'pink' or whatever. If he couldn't deal with that he wouldn't work with them."
NS: "He and I were born in the same place, Akron, Ohio, and if you can't have fun being from Akron, Ohio, then you might as well forget about it. He and I were buddies when the group used to travel around Arizona. Glen and I would borrow my mom's car and drink all the way from Phoenix to Tucson. Once a cop stopped us and sees a bottle of whiskey under the seat and Mike, the roadie at the time, and I were arrested, and it was Glen's. And I still loved him. It was always something exciting. In the early days we roomed. It was Alice and Glen and I. Alice was really the baby of the group age-wise. Alice, over time, after the band, I see clearly in his personality, parts of Glen, parts of Dennis, parts of Mike and parts of myself, the band influence. There are lyrics he does that, Dennis could have said that. 'Black Widow' was from The Spiders. Glen was the kind of person you'll never forget. If the four of us ever get together to do anything, even if it's for dinner, it will be dedicated to Glen. I don't think any of us would have been together if it weren't for Glen."
Last December, Bruce, Smith and Alice Cooper played a one time semi-reunion gig at Cooper'stown, Alice's sports bar in Phoenix. This year VH1 aired a pretty good Alice Cooper Behind The Music documentary, Sundazed released a Spiders EP, and the 80-track LIFE AND CRIMES OF ALICE COOPER CD box set was released by Rhino (with some early rarities). It makes the big mistake of treating all Alice Cooper "solo" LPs as equal with the original group's material though. Neal Smith has been a successful realtor in Westport, CT for 15 years (all band members had invested in properties). Dennis Dunaway (who has been suffering from an intestinal disease) and his wife own a store with folk art and antiques, also in CT. The Michael Bruce Band still plays and records and he's done several solo LPs. A new updated version of his book is planned soon.
Originally published in Psychotronic Video magazine Issue No. 31,1999