Pop Rock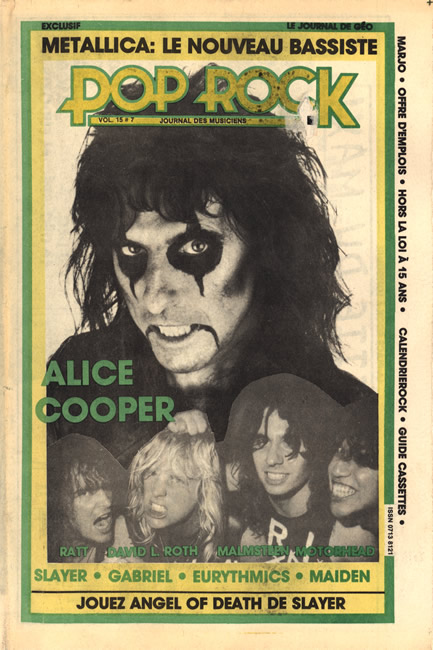 Pop Rock
(November 22, 1986)
Originally Published: November 22, 1986
Alice Cooper - Constrictor
Author: Luc Grise
Having been asked to write and perform music for the film FRIDAY THE 13th and stimulated by the meeting of a new colleague, the brilliant guitarist and multi-instrumentalist from New York, Kane Roberts, ALICE COOPER decided to continue the musical adventure explored with the theme of the film and the song HE'S BACK.
The result of the collaboration with Roberts, the album CONSTRICTOR, is an excited-energy musical monument, a constant musical apocalypse full of attacks of stunning strident guitars, highly charged feedback, slashing riff, combined with a solid rhythm section, animated by musicians who have things to prove: David Rosenberg, Don Kisselback, Kip Winger and Paul Delph.
Obviously ALICE is in very good shape. His captivating voice, present and arrogant, provides very good POPPY and TEENAGE melodies. The atmosphere and the madness of ALICE - the character - are alive and well on this very well produced record. The sound retains this seventies feeling although many keys makes it modern. Nevertheless, even if the style is perfect, it seems to lack originality and brilliance on the compositions side, and variety on the arrangements side. Nevertheless, the feeling is there and tracks such as Teenage Frankenstein, Simple Desobedience, Trick Bag and, due to the keyboards lines in the foreground, the more poppy HE'S BACK are highly interesting, if not exciting. Nothing new here, but an honest production that will delight the old COOPER fans and should intrigue those who are not yet.
(Kindly translated from the Canadian-French by Adam Joffrain, May 2015)