Pittsburgh Tribune-Review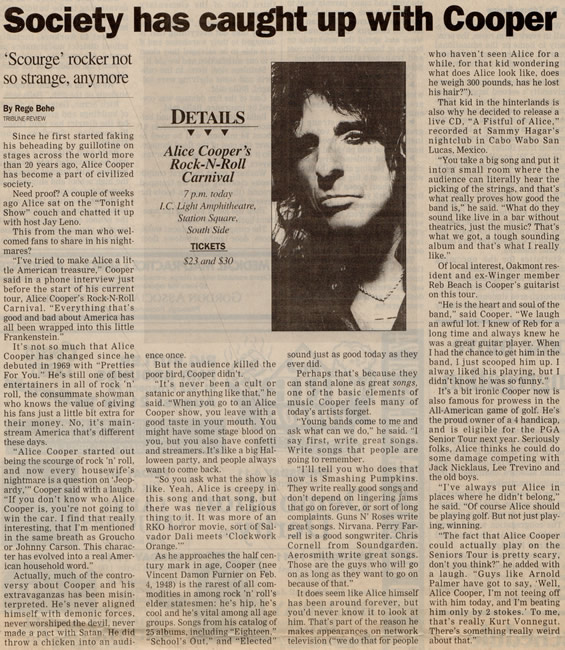 Pittsburgh Tribune-Review
(August 18, 1997)
Originally Published: August 18, 1997
Society has caught up with Cooper
'Scourge' rocker not so strange, anymore
Author: Rege Behe
Since he first started faking his beheading by guillotine on stages across the world more than 20 years ago, Alice Cooper has become a part of civilized society.
Need proof? A couple of weeks ago Alice sat on the "Tonight Show" couch and chatted it up with host Jay Leno.
This from the man who welcomed fans to share in his nightmares?
"I've tried to make Alice a little American treasure," Cooper said in a phone interview just before the start of his current tour, Alice Cooper's Rock-N-Roll Carnival. "Everything that's good and bad about America has all been wrapped up into this little Frankenstein."
It's not so much that Alice Cooper has changed since he debuted in 1969 with "Pretties For You." He's still one of the best entertainers in all of rock 'n' roll, the consummate showman who knows the value of giving his fans just a little bit extra for their money. No, it's mainstream America that's different these days.
"Alice Cooper started out being the scourge of rock 'n' roll, and now every housewife's nightmare is a question on 'Jeopardy," Cooper said with a laugh. "If you don't know who Alice Cooper is, you're not going to win the car. I find that really interesting, that I'm mentioned in the same breath as Groucho of Johnny Carson. This character has evolved into a real American household word."
Actually, much of the controversy about Cooper and his extravaganzas has been misinterpreted. He's never aligned himself with demonic forces, never worshiped the devil, never made a pact with Satan. He did throw a chicken into an audience one.
But the audience killed the poor bird, Cooper didn't.
"I've never been a cult or satanic or anything like that," he said. "When you go t an Alice Cooper show, you leave with a good taste in your mouth. You might have some stage blood on you, but you also have confetti and streamers. It's like a big Halloween party, and people always want to come back.
"So you ask when the show is like. Yeah, Alice is creepy in this song and that song, but there was never a religious thing to it. It was more of an RKO horror movie, sort of Salvador Dali meets 'Clockwork Orange.'"
As he approaches the half century mark in age, Cooper (nee Vincent Damon Furnier on Feb. 4, 1948) is the rarest of all commodities in among rock 'n' roll's elder statesmen: he's hip, he's cool and he's vital among all age groups. Songs from his catalog of 25 albums, including "Eighteen," "School's Out," and "Elected" sound just as good today as they ever did.
Perhaps that's because they can stand alone as great songs, one of the basic elements of music Cooper feels many of today's artists forget.
"Young bands come to me and ask what can we do," he said. "I say first, write great songs. Write songs that people are going to remember.
"I'll tell you who does that now is Smashing Pumpkins. They write really good songs and don't depend on lingering jams that go on forever, or sort of long complaints. Guns N' Roses write great songs. Nirvana. Perry Farrell is a good songwriter. Chris Cornell from Soundgarden. Aerosmith write great songs. Those are the guys who will go on as long as they want to go on because of that."
It does seem like Alice himself has been around forever, but you'd never know it to look at him. That's part of the reason he makes appearances on network television ("we do that for people who haven't seen Alice for a while, for that kid wondering what does Alice look like, does he weigh 300 pounds, has he lost his hair?").
That kid in the hinterlands is also why he decided to release a live CD, "A Fistful of Alice," recorded at Sammy Hagar's nightclub in Cabo Wabo San Lucas, Mexico.
"You take a big song an dput it into a small room where the audience can literally hear the picking of the strings, and that's what really proves how good the band is," he said. "What do they sound like live in a bar without theatrics, just the music? That's what we got, a tough sounding album and that's what I really like."
Of local interest, Oakmont resident and ex-Winger member Reb Beach is Cooper's guitarist on this tour.
It's a bit ironic Cooper now is also famour for prowess in the All-American game of golf. He's the proud owner of a 4 handicap, and is eligible for the PGA Senior Tour next year. Seriously folks, Alice thinks he could do some damage competing with Jack Nicklaus, Lee Trevino and the old boys.
"I've always put Alice in places where he didn't belong," he said. "Of course Alice should be playing golf. But not just playing, winning.
"The fact that Alice Cooper could actually play on the Seniors Tour is pretty scary, don't you think?" he added with a laugh. "Guys like Arnold Palmer have got to say, 'Well, Alice Cooper, I'm not teeing off with him today, and I'm beating him only by 2 strokes.' To me, that's really Kurt Vonnegut. There's something really weird about that."