Phonographic Record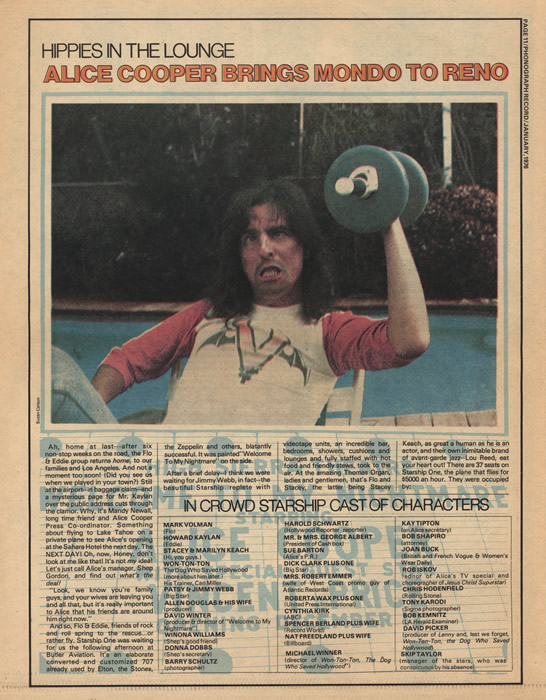 Phonographic Record
(January 1976)
Originally Published: January 1976
Hippies in the Lounge
Alice Cooper Brings Mondo To Reno
Ah, home at last --- after six non-stop weeks on the road, the Flo & Eddie group returns home, to our families and Los Angeles. And not a moment too soon! (Did you see us when we played in your town?) Still at the airport -- in baggage claim -- and a mysterious page for Mr. Kaylan over the public address cuts through the clamor. Why, it's Mandy Newall, long time friend and Alice Cooper Press Co-ordinator. Something about flying to Lake Tahoe on a private plane to see Alice's opening at the Sahara Hotel the next day. The NEXT DAY! Oh, now, Honey, don't look at me like that! It's not my idea! Let's just call Alice's manager, Shep Gordon, and find out what's the deal!
"Look, we know you're family guys, and your wives are leaving you and all that, but it's really important to Alice that his friends are around him right now."
And so, Flo & Eddie, friend of rock and roll sprint to the rescue... or rather fly. Starship One was waiting for us the following afternoon at Butler Aviation. It's an elaborate converted and customized 707 already used by Elton, the Stones, the Zeppelin and others, blatantly successful. It was painted "Welcome To My Nightmare" on the side.
After a brief delay -- I think we were waiting for Jimmy Webb, in fact -- the beautiful Starship replete with videotape units, an incredible bar, bedrooms, showers, cushions and lounges and fully staffed with hot food and friendly stews, took to the air. At the amazing Thomas Organ, ladies and gentlemen, that's Flo and Stacey, the later being Stacey Keach, as great a human as he is an actor, and their own inimitable brand of avant-garde jazz -- Lou Reed, eat your heart out! There are 37 seats on Starship One, the plane that flies for $5000 an hour. They were occupied by:
In Crowd Starship Cast of Characters
Mark Volman
(Flo)
Howard Kaylan
(Eddie)
Stacey & Marilyn Keach
(Hi, you guys.)
Won-Ton-Ton
The Dog Who Saved Hollywood
(more about him later.)
His Trainer, Carl Miller
Patsy & Jimmy Webb
(Big Star)
Allen Douglas & His Wife
(producer)
David Winter
(producer & director of "Welcome to My Nightmare")
Winona Williams
(Shep's good friend)
Donna Dobbs
(Shep's secretary)
Barry Schultz
(photographer)
Harold Schwartz
(Hollywood Reporter reporter)
Mr. & Mrs. George Albert
(President of Cash Box)
Sue Barton
(Alice's P.R.)
Dick Clarke Plus One
(Big Star)
Mrs. Robert Emmer
(wife of West Coast promo guy of Atlantic Records)
Roberta Wax Plus One
(United Press International)
Cynthia Kirk
(ABC)
Spencer Berland Plus Wife
(Record World)
Nat Freedland Plus Wife
(Billboard)
Michael Winner
(director of Won-Ton-Ton, The Dog Who Saved Hollywood)
Kay Tipton
(an Alice secretary)
Bob Shapiro
(attorney)
Joan Buck
(British and French Vogue & Women's Wear Daily)
Rob Iskov
(editor Alice's TV special and chorographer of Jesus Christ Superstar)
Chris Hodenfield
(Rolling Stone)
Tony Karodi
(Sigma photographer)
Bob Kemnitz
(LA Herald Examiner)
David Picker
(producer of Lenny and, lest we forget, Won-Ton-Ton, the Dog Who Saved Hollywood)
Skip Talyor
(manager of the stars, who was conspicuous by his absence)
From Chicken Heads To The Sahara Tahoe
"Mom, Here's Rock & Roll Even You Can Understand."
"Mr. Miller," Flo was singing his nicest tone, "Is there a particular word that'll make the dog strike -- I mean, go for the throat, or something?"
"Hmmm, let's see..." Then, noticing Volman's attire, "Hmmm, yes, 'Red Vest.' That's it! 'Red Vest,' Gus. Ha ha ha.
Poor Gus (renamed Won-Ton-Ton for his Big Break). He would hear the words "Red Vest" in his sleep. The Starship landed in Reno and was met by a "luxury bus" from the Sahara Tahoe. Flo & Eddie, of course, lurch in the back seat. The token hippies, just like "on tour" again. Bar service, compliments of Del Webb, was served by Jance, Donna and Bob all the way to Tahoe, where our luxury jet had been too large to land. More drinks.
"Get that *!!%?&? dog away from me!"
"'Red Vest,' Gus. Hiccup! 'Red Vest!'"
"Back, Gus, back!"
"Glug, glug-hic! 'Wed Best'... ho-ho, 'Wed best' -- hee hee."
Poor Carl. Gus didn't move.
Before the Nightmare entourage could even head through the casino to our rooms, Flo & Eddie spot long-time pal, Dick Wagner. Dick co-wrote a song with us and played on our last Reprise album, all the Cooper records and then, with Lou Reed, even. A fine guitarist! So, the three of us sat around a bit, drinking wine and eating cheeses and fruits supplied to each room, compliments of Del Webb's Sahara Tahoe, of course.
"Yeah. I've been rehearsing the horns and strings for a couple of days now, by myself, Alice didn't ever show up. Oh, well." Sorry Dick.
"Hey, let's find Vince." What could he say? Then, it was ON with the backstage passes and through an elaborate complex of underground hotel corridors to Alice's dressing room.
"Oh, my God, it's the Bobsey Twins," Coop exclaims, jumping to his feet, and momentarily ignoring his new girlfriend, lead dancer, Sheryl. Which, by the way, is not an easy thing to do. It just goes to show you, no matter how big you are... etcetera, etcetera.
Stars need friends, too -- yadda yadda.
That was the general tone of the loose conversation that helped Alice, I think, mellow down a bit for the show -- a big change from 20,000 seat arenas to 1500 capacity Casino showrooms. Before the show, spirits, most of them V.O. and Cola, ran high. Agent, Johnny Podell pulled strings and allowed us to be seated quicker than Maitre'd Sean would have liked, and after a typical rock and roll delay and a younger-than-expected audience was seated, the $15 a ticket Alice Cooper Show began. Won-Ton-Ton's trainer was too drunk to be let in.
Resplendent with a 32-piece orchestra, the new "Welcome To My Nightmare" Overture played for, what sounded like admittedly, like the first time. Well, they'll get comfortable with it soon, we reassured ourselves. If only you could hear the guitars!
Here comes the giant roll-out brass bed and yes, here comes Alice, bouncing in time to a more laid back than ever band and the show's title song. A new guitarist, Danny Weiss of the Iron Butterfly and Rhinoceros, replaced Steve Hunter from the last group. Alice easily swung into full-length versions of "No More Mister Nice Guy" and "Eighteen," both songs previously only sung in a hits medley and the sound and group got better and more confident.
The skeletons danced in Black Light with Alice in hats and canes and went back into the giant toy box form which they had come. The monster cyclops chased the Coop around the stage and was duly decapitated from his impudence -- the kids loved it. "Mom, here's some rock and roll even you could understand!"
From chickens to the Sahara, Alice has gone full circle, still remaining the Rock Hero.
Alice kicks, punches, and simulates copulation with the lady mannequin that magically turns into the lovely Sheryl when the lights go out during "Only Women Bleed." Truly beautiful, she soars across the stage, leaping and floating during the legendary Doll Dance -- a classic of staging and movement. Hat's off to Mr. Winter, Mr. Cooper and to Sheryl.
The lights go to black once again and from the bottom of the stage a large spider web climbs high, pulling taut across the stage. Three large figures creep out and dressed in the most incredible costumes of the show -- black widow suits so lifelike and believable, they're fantastic.
Out of the shadows and onto the stage walks Vincent Price, yes that's right, you heard right, the real live Vincent Price. Of course we all knew he was going to appear, thanks to the lavish ad campaign everywhere in the hotel and TONIGHT ONLY he was making a special appearance during the "Black Widow" sequence to recite what turned out to be no more than two paragraphs of about 12 stanzas each, through a mike sound that could only be compared to Wollensack: a bad Wollensack.
I must say in viewing the show for the second time, I think the illusion of not seeing Mr. Price and only hearing his voice on tape was much better. He proved his superstardom later to us, by remembering appearing on the Della Reese show, seven years ago with the Turtles. Thanks Vinnie...
By the time "Only Women Bleed" finished, aside from the podium mike problems in "Black Widow," the sound was definitely coming around to what we were expecting from an Alice Cooper Concert.
I feel I must point out that regardless of the sound difficulties at the beginning, and in spite of the fact they did not have the rehearsal time they would have liked with the strings and horns, it all came off totally entertaining, thanks to the cool and organized attitude of the real star, Alice himself.
From the moment he hits the stage in "Nightmare" until the end of the encore, all attention is focused on Alice, and deservedly so.
Despite the great choreography and stage production directed by David Winters and the excellent sets designed by Joe Gannan, Alice has a way of making you forget the problems they all must have had putting this particular show together and making it all work on a night to night basis.
Enough, enough, it's a great f--king show -- no shit -- it has everything... tension -- adventure -- romance -- fear, and most of all fun, good clean entertaining fun, and it was obvious to me that the audience was enjoying the entire thing. And even as the encore faded from our ears, shouts of "more," "more," "boogie," "more" rang through the Sahara showroom.
A lot has already been speculated as to how bringing acts, such as Alice Cooper, will effect the future of entertainment in venues like Sahara, Tahoe or even Las Vegas. The fact is, that the normal pop audience is growing up and I don't believe even they would spend $15.50 a ticket to see, just say, Rod Stewart or J. Geils or some other, sit down and listen to my songs type of group.
Rooms like the Sahara will only appeal to acts capable of creating that attitude of old schoolism, which is to say, an act that creates a show designed to entertain and the artist(s) must have enough of a sense of humor to appreciate and be able to laugh at himself and and his surroundings. Alice is only the first of what will be many more attempts from the pop music world to break into Vegas or Tahoe.
From the showroom to suite 1453 for "THE SO-CALLED BIG AFTERSHOW MAYBE IF ANYONE/EVERYONE COMES PARTY" which as it turned out was just that, EVERYONE AND ANYONE, we drank more drinks and waited to see if Alice would show up at all. About 45 minutes after showtime, in walked most of the cast, musicians and Alice himself.
Of course, he had no time at all to hang out and the photographers were going mad. "Just one more Mr. Price," "This time with Alice," "Alice... Alice..." "How 'bout one with you and Won-Ton-Ton in the sunken bathtub..."You know what I mean, a real pushing, pulling, drinking, boring scene, "get it?"
After about 30 minutes/30,000 flashbulbs later, we were approached by Dave Leibert (more about him later) who handed us a set of car keys and said to meet him in the lobby in 10 minutes. So we took the keys and headed off to the parking lot to find the car which we did and we drove to the front of the hotel pulling up behind the Cadillac furnished by the hotel for Alice. A mob of people came pushing out of the hotel and piles into both autos and out in the Nevada night we drove.
About 10 miles down the road we came to a semi-private drive, we took it down to a house right on the lake. There was water crashing up under the metal pilings, and right in front was a police guard. The guards are stationed there 24 hours a day and again this place, called "THE STAR HOUSE" is furnished by the Sahara Tahoe. It is a nice place with 4 bedrooms, 2 living rooms, a pool room, video tape, color TV in every room, and a kitchen complete with chef. We found out later all performers at the Sahara are furnished this luxury, you know the really big stars... Totie Fields, Helen Reddy, The Step Brothers, the really big ones.
We made ourselves at home and looked around to see who else had made "The Escape" here with us. Besides Alice and Sheryl there was, Frankie; bodyguard and all around good guy, just ask him.
David Pearl, Alice's personal valet sort of and former second baseman with Alice and I on the Hollywood Vampire Baseball Team... a good pal... a few succulent young admirers, and Dave Lippertt.
Sheryl made us all ham and cheese sandwiches with Miracle Whip and while Alice and I shot pool with all the vigor of Fats and Fast Eddie, Dave Leibert pounded out the hits of the 50's and 60's on the piano. Dave by the way is a former member of The Happenings and has been working with and around Alice for as long as I can remember. Again a terrific fellow who loves his beagle named Dolly. "Dolly has a gold record for Billion Dollar Babies". No kidding.
So on and on till nearly five A.M. we sang every great Beatle, Beach Boy, Turtles, Happenings, and every other great 4 part harmony song there was: DAVE, ALICE, FLO & EDDIE. What a group, we blended incredibly well, sort-of, and before the sun had shone in the sky, we bid farewell to Alice and Sheryl, wishing him luck on the up-coming week and made out way back to the hotel and a few hours rest.
The next morning rose at 11:00 for a noon all you-could-eat-brunch, which was really our first meal (since we missed the dinner planned for us the night before).
An announcement told all the member of "Welcome To My Nightmare Entourage" we were snowed in, and it would not be known if we could drive back through the pass to Reno before perhaps 3 PM. So off to the Black Jack table for about 2 hours, and a couple of hundred dollars later the bus was ready to leave.
The ride was quiet with most people suffering from either fatigue or headaches including I'm sure Won-Ton-Ton. We had a few more drinks and finally stumbled onto the plane.
We spent the entire flight-time home jamming morning Raga's with a RICHER, if not wiser Stacey Keach, a terrific person whose friendship we hope to expand on in the years to come.
All in all, a fantastic journey into THE WORLD OF JET-SET made possible, once again, by the unforgettable Shep Gordon, Alice's manager and friend. He has never forgotten how to throw a party. "Ah, Munich was great and Copenhagen was incredible, Amsterdam, New York and now Sahara Tahoe: It's nice to be part of their family." "We love them all very much."