Phoenix New Times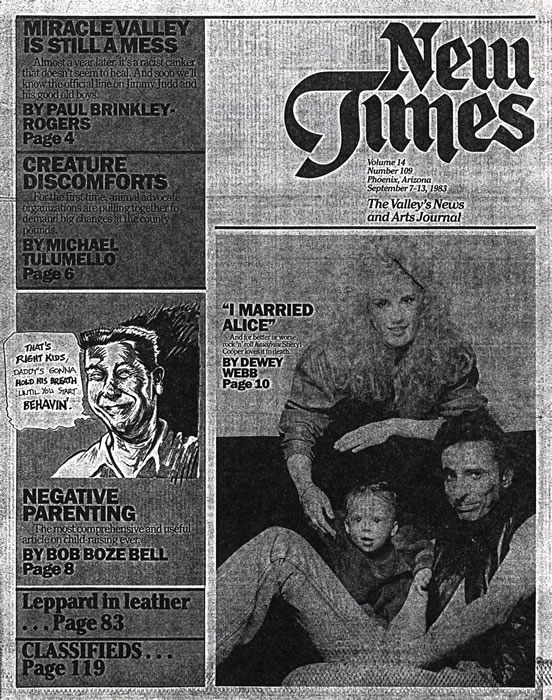 Phoenix New Times
(September 07, 1983)
Originally Published: September 07, 1983
"I Bore Alice Cooper's Child!"
Author: Dewey Webb
The man of the house - unshaven, barefooted and clad in jeans, a tee shirt and a baseball cap - rummages through the kitchen looking for something to eat.
The wife, who is curled up on a couch in front of the TV screen, smiles affectionately as her husband enter the living room fresh from his raid on the family fridge.
"Cartoon. You're missing the cartoons."
The husband squints at the screen where an animated cat has just shattered like so much crushed ice after being pushed off an Arctic berg.
"Warner Brothers?"
The wife turns her attention from the screen once again. "Warner Brothers."
"Awlright!" The husband smiles, too, demonically, as Sylvester races hot on the trail of Tweetie Pie.
"Yeah, they're the best," answers the wife, returning her gaze to the screen.
"Almost time for People's Court yet?" the husband asks, never taking his eyes from the screen.
"Two hours to go." The wife smiles again, this time wanly, and shrugs her shoulders helplessly, resigned to the unyielding schedule of TV Guide.
"Two hours!" The husband isn't going to accept the inevitability of the situation without mock dramatics. Slapping his hand across his forehead, he adds sotto voce, "What am I going to do?" and then unceremoniously ambles out of the room.
The wife flashes a winning smile at her guests. "He loves to watch TV," she says not apologetically but proudly. "He's probably the world's biggest TV trivia fan. There's nothing - nothing he doesn't know about TV."
Although this little scenario has all the earmarks of an old kitchen sink drama from the golden age of television, one of those nothing-ever-happens slices of life about little people in the Bronx, it is actually unfolding in a high-rent piece of property in the shadow of Camelback Mountain. "He" is Alice Cooper, the one-time Cortez High jock who set up residency in Paradise Valley last August, some thirteen years after he left Phoenix to become one of the world's leading purveyors of shock rock. And "she" is his wife, Sheryl, the woman who has been marking time at his side until death do they part for the last seven years. And if an itch of that same vintage is festering, all concerned are keeping it a deep dark secret.
The brown-eyed blonde with the pale pink pearlized lipstick tucks her bare feet under a hot pink punk couture playsuit that displays her long, classically trained stems to ultra-advantage. She turns down the volume on the wall-sized TV screen that dominates one corner of the spacious living room, and spends the next hour laying waste to the commonly held belief that rock wives are either starstruck fans, domineering opportunists, bubble-brained golddiggers or some combination thereof.
Incredibly, the light of Alice Cooper's life claims she'd never even heard of the man of her dreams until she auditioned for his 1975 Welcome To My Nightmare tour, a full four years after his grotesque rock theatrics first broke into the international limelight. "I was studying jazz in Los Angeles and trying to maintain a scholarship - ten classes a day," Sheryl explains, attempting to put her innocence into some kind of reasonable context. "One morning I noticed a large announcement on this bulletin board outside one of my dance classes, and it said that Alice Cooper was holding open auditions for two female dancers and two male dancers for a state tour, a world tour, a TV special and a movie. I thought, 'This sounds great! But Alice Cooper? Who's she?'"
Yes, hard to believe, as Sheryl is the first to admit. "I had no idea," she laughs, not altogether convincingly. "For all I knew, it was some blonde folk singer. Honestly, you ask me anything about Bach, Rachmaninoff, Schumann and I'll tell you what opus, what cantata, what aria. Ask me nothing about rock 'n' roll."
And so it came to pass that the young dancer who thought there was nothing unusual about a female folk singer doing a world tour (with four dancers, yet!) innocently set off to audition for one of the most extravagant rock tours of the Seventies.
"Obviously, everyone and their dog knew about this audition," Sheryl remembers. "There were over 2,000 girls there and some had come form as far away as Arizona, Seattle and even Hawaii. After two solid days of auditioning, they finally narrowed it down to me and another girl. I had no idea what I was getting into."
The future Mrs. Alice was in wonderland but she wised up fast. By her own account, over half a million dollars went into producing the show, a lavish spectacular involving "extreme choreography" (at one point in the show, the dancers donned spider costumes and actually traversed a huge cobweb backdrop), eight tons of equipment and a fifty-man crew. "I was used to performing for your typical ballet audience," says Sheryl, whose classical training included a stint as an apprentice with the Joffrey Ballet Company. "You know, no more than 250 people in white gloves who applaud very politely. I wasn't quite prepared for 120,000 people."
Nor was she any better prepared for her initial meeting with her future soulmate during the first day of rehearsal. "We didn't get along when we first met," she says, recalling one of those hate-at-first-sight encounters that invariably bloom into true love in romantic pulp fiction.
In spite of this less-then-promising set of first impressions, the fates had set the stage for a romance that would be played out in 65 cities in 75 days. And no one was more surprised than Sheryl herself. "I was with someone else at the time and so was he," explains Sheryl, referring to Alice's long-time liaison with model Cindy Lang. "I'd have to say that I didn't really know how their relationship was going at the time even though I was pretty good friends with Cindy then." But one thing led to another and Alice and Sheryl soon buried the hatchet over 3 a.m. TV viewings of Godzilla vs. Rodan. Then, less than a year later, Alice proposed one night after they'd screened On the Waterfront. They decided o take the plunge.
In March '76, slightly more than a year after they'd first laid eyes on one another, the couple exchanged wedding vows in Acapulco during a dual-minister ceremony over which both their fathers officiated. The bride's father gave Sheryl her vows and the groom's father his. But if the nuptial ritual was folksy, the subsequent honeymoon was anything but.
"It was pretty much fantasytime," Sheryl says, referring to the late lamented record industry heyday of the mid-Seventies. "The sky was the limit. We had a gold American Express card that meant to you go out and charge a yacht if you wanted. I come from a conservative middle-class background and I was taught to respect the value of money, so it was a very difficult experience for me.
"While we were on our honeymoon Alice took me to this place in Antwerp, Belgium. It was a cross between a huge house and a hotel - I heard that it had been a convent at one time and a brothel at another. Marlene Dietrich lived there. Our suite was huge. There was this solid gold bathtub at the top of the flight of marble stairs, and one night Alice hired this guy to play violin while we took a bath together. Then this whole service of waiters with gloves on came in and served us châteaubriand and champagne while we were bathing, and one waiter did nothing but stand there and throw yellow roses in the water. Afterward, Alice had arranged to have some videotapes flown in from Germany... I think we saw Dillinger that night. I was really something."
Still, as all good things much come to an end, once the honeymoon was over the couple settled down to domestic bliss in a little love-nest on four acres in Beverly Hills' Denedict Canyon. And it was here that Sheryl stood by her man as he weathered a recording industry upheaval, fought a $7 million-plus palimony suit filed by Cindy Lang (eventually settled out of court) and waged a much-publicized battle against the beer can. Today Sheryl claims that life in that high-priced goldfish bowl sometimes made her green around the gills.
"We had made one of those maps of the stars' homes. Our street was affectionately dubbed 'Rock 'n' Roll Street.' Elton John had the first house, we had the second house, and at one time Dave Mason had had the third one. In fact, I think the only one on the whole street wasn't involved in rock 'n' roll was the president of CBS," Sheryl chuckles. "On some days it looked like an E ticket line to get on the Matterhorn at Disneyland, with all those buses and tourists in their cars lined up down the street.
"When we were first moving in, I even used to find teenage girls wandering through my bedroom," she continues, remarkably nonchalantly. "I'd say, 'May I help you?' and they'd say they were just looking for Alice. I never had to call the police, though: I'd just say, 'Out!' and that took care of it. Most of them were just curious - 99 percent are just harmless enthusiastic fans. But you always had to consider that one percent on the lunatic fringe that you're not sure about, particularly after the John Lennon thing. Eventually we had to install a $6,000 security system.
But Alice doesn't live there anymore. Last August, a year after the birth of their 26-month-old daughter, Calico, the Cooper decided it was time to pull the plug on the fancy fish tank and move to the Paradise Valley home Alice has owned for the past nine years. "We came here for a lot of reasons," says Sheryl before expounding on the main one. "I'm raising a daughter now, and I wouldn't wish it on any kid in the world to be brought up in Beverly Hills. there's no sense of community there, you're just an entity unto yourself. We had four acres of property in Beverly Hills, and because of the necessary security we were completely closed off from everything else." And even though Paradise Valley is the last neighborhood in town where you'd expect anyone to run next door to borrow a cup of sugar, Sheryl contends it's the best move they could have made.
In recent months Sheryl has even made something of a name for herself in local dance circles by instructing at two Valley Profile for Dance studios. She'd been looking for local dance instruction herself, but was so appalled at the quality of the training she saw that she figured she should be teaching instead. "I had all the best teachers in Hollywood, so coming out here and finding that most of the dance studios were stuck between a 31 Flavors and a Kinney's show store was not that thrilling to me. I'm not kidding. I actually walked into a place that was called Miss Alissa's School of Dance and here was Miss Alissa with rabbit ears and a tail on. This is not my idea of jazz training. Luckily, I stumbled on Profile for Dance. I love it. I'm teaching eight to ten classes a week now, so between the classes, the house, a husband and a baby it's a pretty full-time job."
Unfortunately, baby Calico was on hiatus the day of the interview; several days earlier her parents had packed her off on a plane for a two-week visit with her maternal grandparents in Chicago. It didn't take much arm twisting, however, to get her mother to drag out the baby pictures. "Will you take a look at that kid?" asks the proud mama. "Does she have a personality or what? She says and does everything. I'll say, 'Calico, who's your favorite rock 'n' roll band? and she'll says, 'The Pretenders.' Then her father says, 'Wait a minute! Where's the loyalty here?' Then Calico'll say, 'I like Devo, but I like Daddy, too.'"
Like daughter, like mother. "We just celebrated out seventh wedding anniversary," beams Sheryl, "and we still like each other."
As her guest prepare to leave, Sheryl can't resist the opportunity to conduct a quick guided tour of many off-the-wall objets d'art the couple has amassed since they've been married. She proudly points to a French freak show poster advertising a spider girl, a gift from Alice commemorating her stint as a spider in the Nightmare tour. One the walls are scads of her husband's gold and platinum albums, and her, there and everywhere are samples of the couple's autograph collection, elaborated structural collages centered around the John Hancocks of the likes of Jack the Ripper, Bela Lugosi, Lon Chaney, W.C. Fields and Edgar Allen Poe. Finally, Sheryl gestures toward a framed photo of her husband posing with Mae West on the set of Sextette, the octogenarian sex symbol's last picture. "The movie didn't turn our so great," Sheryl smiles, "but Alice, wanted to do it so he could meet Mae West. Mae was getting up there and she couldn't remember lines, so they put an earphone under her wig and were giving her dialogue and direction from off-camera. Alice said one time they were giving her lines and she said, "I love you. I love you. I love you. Take tow steps to the right and site down.'"
Yes, the TV freak who became the self-styled Eddie Haskell or rock has managed to find some semblance of a real-life June Cleaver. Ward would have been proud. And so is Alice.
(Originally published in New Times - Phoenix, Arizona - September 7-13th, 1983)