Network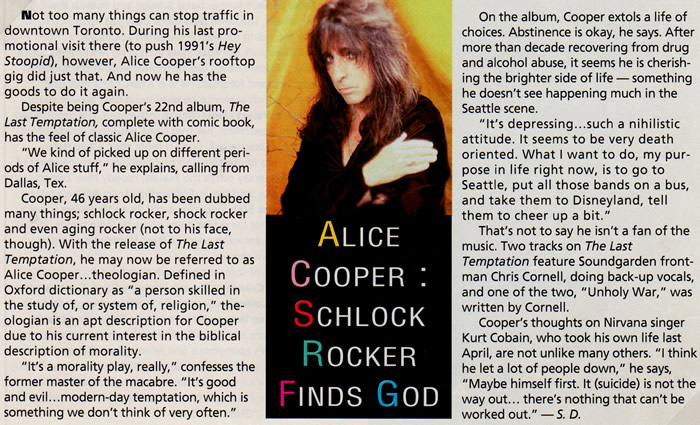 Originally Published: June 1994
Alice Cooper: Schlock Rocker Finds God
Author: S.D.
Not too many things can stop traffic in downtown Toronto. During his last promotional visit here (to push 1991's Hey Stoopid), however, Alice Cooper's rooftop gig did just that. And now he has the goods to do it again.
Despite being Cooper's 22nd album, The Last Temptation, complete with comic book, has the feel of classic Alice Cooper.
"We kind of picked up on different periods of Alice stuff," he explains, calling from Dallas, Tex.
Cooper, 46 years old, has been dubbed many things; schlock rocker, shock rocker and even aging rocker (not to his face, though). With the release of The Last Temptation, he may now be referred to as Alice Cooper...theologian. Defined in Oxford dictionary as "a person skilled in the study of, or system of, religion," theologian is an apt description for Cooper due to his current interest in the biblical description of morality.
"It's a morality play, really," confesses the former master of the macabre. "It's a good and evil... modern-day temptation, which is something we don't think of very often."
On the album, Cooper extols a life of choices. Abstinence is okay, he says. After more than decade recovering from drug and alcohol abuse, it seems he is cherishing the brighter side of life - sometihng he doesn't see happening much in the Seattle scene.
"It's depressing...such a nihilistic attitude. It seems to be very death orientated. What I want to do, my purpose in life right now, is to go to Seattle, put all those bands on a bus, and take them to Disneyland, tell them to cheer up a bit."
That's not to say he isn't a fan of the music. Two tracks on The Last Temptation feature Soundgarden frontman Chris Cornell, doing back-up vocals, and one of the two, "Unholy War," was written by Cornell.
Cooper's thoughts on Nirvana singer Kurt Cobain, who took his own life last April, are not unlike many others. "I think he let a lot of people down," he says, "Maybe himself first. It (suicide) is not the way out... there's nothing that can't be worked out."