Music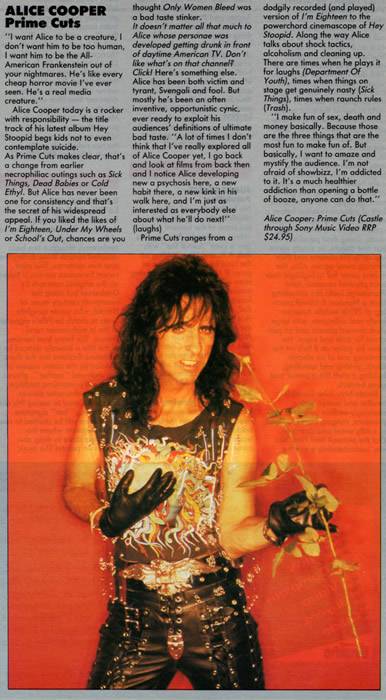 Originally Published: September 1991
Alice Cooper: Prime Cuts
"I want Alice to be a creature, I don't want him to be too human, I want him to be the All-American Frankenstein out of your nightmares. He's like every cheap horror movie I've ever seen. He's a real media creature."
Alice Cooper today is a rocker with responsibility - the title track of his latest album Hey Stoopid begs kids not to even contemplate suicide.
As Prime Cuts makes clear, thats a change from earlier necophiliac outings such as Sick Things, Dead Babies or Cold Ethyl, but Alice has never been one for consistency and that's the secret of his widespread appeal. If you liked the likes of I'm Eighteen, Under My Wheels or School's Out, chances are you thought Only Women Bleed was a bad taste stinker.
It doesn't matter all that much to Alice whose persona was developed getting drunk in front of daytime American TV. Don't like what's on the channel? Click! Here's something else. Alice has always been both victim and tyrant, Svengali and fool. But mostly he's been an often inventive, opportunistic cynic, ever ready to exploit his audiences' definitions of ultimate bad taste. "A lot of times I don't think that I've really explored all of Alice Cooper yet, I go back and look at films from back then and I notice Alice developing new a psychosis here, a new habit there, a new kink in his walk here, and I'm just as interested as everybody else about what he'll do next!" (laughs)
Prime Cuts ranges from a dodgily recorded (and played) version of I'm Eighteen to the powerchord cinemscope of Hey Stoopid. Along the way Alice talks about shock tactics, alcoholism and cleaning up. There are times when he plays it for laughs (Department of Youth), times when things on stage get genuinely nasty (Sick Things), timeswhen raunch rules (Trash).
"I make fun of sex, death and money basically. Because those are the three things that are most fun to make fun of. But basically, I want to amaze and mystify the audiences. I'm not afraid of showbiz, I'm addicted to it. It's a much healthier addiction than opening a bottle of booze, anyone can do that."