Mojo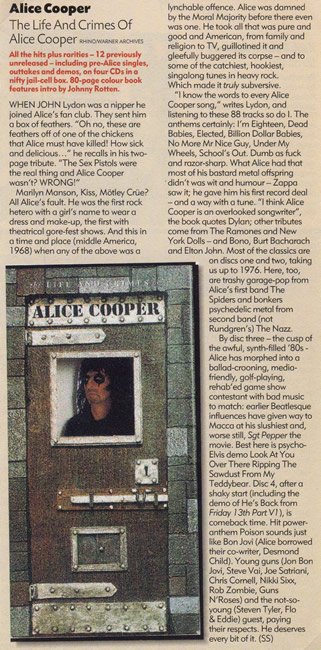 Originally Published: June 1999
Life and Crimes of Alice Cooper Album Review
Alice Cooper
The Life and Crimes Of Alice Cooper (Rhino/Warner Archives)
All the hits plus rareties - 12 previously unreleased - including pre-Alice singles, outtakes and demos, on four CD`s in a nifty jail-cell box, 80-page colour book features intro by Johnny Rotten
When John Lydon was a nipper he joined Alice`s fan club. They sent him a box of feathers. "Oh no, these are feathers off of one of the chickens that Alice must have killed! How sick and delicious..." he recalls in his two page tribute. "The Sex Pistols were the real thing and Alice wasn`t? WRONG!"
Marilyn Manson, Kiss, Motley Crue? All Alice`s fault. He was the first rock hetero with a girl`s name to wear a dress and make-up, the first with theatrical gorefest shows. And this in a time and place (middle America, 1968) when any of the above was a lynchable offence. Alice was damned by the moral majority before there even was one. He took all that was pure and good and American, from family and religion to TV, guillotined it and gleefully buggered it`s corpse - and to some of the catchiest, hookiest, singalong tunes in heavy rock. Which made it truly subversive.
"I know the words to every Alice Cooper song," writes Lydon, and listening to these 88 tracks so do I. The anthems certainly: 18, Dead Babies, Elected, BDB, NMMNG, UMW, SO. Dumb as fuck and razor sharp. What Alice had that most of his bastard metal offspring didn`t was wit and humour - Zappa saw it; he gave him his first record deal - and a way with a tune. "I think Alice Cooper is an overlooked songwriter", the book quotes Dylan; other tributes come from The Ramones and New York Dolls - and Bono, Burt Bacharach and Elton John. Most of the classics are on discs one and two, taking us up to 1976. Here, too, are trashy garage-pop from Alice's first band The Spiders and bonkers psychedelic meatl from second band (not Rungren`s) The Nazz.
By disc three - the cusp of the awful, synth-filled `80`s - Alice has morphed into a ballad-crooning, media-friendly, golf-playing rehad'ed game show contestant with bad music to match: earlier beatlesque influences have given way to Macca at his slushiest and, worse still, Sgt Pepper the movie. Best here is psycho-Elvis demo Look At You Over There Ripping The Stuffing From My Teddy Bear. Disc four, after a shaky start (including the demo of He`s Back from Friday the 13th part VI), is comeback time. Hit power anthem Poison sounds just like Bon Jovi (Alice borrowed their co-writter, Desmond Child). Young guns (Jon Bon Jovi, Steve Vai, Joe Satriani, Chris Cornell, Nikki Sixx, Rob Zombie, Gun`s and Roses) and the not-so-young (Steven Tyler, Flo And Eddie) guest, paying their respects. He deserves every bit of it.