Mixdown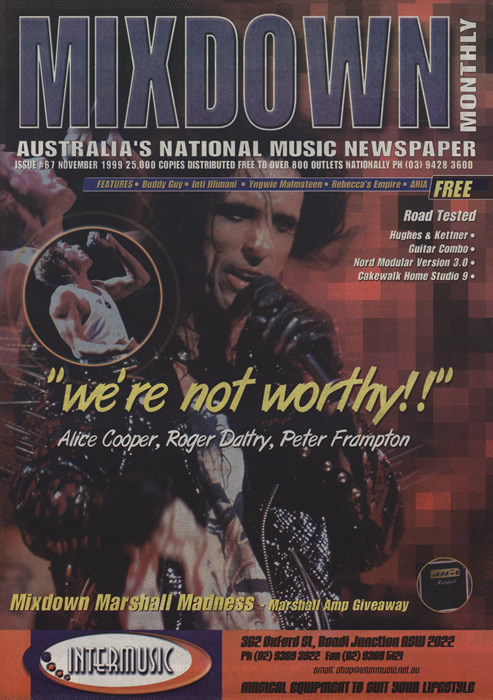 Mixdown
(November 07, 1999)
Originally Published: November 07, 1999
Cooper
Author: Murray Engleheart
There's always been a multiple personality crisis within Alice Cooper. There's Good Alice, Bad Alice and the off stage Alice who sips 7 UP and is completely removed from either of the other realms. During a 1994 promotional tour for his concept album, The Last Temptation the ever quick witted Cooper took on an additional guise when he told the then Midday Show audience something to the effect that he was thinking of changing his name to Alice Cooper Mellencamp. In February Cooper gets the opportunity to play out all those personalities and mix and match musical careers as part of the Ultimate Rock Symphony tour of Australia with The Who's Roger Daltrey, Peter Frampton, Free and Bad Company's Paul Rodgers, Jack Bruce of Cream fame, Gary Brooker from Procol Harum and our own Billy Thorpe.
Aided by a 40 piece orchestra, a 10 person choir and a band that includes Ringo Starr's son, Zak, the all star teaming will run through classics like The Beatles' Hey Jude and Let It Be, The Who's Pinball Wizard, The Stones' Jumping Jack Flash and Street Fighting Man, Lennon's Imagine and of course Zeppelin's Stairway To Heaven as well as material by Queen and Pink Floyd. The Bad Alice probably unsuccessfully put his hand up to do The Beatles' darkest moment, Revolution 9 but...
Irrespective of concert settings Da Coop is still the Man. Seventies' albums like Love It To Death, Killer, School's Out, Billion Dollar Babies and Welcome To My Nightmare - with an all new band featuring one-two punch guitarists, Steve Hunter and Dick Wagner who led Lou Reed through his killer live set, Rock n' Roll Animal - remain classics that stood up as well in the studio as virtually any Stones' album of the era.
Sex Pistol, John "Rotten" Lydon's furry, green toothed howling along to the classic, I'm Eighteen got him the Pistols' gig in the first place. That was after he and Sid Vicious used to busk in the London Underground singing Alice's I Love The Dead. Frank Sinatra covered his tear jerker, You and Me and Jon Bon Jovi in an ultimate act of tribute wrote the Ballad of Alice Cooper though Alice is still too bashful to sing it. He took an awestruck Guns n' Roses on their first ever tour and had to bail the band out of gaol every night just so they could open the show. And none other than Groucho Marx was a huge fan and great friend and tagged the band as the last hope for vaudeville.
"We were the loudest and most absolutely in your face rock n' roll band." Cooper declares proudly. "We would ram it down your throat and the funny thing was nobody was gay in the band, everybody had like three girlfriends. All we cared about was blondes, booze, fast cars, switchblades and our music. That was it. We were really all American. We were the American dream." he says before revising the statement. "We were the American nightmare."
On one occasion, before an estimated crown of 300,000, the band found themselves also having to entertain a large group of Hell's Angels who had positioned themselves at the front of the crowd near the stage. In a moment of twisted inspiration, someone threw Alice a huge blow up rabbit just as one of the bikers - who Alice suspected had a knife - lumbered onto the stage. From that point a mixture of fine showmanship and plain self preservation took over. "I threw him the rubber rabbit and said 'Kill it!'" he recalls. "People started applauding and he was killing this rabbit. By the time he got done he was a happy man. Better to kill the rabbit than me. He and his buddies were part of the band then."
"When we used to play the big festivals they would always warn the audience three acts in advance that Alice Cooper were coming on so that anybody that was on bad acid could start gravitating towards the Red Cross tents. They would say Jefferson Airplane is coming up and The Grateful Dead and Santana and Warning! Warning! Alice Cooper is coming on at eleven o'clock. It was just so intense it would drive people over the edge."
Earlier this year a 4 CD boxed set called The Life and Crimes of Alice Cooper expertly collected the very early days, the hits, the shoulda beens, the hard-to-finds and the out-takes. It spans Cooper's early bands, the Spiders and The Nazz, the Beatles cum Zappaesque aura of the first Alice Cooper credited albums, Pretties For You and Easy Action form 1969 and 1970 respectively through to the billion dollar glory days of the seventies. Selections from the Big A's under-rated early eighties' period, the return to the big time with 1989's Trash and the ambitious Last Temptation round out the picture.
While Cooper has not one but two new projects on the burner - one with the guy that did Little Shop of Horrors and the other a "state of the union address" type album - there was some talk about six months back that he might also be prepared to turn back the hands of his career clock albeit briefly. Word had it that the Coop's appearance on the David Letterman show was to involve a reunion with the remaining members of his original band that were literally instrumental in making him a houseword in the seventies. It didn't happen although the band did get together on another occasion and get some old times bonding done.
"We showed up at a restaurant, a bar that I started in Phoenix called Cooper's Town, a sports and rock n' roll restaurant and it has a stage. I invited (drummer) Neal (Smith), Mike Bruce (guitar) and Dennis (Dunaway - bass) but Dennis was sick and couldn't make it. Rockin' Reggie who was a guy who used to work with us (filled in). We went up and did 30 minutes on stage and did a bunch of old songs."
"A lot of people thought there was a very big fight between the band when we broke up and there really wasn't. I laugh when I read: Alice Cooper fires the band! I couldn't fire the band. I didn't have that kind of power. I was one fifth of the band. They wanted to do their own album and they wanted to do straighter music and do less theatre and I wanted to do the opposite. I wanted to take the next show to a more theatrical level with Welcome To My Nightmare and they just didn't want to go there."
A reunion proper seems to be nowhere even remotely near the Cooper agenda even in these times of Kiss, Black Sabbath and hopefully The Clash giving it all one more shot.
"I see Dennis and Neal and Mike all the time and to me (reforming) would be like going backwards. I'm working on two new albums right now and two new shows. I don't want to relive the past. Maybe when we're sixty."